Our Cars: SEAT Leon SC FR 1.4 TSI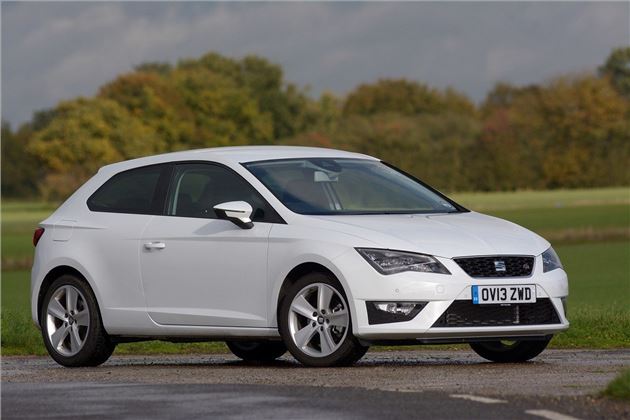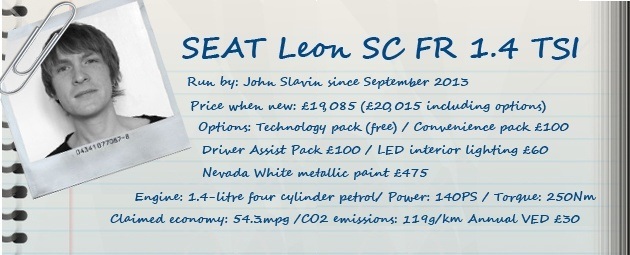 10 October 2013: Advanced technology in our new Leon
The Details
| | |
| --- | --- |
| Current mileage | 890 |
| Claimed economy | 54.3mpg |
| Actual economy | 44.3mpg |
Say hello to the SEAT Leon SC FR 1.4 TSI. It's a car we've been looking forward to having on the Our Cars fleet, even if it does have a rather long-winded name. The three-door version of the new Leon certainly looks the part in the optional metallic white paint – but what really makes it stand out is the all-LED headlights.
They're part of a range of technology on the new SEAT that makes me really excited about spending six months with it – it comes with DAB radio and a really nifty touchscreen infotainment system, automatically dipping headlights, automatic wipers and a lane assistance function that steers the car to help keep it from straying off course.
The engine is pretty high tech too – it might only be a 1.4-litre but it has a turbocharger to boost power to 140PS. Add to that a peak torque figure of 250Nm and you get a pretty speedy recipe – 0-62mph takes 8.2 seconds and top speed is 131mph, but with emissions of 119g/km and economy of 54.3mpg. You wouldn't be saying that about a 1.4 a few years go.
The full specification for our Leon includes £930 of options which isn't too unreasonable. That includes the £475 metallic paint and four equipment packs – a £100 convenience pack of rain sensing wipers, light sensor and auto dimming rear view mirror; a £295 driver assist pack of high beam assist and lane keep assist; a £60 LED interior lighting pack and a technology pack with LED headlights, a navigation system and DAB radio which was a free offer when our car was ordered.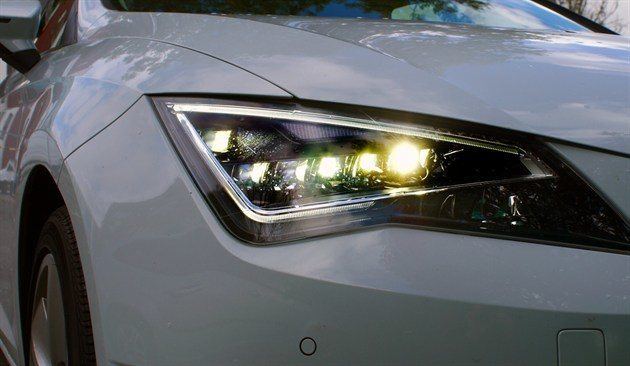 No bulbs here - our Leon has all-LED headlights
One thing that I really appreciate already is the fact my iPad will sync up to the touchscreen system in the Leon – it flat refused in my previous Hyundai i30. That's good for me because I keep all of my music on my iPad and I don't want to buy a smaller iPod just so I can listen in the car.
It'll be interesting to see how some of the technology works in day to day situations – the all-LED headlights look great but will they provide as much illumination as a more traditional bulb? And can you really trust a sensor to dip the headlights when encountering a car on a dark country lane?
The FR trim comes with some pretty nice styling details – there are sporty seats, FR badges inside and out, red stitching, a leather trimmed wheel, cruise control and FR styling outside giving it a hot-hatch look. Until the Cupra arrives next year, this is the sportiest looking Leon you can get.
Unfortunately, while the white paint really looks fantastic, it shows dirt within a day of being washed, particularly in smoggy London. That's exacerbated by a pesky cat which will always stand on the bonnet and cover it in wet, muddy paw prints. Rather amusingly said cat will often slip off the bonnet if it stands too near the front – perhaps that's aerodynamics...
So far I've covered a few hundred miles and based on first impressions the Leon is a pretty comprehensive package – it feels solid and well put together, it's not massively expensive considering the level of equipment and it's great fun to drive. On paper it should be cheap to run too, but it remains to be seen how good the fuel economy – and everything else - will be in the long term.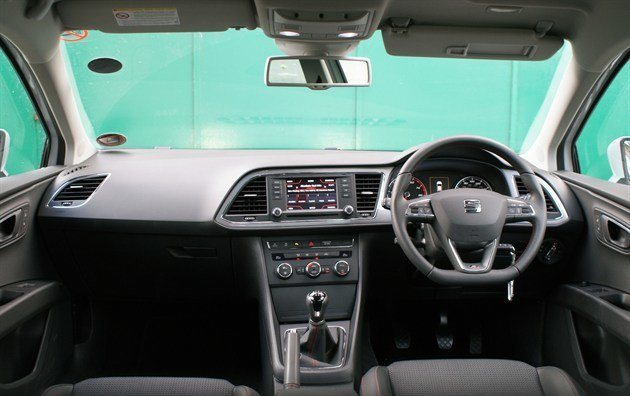 Sleek interior has a real quality feel
Later: The history of the SEAT Leon »
Updates

It's time to say goodbye to our SEAT Leon. Its replacement has some very big boots to fill.

After a few weeks spent driving other cars I take the SEAT on a long drive to stretch its legs.

The Leon has a comprehensive in car infotainment system with navigation, DAB radio and great connectivity - here's a more in depth look at how it works.

Our Leon is an SC model - which means it has three doors. That might make it look sportier but how does it affect practicality?

How close does the Leon get to its official fuel consumption figure - and how much is that dependent on driving style?

A hectic Christmas break meant covering more than 700 miles in two days - but the SEAT coped well.

The SEAT Leon has coped well with the recent wet, grey and miserable weather, it's just a shame its white paint shows dirt so much.

For new car buyers there's never been such a variety of cars to choose from - so aside from a hatch what else can you get for £20,000?

Lane keep assist and high beam assist are great gadgets to have – but the system on our Leon malfunctioned.

The SEAT Leon is built on Volkswagen-Audi group's MQB platform - so what else shares its underpinnings?

The new Leon is undoubtedly capable but SEAT wasn't always such a strong brand. Time to chart the history of our Leon's predecessors.

10 October 2013: Advanced technology in our new Leon
We welcome the Seat Leon SC FR to Our Cars, and it's loaded with some of the most desirable technology on offer.