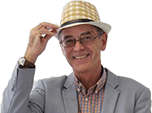 Our Cars: Renault Koleos 2.0 dCi 175 4WD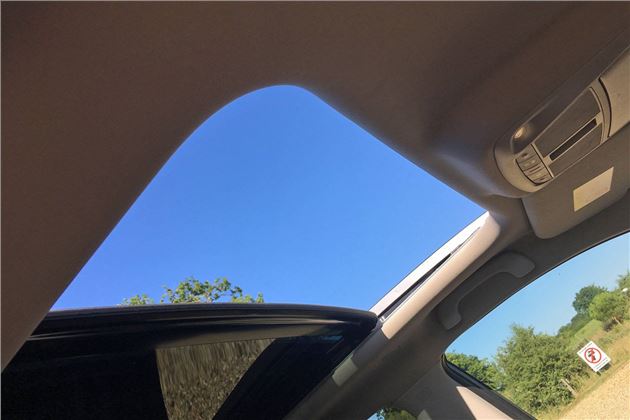 16 July 2018: HJ's Renault Koleos Goes Topless
The Details
| | |
| --- | --- |
| Current Mileage | 12,001 |
| Claimed Economy | 50.4mpg |
| Actual economy | 40.52mpg |
| Real MPG | 41.1mpg |
| | |
More apologies, this time for banging on about a single feature.
But the Koleos has the best skylight I've ever sat beneath, in any car, anywhere.
I usually open them, get my ears torn off by the buffeting. Then shut them and leave them shut.
But in Britain's Summer of 2018 I had to give it a go. And, after finding it didn't buffet at all, right up to (ahem) mph, I found myself opening it at every opportunity, even driving 300 miles with fresh air and diesel fumes flying over my head and not into the back of the car.
The test is to put your hand up at the inside rear edge of the open roof and feel for anything coming in. Nothing was. The reason seems to be the clever, castellated wind deflector that pops up when you open the roof.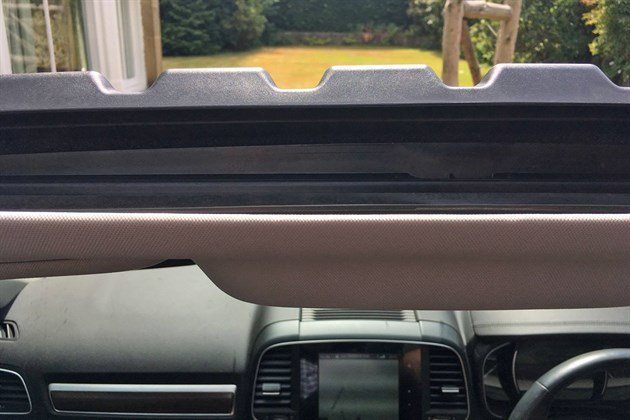 Actually much more effective then the pop-up flyscreen you usually get, and we got on the new Honda CR-V top model. That made quite a racket, whereas in the Koleos I was able to listen to the entire World Cup final on Radio 5 live during a 300-mile drive south.
Doesn't seem to have affected fuel economy either. Over the last 1,100 miles mostly with the roof open, it's been averaging 41.6 mpg, which is actually 1mpg better than the overall average to date.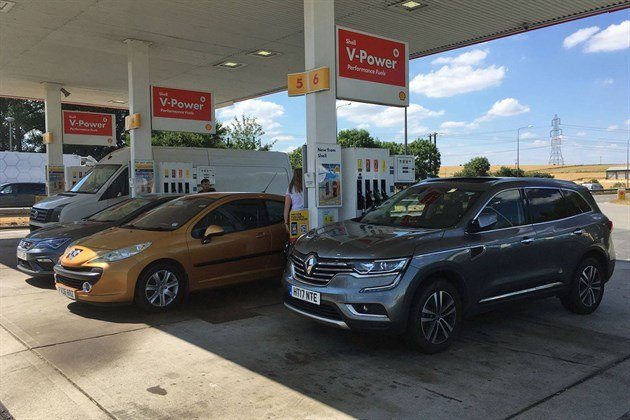 « Earlier: HJ's Renault Koleos Gets a Holiday Later: HJ gets his Renault Koleos involved in some dirty business. »
Updates

As the Renault Koleos drove away and HJ manoeuvred his new Peugeot 3008 into its former parking place, he felt a pang as if a part of him had been torn away. The Koleos had originally been a distress acquisition, but its enduring qualities made it HJ's favourite long-term test car so far.

HJ ponders why people pay £10,000 to £20,000 more for an SUV that is no better and probably quite a lot worse than his £33,000 Renault Koleos.

How do turn a posh SUV into a truck capable of carrying wet and muddy garden waste to the tip without making a mess of the car?

16 July 2018: HJ's Renault Koleos Goes Topless
HJ finds that even in a big, fat 4x4 SUV he can put a bit of sunshine into his life.

After clocking up another 2,500 pleasantly uneventful miles, HJ's Koleos has been on standby for much of the last month.

A report of the mystery early service on HJ's Koleos. And how the state of the roads after March snow and ice posed no problems to its 225/60 R18 Kumho Crugen tyres.

HJ just happens to find an extraordinary road across the moors where his long-term Koleos 4WD comes into its own.

HJ talks about value for money, seat comfort, cold weather kit and the truly brilliant real-time R-Link satnav over another 1,500 miles in his Renault Koleos 4x4.

HJ takes his Koleos to and from Northumberland, uses it as a van, then drives to and from North Wales tackling all weathers.