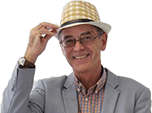 Our Cars: Peugeot 308 Active 1.2 e-THP 130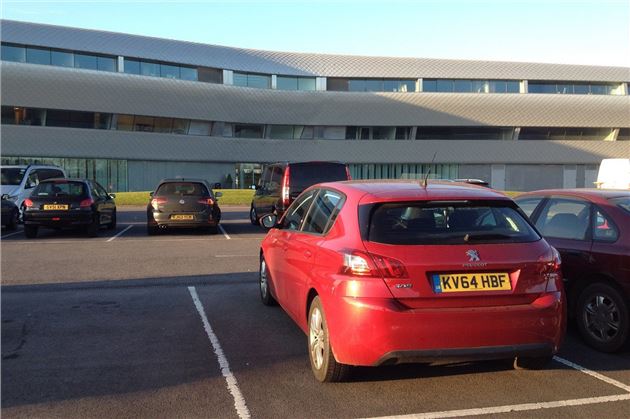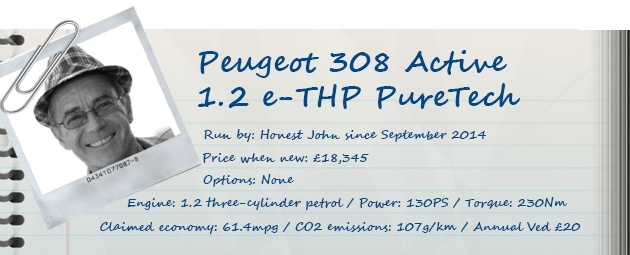 18 May 2015: HJ's 308 Needs a Service
The Details
| | |
| --- | --- |
| Mileage | 10,007 |
| Claimed economy | 61.4mpg |
| Actual economy | 48.37mpg |
| | |
It has been a proper 2,446 miles since the last report on my long-term Peugeot 308 and, as I write, the car is in for service at an estimated cost of £179,99, plus sorting out a very slow leak from the offside rear tyre.
The service indicator came up suggesting a service in 1,000 miles at just under 9,000 miles on the clock, which is fine by me. Every engine needs an oil service at least every 10k miles, whatever the schedule says.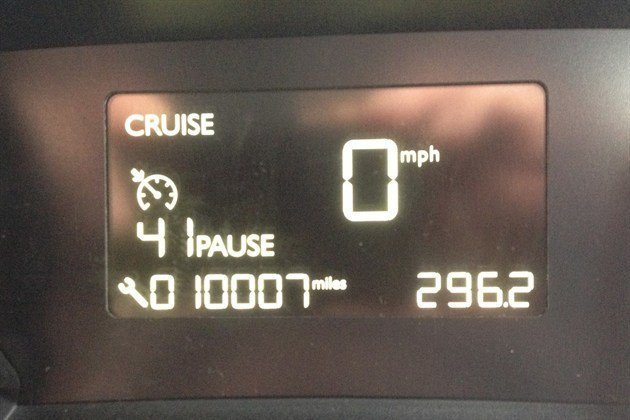 Happily, it hasn't used any oil, which is very creditable for the hard work delivering 130PS and 230Nm torque from 1,198cc.
Now that the engine is properly loosened up, I think these may be conservative figures. I reckon it might be putting out 150PS and maybe 260Nm torque because the way it romps up hills is amazing for a tiny engine hauling a family hatchback sized body. Incredibly, it's actually pulling the same speed up the same hill as my previous Volvo S60 D4, which has 400Nm on tap, and that's nuts.
"Loosened up" could also be used to describe the suspension. I've always liked as bit of travel in the springs and some squidge in the tyres because my regular cross-country route is anything but smooth.
However, the reason could be that I'm exploiting the excellent performance a bit more and finding the limits of the 308's rear twist-beam. There's a speed range in which it's absolutely fine. But above that there's an eerie, disconcerting lightness to the already light steering.
I'm definitely hooked on the little steering wheel and fairly fast rack that allows an economy of movement when negotiating obstacles like roundabouts. And give me a digital speedo any day over a clock (the 308 has both.)
The finger fumbler cruise control is a godsend. On my regular run I'm confronted with about 60 miles of 50mph contraflow with its evil yellow gauntlet suspended over the top recording everyone's average speed. So being able to adjust my speed in 1mph increments to cope with everyone else's speedometer disparities is very handy.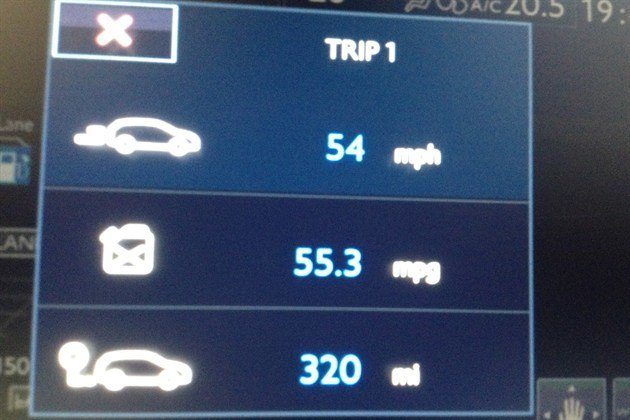 Fuel economy has been fairly constant, improving by about 1mpg in the warmer weather to a 48.27mpg average over 9,477 miles. Some of this will obviously be due to 120 miles limited to 50mph in every 600-mile round-trip. Some to the fact I set the cruise to a true 70 on the motorway and concentrate on mirrors and positioning rather than speed. However, cross-country the car gets a proper work-out and this does not seem to affect the average too badly. 50.88mpg mostly motorway with no ragging it over 346 miles was followed by 45.13mpg over 357 miles that included 90 miles of enjoyment and half an hour of bumper to bumper M25 congestion.
At midday, Peugeot owned Robins & Day phoned to tell me that the slow deflation of the offside rear was, in fact, a tiny puncture in an unrepairable place, so I'm just going to keep pumping it up by 4PSI every couple of days, or squirt some 'Slime' inside. They also found damage to the headlight bracket, which I knew about, caused by a vandal kicking it in while the car was sitting in an Aldi carpark.
In a past report I grumbled about the touch-screen heating, ventilation and a/c controls because on a cold winter's morning you may have to fiddle with them quite a lot to keep the screens clear, and, with very little steering 'feel' the distraction can easily have you over the centre-line. But, in truth, in the warmer weather, I never have cause to adjust the ventilation and climate at all, so that particular problem went away. However, I do find it best to select radio channel for the journey before setting off rather than en-route and I fear that fiddling about with that could send some younger drivers into the oncoming traffic.
I still haven't got to grips with Peugeot's impenetrable instructions for setting postcodes in the big screen but fairly basic satnav. So, if I need t to find somewhere, I have to set the street address and town before I start stirring the gears.
No problems with the electric parking brake, but once the brakes get hot they feel unpleasant slowing the car speed which is when the rear discs come into play.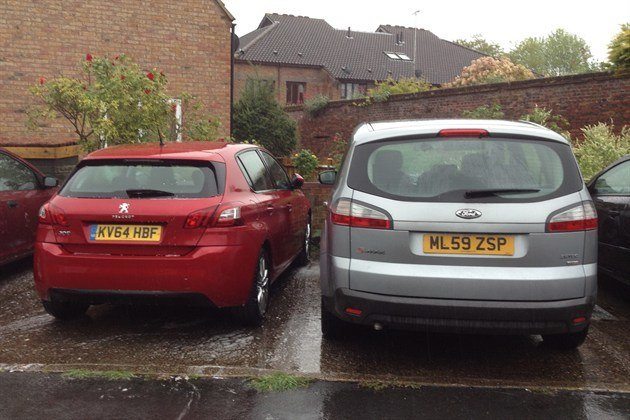 The picture of the 308 parked beside an S-Max on my hard standing is to illustrate a little trader's tip about cleaning cars. If you can, always wash them in the rain. Not only does it loosen the dirt on the surface of the car, the soft rainwater rinses the car perfectly leaving no streaks, so you don't have to chamois it down.
In the last hour Robins and Day phoned to tell me the bill would be exactly the £179.99 they said it would be in the first place, so I'm happy about that. The car was delivered back to me freshly cleaned and valeted as well so full marks to Robins and Day.
I'm less happy about the car going back in July or August.
But anyone else who wants this incredible engine can now get it in a C3, C4, C4 Cactus, DS4, 208 or 2008 as well as in the 308. And with the new fast-shifting EAT4 6-speed torque converter auto.
« Earlier: 21st March 2015: HJ finds out how our Peugeot 308 1.2 Puretech copes with three adults and a baby Later: 27th July 2015: HJ Saved by the 308's Satnav »
Updates

HJ's 308 has now gone back to its maker after 12,124 lively miles.

The 308's satnav might not like UK postcodes, but it certainly knows its way around a traffic jam.

18 May 2015: HJ's 308 Needs a Service
After 10,007 miles HJ's 308 was asking for a service. So we added Peugeot servicing to the test.

HJ's 308 has been working hard since the last report, covering 2,000 miles in just three weeks.

4 weeks away means HJ only gets to put another 740 miles on his 308 1.2 Pure Tech

HJ piles on another 1,059 miles in his long-term 308 and gets to test the rear seat legroom.

After a dodgy start due to a duff PDI, HJ has settled very happily into his Peugeot 308 1.2 PureTech 130

As HJ's Peugeot 308 1.2 130 engine loosens up, mpg improves, to 51.75 over the last 1,622 miles.