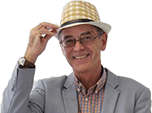 Our Cars: Nissan Qashqai 1.5 dCi n-tec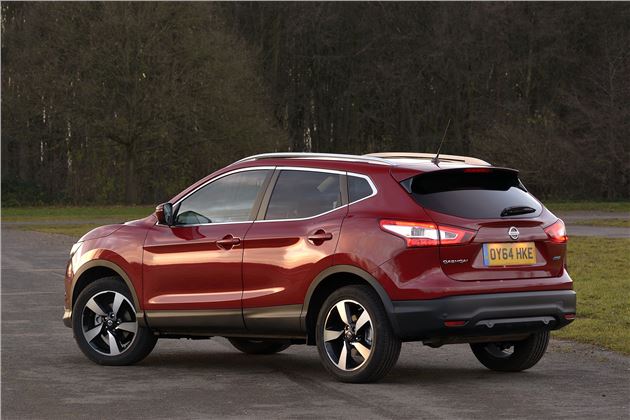 30 January 2015: I've got a big problem with hitting 50
The Details
| | |
| --- | --- |
| Current mileage | 4300 |
| Claimed economy | 74.3mpg |
| Actual economy | 47.9mpg |
Clearly I have a serious problem with the mechanics of economical driving. As you can see from the figure above, the Qashqai is getting nowhere near its claimed economy. It's doing 64.4 per cent of its official average figure, in fact.
I had a similar problem with the Renault Captur I ran before this, so the logical conclusion is that it's me, not the car. I don't know, but all I can say is that I'm trying really, really hard to drive as efficiently as possible: taxi driver shuffle with the gears, feather-light on the throttle, avoiding excessive speed, taking all my bricks and concrete blocks out of the boot when I don't absolutely need them...
Yet I can't even get to 50mpg. It's not as though I'm crawling through traffic every day either. I work from home and the school run is less than ten minutes of virtually empty, mostly flat country B-road. Like I said, my problem, probably. 
But then, I recently took part in an MPG Marathon in an Audi A3 1.4 TFSI petrol, automatic, with a driving partner. Between us we managed 64.6mpg across a 350-mile, mixed roads route – a 7.5 per cent improvement on its official average. So, I can do it sometimes.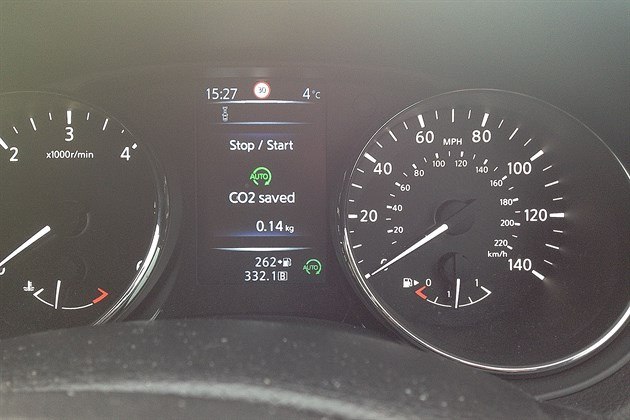 The start/stop display is a rare sight
It's true that it was absolute torture and required the sort of blinkered dedication to fuel efficiency (and disregard for other road users, usually those behind) that's almost impossible in day-to-day, courteous driving
Still, 64.4 per cent in the Qashqai is quantifiably crap. I'd expect, having learned some pragmatic efficiency tips from my slow marathon, to be getting 80 per cent or so. This begs the question, what part does the car play in all this?
Well, for one thing, the car has start/stop, but I only know this for certain because the spec sheet tells me so. It very rarely works. In fact, it's without question the least effective start/stop system I've ever come across in any car. I'm not sure what parameters need to be met for it to work (most of these things need the engine and outside air to be at certain temperatures, and the car's electrics to be under minimal strain), but they're so restrictive here that Nissan may as well not have bothered.
The gear ratios are odd at best and misjudged at worst. For example, the car doesn't know whether it's supposed to be in third or fourth around 30 mph, so in the extremely common the 28-32mph zone the gear shift indicator is constantly telling you to shift to fourth. To third. To fourth. To third. To fourth. To third. Linked to this, and unlike most diesels, it categorically cannot come away from a low speed roundabout smoothly in third. The lazy way out, true, but one of the classic benefits of a diesel all the same. 
I'd love to know if this experience is shared with other Qashqai owners. Let the forums know… 
« Earlier: The North East's company car Later: This product works just fine »
Updates

The Qashqai has gone, so it's time to look back at what impact it's made over the last six months...

A stint with a BMW hybrid supercar got Mark all worked up about how short the Qashqai is falling in the economy stakes.

An errant door seal demonstrates just how well built the functional Nissan Qashqai generally is.

Part two of last month's cliffhanger, in which a rogue hand car wash emporium tried to classify the Qashqai as an SUV.

When you're in the North East of England with a Qashqai, a football analogy is inevitable. Here it is...

A trip to the hand car wash place prompts us to question the very nature of our family hatchback.

Finally our parking sensor issue has been resolved, as is another of the Qashqai's frustrating quirks.

Bad cars don't really exist any more. Bad in-car media systems still do. Luckily, the Qashqai responds well to being touched.

We have a bit of a problem with our Qashqai. The parking sensors keep screaming at us. And we don't like it....

Our Qashqai is marvellous family transport but it's not proving emotional. Which is a bit of a shame.

30 January 2015: I've got a big problem with hitting 50
Mark may be advancing in years but he's having more than a few problems approaching 50 in his Nissan Qashqai.

Mark picks up the new Nissan Qashqai, making him feel right at home in his native North East.