Our Cars: Nissan Pulsar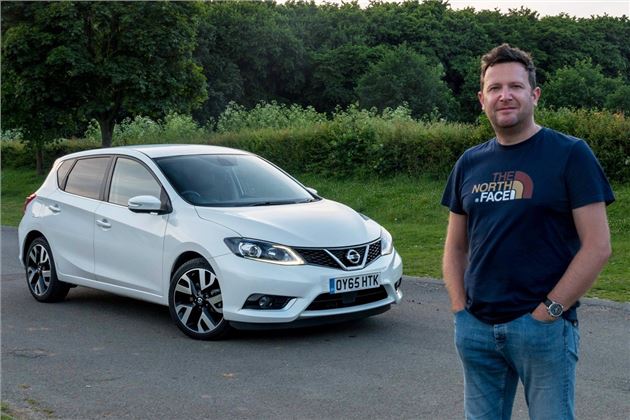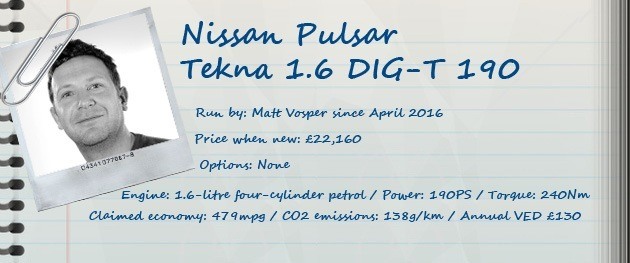 27 April 2016: What is a Pulsar?
The Details
| | |
| --- | --- |
| Current mileage | 4206 |
| Claimed economy | 47.9mpg |
| Actual economy | 42.6mpg |
Now I'm sure you all know that Pulsar is short for pulsating radio star. That's a highly magnetised, rotating neutron star that emits a beam of electromagnetic radiation. Obviously. But not only that, Nissan makes one that you can buy. However it's slightly different, well completely different actually...
Because this is Nissan's re-adventure into the family hatchback market after leaving years ago with its last contender the Almera. Since then, Nissan has been super successful with the Qashqai and has happily recreated that success with the Juke. So why go back to a family hatchback? Could it be that the crossover market is absolutely saturated?
Well, if you're going up against the likes of Volkswagen Golf, Ford Focus and Honda Civic you'd better make a good entrance. Especially as since Nissan left this arena, these cars have become incredibly well refined and competition has never been so tight.
However there's nothing cooler than a good name to start with. Enter the Pulsar - Nissan's new Almera. I'll be running a white 1.6 DIG-T 190 petrol manual for the next six months or so. This is the sportiest version of the Pulsar although I'll stop short of calling it a hot hatch. It manages 0-62mph in 7.7 seconds yet still returns a claimed 47.9mpg. And the price? A not insignficant £22,345 on the road.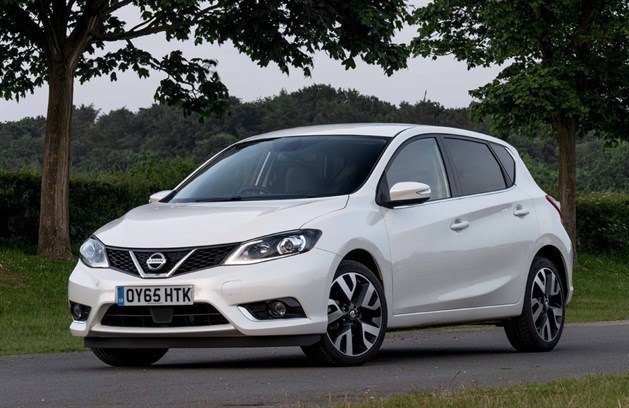 The sportiest Nissan Pulsar you can get...
So this is more hot hatch than family eco runabout. However, first impressions don't immediately point to its sporty nature. It's actually quite understated with only a few visual clues such as the carbon effect rear diffuser, chrome exhaust and the hardly noticeable high level rear spoiler.
I have to say, it's most definitely not that sporty looking, but it does come with a great set of 18-inch alloy wheels which it really does need. Otherwise I doubt you'd look at this car twice. Just have a look at the competition - such as the Kia Cee'd GT - if you don't believe me.
Looks are probably top of the list when it comes to buying a sporty car. It's the first thing that grabs your attention, which makes the Pulsar all the stranger, especially when you look at other Nissans - most notably the Juke and its bold styling. The Pulsar won't divide opinion in the same way but it also won't turn heads in the way other hatches will.
On the inside, however, it's a different car. The cabin on first glance is very well refined - Nissan has done a great job. Everything is well laid out but what is immediately noticeable is visibility - it's fantastic. The front screen seems huge and the windscreen pillars are positioned well out of line of site compared to other cars. It's very light and airy while the quality of the plastics is top notch, coupled with leather seats. It's here the Nissan can match other sporty hatches. We'll see if can in other areas over the coming months.
Updates

After six months we've come to the end of our time with the slightly-sporty Pulsar. So what's the final verdict?

It's time for our Pulsar to have its first service as it approaches 10,000 miles already. So how does Nissan do on the customer service front?

Matt is trying to work out whether our Pulsar is a sporty hatch or merely a family car with some posh wheels on...

The Pulsar isn't matching the claimed Nissan figures for fuel economy but it's still proving reasonably frugal as Matt finds out...

Need extra room in your hatch? We did and the solution was a posh roof box for our sporty Nissan.

The Pulsar has lots of cameras on board to make parking and tight manouevres easier. So do they actually help?

The low front end of our Pulsar is causing some problems when it comes to speed bumps and parking. As Matt finds out.

The Pulsar has keyless start but, as Matt finds out, it can be a temperamental system. He'd be happy with a conventional key.

Our Pulsar is fitted with a host of safety tech. But what happens when that tech decides not to work?

Our Pulsar is a kind of hot hatch that meets family runabout. But in reality, the two couldn't be further apart from each other. So does it work.

The Pulsar comes with an array of safety systems. But do they actually help you to become a better - and safer - driver?

27 April 2016: What is a Pulsar?
Enter the Pulsar. Nissan's new Almera. And Matt will be running this sporty DIG-T 190 model for the next six months.