Our Cars: Nissan Leaf Tekna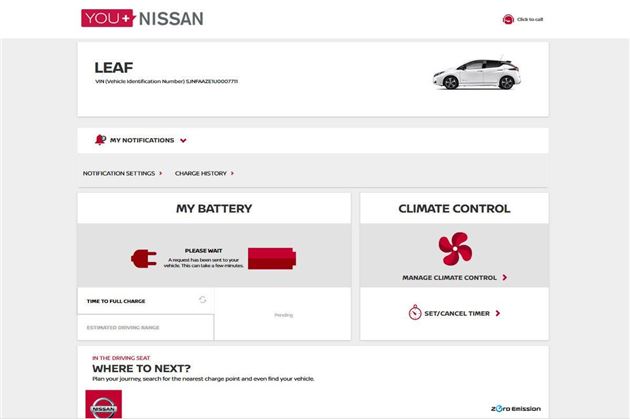 28 February 2019: Why is the Nissan Leaf EV app so bad?
The Details
| | |
| --- | --- |
| Current mileage | 9293 |
| Claimed range | 168 |
| Actual range | 110 |
Electric vehicles are at the forefront of technology. Some manufacturer have embraced this aspect of their cars – offering selection of cutting edge tech to give their cars a youthful, fun factor that you don't get with 'the old guard'.
Tesla is particularly good at this. Its cars (or rather its cars' software) offer 'Easter eggs' – hidden, undocumented bonus content that users have to discover. There's the Rainbow Road autopilot display, the Mars Rover GPS, and a trick where the car will put on a miniature light show will recharging.
We're sure that the always-serious Nissan turns its nose up at these, but it makes the point that EV owners are handy with a smart phone. Sadly, it's a point that the Japanese car maker seems to have severely neglected.
Don't get us wrong, we weren't expecting a holiday light show – we'd just like an app that works. If you're wondering what sort of things you can do in the app, well you could: check the car's battery charge, start/stop the charge, check the cabin temperature, put the heating on… all kinds of handy stuff.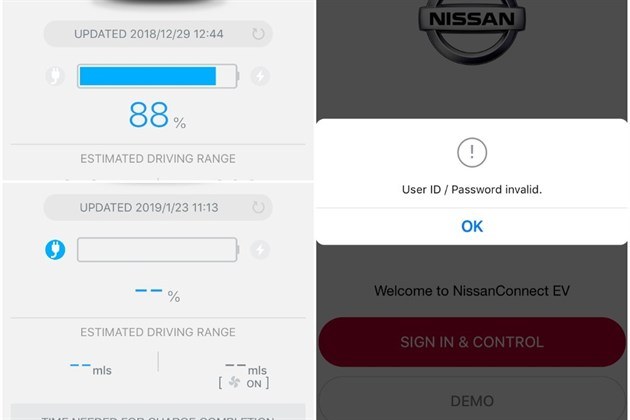 You can set a charge and heating timer to run at certain times and on certain days. But what about when you unexpectedly have to go out and can't be bothered to get cold and defrost the car? There's an app for that.
But Nissan's app is so slow that by the time you've found your coat, got the de icer, got your boots on, started the car, turned the heating on, put the heated steering wheel and seats on, broken the scraper, dug out a new one, and got the ice off, the app will still be trying to log you in.
And if that's not bad enough, the app also tells you lies. Several times we've logged into to be shown wildly inaccurate info – 88% charge and a 212-mile range? I don't think so. Sometimes, you don't get any information at all – just a series of dots and dashes. But the only Morse code I know is dot, dot, dot, dash, dash, dash, dot, dot, dot. It's the same if you try and log in via the desktop. Slow, cumbersome and frankly just not good enough.
Perhaps the most frustrating thing is that it struggles to cope with two users. Heaven forbid that both you and your partner should actually want to log in and check the range. Poor show, Nissan.
« Earlier: Five things no-one ever tells you about owning an electric car Later: Nissan Leaf niggles mount up »

Updates

Should you spring for a wall-mounted charger - or can a three-pin socket cut it?

What is an e-pedal? How does it work? And is it any good? We explain all

There's plenty to like about the new Leaf. Here are just a few highlights.

We reflect on some of the more challenging aspects of running a Leaf

28 February 2019: Why is the Nissan Leaf EV app so bad?
These days, is a car only as good as its app?

Baby wipes, free electricity, judgemental apps and other Leaf owners - Keith reflects on three months in an EV.

We get to grips with coping with the Leaf's limited range on a daily basis.

How does the latest Leaf stack up against its electric rivals? We find out

A drop in temperature dents the Leaf's range

Can you make the Leaf work if you don't live in the city? We find out