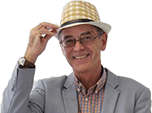 Our Cars: Mazda6 2.2 D SE-L Auto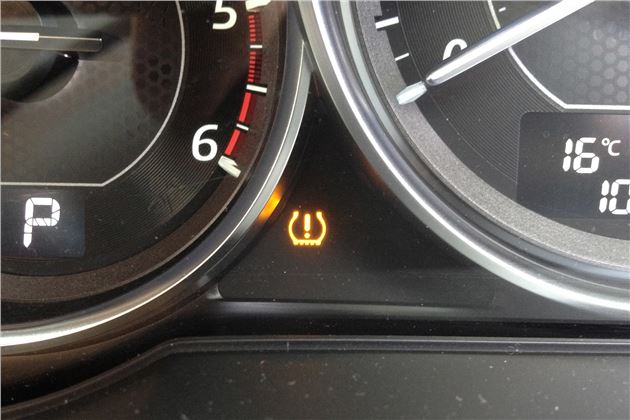 6 October 2013: HJ Gets a Puncture
The Details
| | |
| --- | --- |
| Current Mileage | 10,536 |
| Claimed Economy | 58.9mpg |
| Actual Economy | 50 5mpg |
| | |
Happlly it was a warm, sunny October day when the TPMS warning light came up on the dash of my long-term Mazda 6.
Having set off just before 06.00am, I had been about 2/3 through my journey north on the A1M, making sedate but good progress with the cruise set at 73 (a true 70 on the TomTom). But a warning light doesn't flash without a reason.
So I pulled over, off the hard shoulder onto the grass, and kicked all the tyres. 
None seemed flat, or even soft, so I drove back onto the carriageway figuring to check the tyres at Wetherby Services.
All OK. All registering 35PSI. Until I got to the rear nearside. That was 15PSI. And the reason cound be seen poking out of the very lightly worn tread.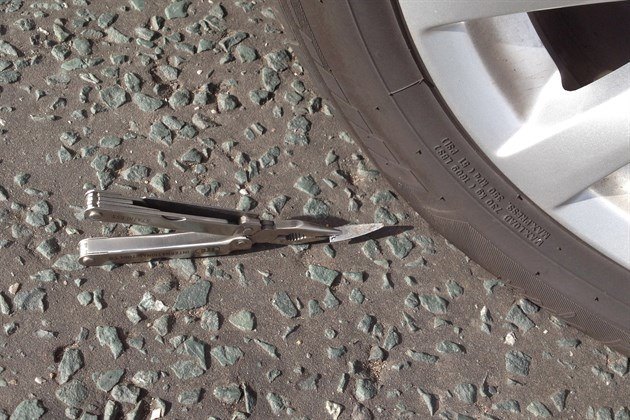 I had a multi-tool in my bag. And, after a bit of a struggle, I managed to pull the offending spike out of the tyre. It looked like the handle of of a miniature nail clipper.
Then, figuring that the 'tyre repair kit' must be able to seal such a small hole, I set to work, following the instructions precisely:
Let the air out of the tyre; unscrew the core; squeeze the bottle of latex-like glop into the tyre; replace the core; re-inflate the tyre; and Bob should have been my uncle.
Except the air, now accompanied by white latex-like glop, was still fizzing out of the tyre.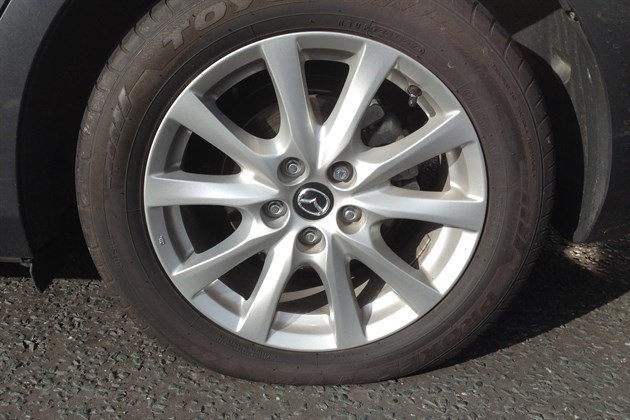 So, find the Mazda emergency number. Discover it had changed in March, but get put through to the right number. Tell the chap I will need a new Toyo 225/55 R17 97V tyre. And wait. 
It wasn't long before a helpful fellow from the RAC was on the line and he set to work looking for a Toyo 225/55 R17 97V.
20 minutes later, he called again to say he couldn't find one that size; only a Michelin. So I asked him to make that the fallback and keep looking.
20 minutes later he called again to tell me he couldn't find any Toyos and was sending a patrol to make a temporary repair or otherwise get me to Kwik-Fit in Harrogate.
I'd never read so much of the Saturday Telegraph on a Saturday.
20 minutes after that, a cheerful, friendly, helpful RAC man arrived and made a temporary repair to the now ruined tyre (you can't permanently repair a tyre full of glop).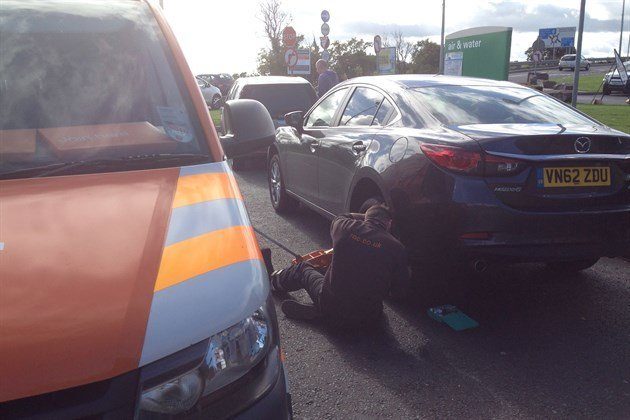 Then we drove 9 miles to join the usual Saturday traffic jam into Harrogate.
By that time it was pushing 01.00pm, and Kwik Fit was busy, so I had to wait a further hour (fair enough).
The price was going to be a card-hammering £257 for a 225/55 R17 Michelin Primacy 3.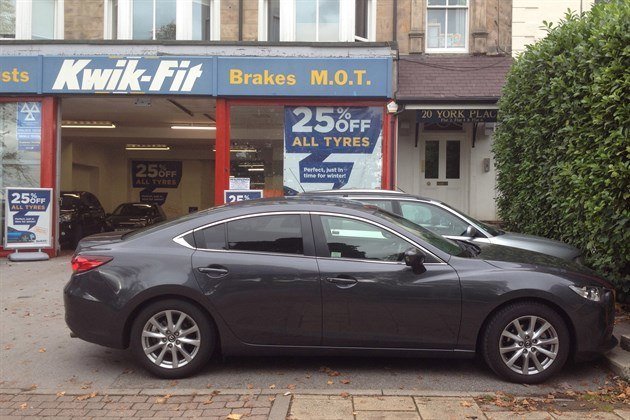 Just after 02.00pm I was on my way again, joining the Saturday traffic jam out of Harrogate, £257 lighter.
The rest of the journey went fine. On the 46 mile cross-country section the car felt fine, despite one odd tyre. And I finally arrived at just after 04.00pm, ten hours after I set out, which is twice the normal time for the journey.
But what if this has happened in the small hours of the morning? And instead of a sunny 16C, I'd been stuck in freezing rain?
My point here is that not only was the tyre repair kit useless at repairing a small puncture, it was worse than useless.
It was a con.
Using it ruined the tyre, making it unrepairable, forcing me to spend £257 on a replacement.
Cars are supplied with this rubbish to get the CO2 down a few g/km in the EC emissions test to qualify for a lower tax bracket. And, of course to save the manufacturers money.
But they are Type Approved with these useless kits, so the manufacturer cannot supply a full size spare or a space saver as a factory option. All a dealer can do is offer it as a dealer supplied accessory.
Skoda does this at the point or sale. The sales people warn buyers of the consequences of no spare wheel and recommend a space saver, jack and brace at an extra £100 or so. Mazda charges £350.
I urge all manufacturers to do the same. And all car buyers to take up the option.
I lost 5 hours and £257. You could lose a lot more.
« Earlier: Mazda 6 Gets its First Service Later: 11,000 Miles in 8 Months, and Cameras »
Updates

HJ bids a tearful goodbye to his Mazda 6, a car so good his spare car spent almost a whole year in the garage.

As HJ's Mazda 6 Skyactiv 2.2d 150 auto nears 13,000 miles and winter sets in the fuel economy has dipped to around 49mpg, but the car remains a delight to drive.

HJ's Mazda 6 is now up to 12,212 miles, had a service, been photographed by CP Plus, and acquired a camera of its own.

6 October 2013: HJ Gets a Puncture
HJ gets a puncture and discovers how much worse than useless a 'tyre repair kit' can be.

A slightly early service was not only prudent, it gave us a chance to check out Mazda's new online booking system.

HJ's Mazda 6 has been clocking up the miles very pleasurably, but it will soon be time to start thinking about a first service.

HJ gets rear-ended at a roundabout

HJ feeds his Mazda 6 on Shell V-Power Nitro+ and notices a 3mpg improvement in economy.

HJ gets his long term Mazda6 absolutely filthy clocking up another 1,000 miles in a week.

HJ took delivery of his Mazda6 Skyactiv 2.2d 150PS SE-L Nav automatic in February. Here's how he got on over the first 965 miles