Our Cars: Hyundai i30 1.6 CRDi Sport-Nav 3dr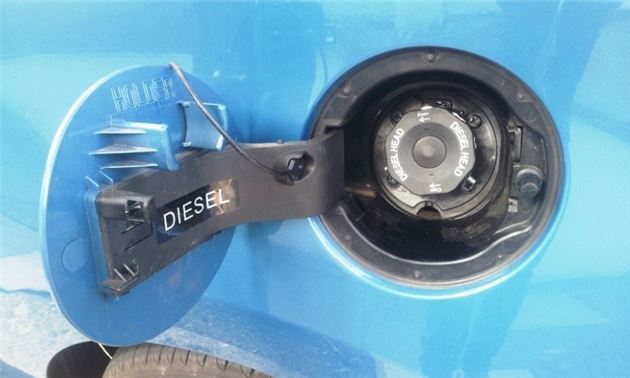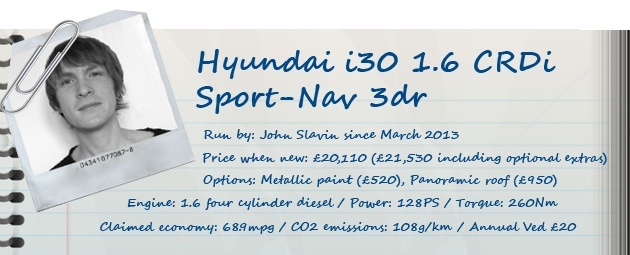 2 August 2013: Extra precaution
The Details
| | |
| --- | --- |
| Current mileage | 4365 |
| Claimed economy | 68.9mpg |
| Actual economy | 48.1mpg |
| | |
I drive a lot of different cars – it's part of the job – and that means a mixture of petrol and diesel powered engines. Fortunately because I'm forever chopping and changing I tend to pay special attention when I get to the pumps to make sure I don't pick up the wrong one.
However if you look at the Ask HJ section of the site you'll see that lots of typically cautious people often accidentally pick up the wrong nozzle – often they usually green petrol pump is black with a different coloured sticker and it's very easy to get distracted.
So I decided to take a bit of an extra precaution for those occasions when I am distracted by fitting a 'Diesel Head' so I don't accidentally pump petrol into the i30's diesel tank. It's a fairly cheap and simple device that slips over the neck of the filler spout in the car and locks into place with a few screws.
After that the nozzle will only accept diesel fuel fillers – petrol ones won't fit through the hole thanks to a clever spring-loaded door that only opens for the ever-so-slightly wider nozzle on a diesel pump. It's simple but effective. The only issue I had was getting it fitted – it's a fiddle to say the least – but once it's on that's the end of it, you can forget about it and get on with driving.
Putting petrol in a diesel car can be seriously damaging to engine components like the fuel pump and if you accidentally misfuel and notice before driving the cost of calling someone out and getting the tank drained is higher than the £35 it costs to buy a Diesel Head, so it seemed like a sound idea.
Aside from that addition, the i30 is performing as ever – it's smooth, comfortable and easy to drive. It's absolutely filthy though, both inside and out... so perhaps it's time to get it washed. 
« Earlier: Where has the i30 been? Later: Disappointing fuel economy hasn't improved »
Updates

After six months with the Hyundai i30 Sport Nav 1.6 diesel it's time to say goodbye and generally it's been a good car.

During my time driving the i30 I haven't seen another three door model which is quite surprising. So is this an exclusive model?

When our i30 arrived it wasn't delivering particularly good fuel economy – which could have been down to the low mileage. Sadly, it hasn't much improved.

2 August 2013: Extra precaution
Driving a big mixture of petrol and diesel cars means there's a higher chance of misfuelling, so we've fitted a device to prevent it.

We've some of the routes over which our i30 has travelled on a map so you can see how it performs over a variety of road types.

Hyundai handed an i30 over to 25 kids, armed with sand, juice and muddy wellies to see how durable it is.

Our i30 is certainly an impressive car – but anyone seeking a new family hatch will have the Volkswagen Golf on their shopping list. How does it stack up?

The Hyundai i30 is well-equipped as standard, particularly in the top trim level – but there are a few irritating omissions.

Hyundai doesn't have the long-running lineage of many brands but it's interesting to see how the i30 has evolved from the Pony.

You wouldn't usually buy a diesel car to get around town – but that's what our i30 has been doing recently - does it still make sense?

After six months with a two-seat coupe I'm really starting to appreciate the space in our new Hyundai, but I'm still getting used to some of the niggles.

We welcome the three-door Hyundai i30 in top-spec Sport-Nav trim. How will it stand up to London life and long motorway trips?