Our Cars: Ford Kuga ST-Line 2.0 TDCi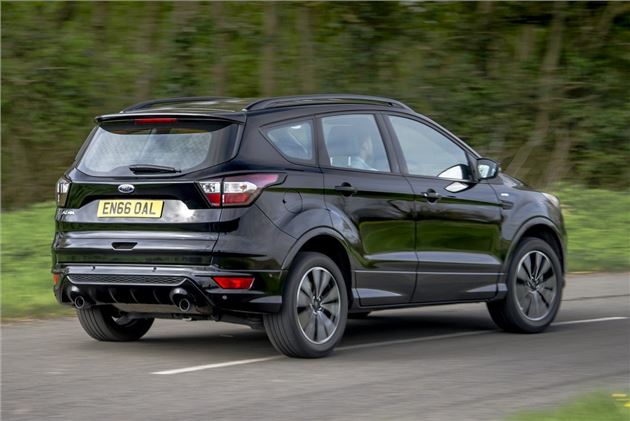 13 July 2017: How does Apple CarPlay work on the Ford Kuga?
The Details
| | |
| --- | --- |
| Current mileage | 6888 |
| Claimed economy | 60.1mpg |
| Actual economy | 38.1mpg |
Last time we had a Ford Kuga on long-term test, we had a few issues with the infotainment system. The main problem was that iPod connectivity stopped working. But there were other issues such as the vehicle battery draining as the unit constantly tried to wirelessly connect to a smartphone.
Thankfully, those issues haven't re-appeared this time round, thanks to a new infotainment system in the updated model – although it still has a few foibles. That's nothing unusual. Despite infotainment and smartphone connectivity being a major consideration for a generation of younger buyers, manufacturers still haven't quite nailed this.
Smartphone software providers have taken the lead though - Google has Android Auto, while Apple has CarPlay. While we haven't been able to road test the former, we have been able to put the Apple system through its paces.
In this case, it's as simple as plugging your phone into a lead that connects to a USB port on the vehicle, which is hidden in the centre armrest. This isn't an ideal location as it means you've got a wire trailing out. And while there is a narrow tray for your phone in the centre near the gearbox, it's not suitable for larger phones or 'phablets' like the iPhone 7 Plus.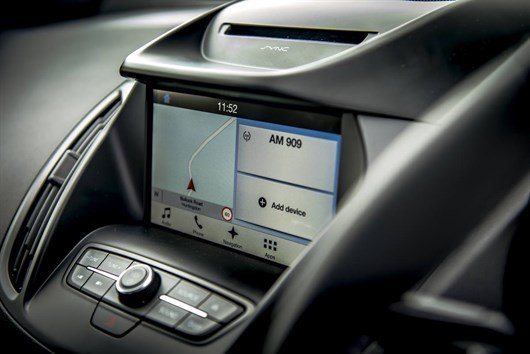 Our Kuga's 8in colour touch screen works with Ford's infotainment system and Apple's CarPlay.
Again, not many manufacturers have cracked this – but things are a lot tidier when there's a decent phone cubby that sits forward of the gearbox with a nearby port, allowing the lead to be tidied away. Why don't I just stash my phone away in the cubby? I'd love to, but…
The system has a habit of crashing. This occurs when the audio from the music becomes 'fragmented' and starts to skip, stutter, or sound like it's being played from a speaker under the sea. In this case, you need to unplug and plug it back in again for normal service to be resumed.
Generally, it's pretty good. And we much prefer the instant map and traffic updates when using Apple Maps. Plus, unlike the Ford navigation, the phone can remember a home address. We've tried four or five times to fix this on the Ford system, but it never seems to recall where we live.
Forgetfulness is a bit of theme with the Ford unit actually. For a start, it never remembers which station we were last listening to… although at least it's stopped piping through TalkSport as a default option.
To its credit, the Ford system is capable of using Siri – apple's voice-controlled assistant. You simply press a button and issue a command. This could be playing an album, getting directions home, or sending a text message. Obviously it's not perfect, but it is definitely a step in the right direction towards combating driver distractions.
« Earlier: Is the Ford Kuga better than the Peugeot 3008? Later: What is the real mpg of the Ford Kuga? »
Updates

After six months, it's time to say goodbye to the big Ford. But will it be missed?

Flimsy controls and a poor infotainment system let our long-termer down

With six trim levels to choose from, how do you know which Ford Kuga is right for you?

Electronic parking brake problems and poor seats mar the Kuga experience.

We look at the real-life fuel economy of Ford's popular crossover

13 July 2017: How does Apple CarPlay work on the Ford Kuga?
We road test the Ford's infotainment system, including Apple CarPlay connectivity

We get behind the wheel of the Kuga's competition to see how it compares

Keith finds out that, despite its size, the Kuga is pretty decent to drive

The Kuga might be a big car, but parking it is no drama thanks to some handy tech

After a month of living with our Kuga, we've uncovered a few gremlins. Keith explains all...

Just weeks into its tenure, our long-term Ford faces a tough task

Old car nut Keith gets excited when he hears he's getting a Kuga. No, not that one...