Our Cars: FIAT 500 1.2 Lounge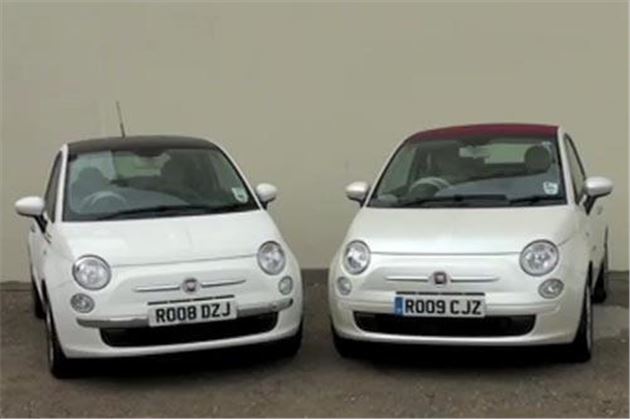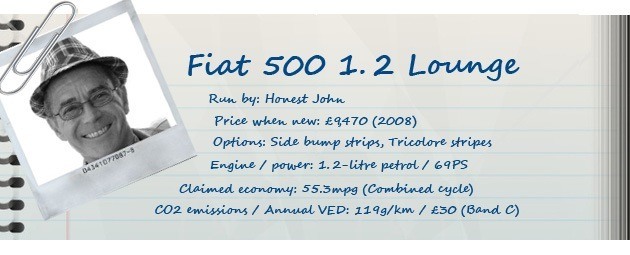 12 May 2011: The second year
Ford took its Focus back in May 2009, so Noo Lek got pressed into a bit more work. One assignment was a run down to Poole Harbour in June 2009 to test the FIAT 500C convertible. And surprise, surprise, under the car were the same suspension improvements as applied to the Ka and the Abarth 500. 
The 500C I drove most was the 1.3 Multijet, which went better than MINI Cooper diesel and was much more fun. I did my sums, but too early for a swap. FIAT assured me that the suspension improvements were "coming" for the rest of the 500 range, but they didn't actually feed their way through until 2010 production.
Still absolutely no problems at all with Noo Lek, who got a long run first to Stratford upon Avon for the Peugeot 3008 launch, then on to Manchester for the launch of the 2010 model KIA cee'd.
That meant quite of lot of motorway miles on which even a 500 on the original suspension is surprisingly comfortable. A lot of it is due to the excellent front seats, but it also pulls quite a high top gear at about 23mph per 1,000rpm. The cee'd 1.6 petrol was noticeably lower geared on the motorway and a much less successful cruiser.
By 15th October 2009 the miles were up to 5,497 and the fuel economy sitting at 48.24mpg. Another winter meant a full 6 weeks under the tarp. I cam back from Thailand to find Noo Lek buried in snow and the next day a Nissan Cube arrived so I didn't have to dig him out until a week later.
Life remained uneventful with me developing an appreciation of some of the 500's thoughtful features. For example, when you wash/wipe the screen you get three wipes, then the wipers settle down for 10 seconds, then give the screen one more wipe to catch the inevitable dribble. How many much more expensive cars do that for you?
2nd year service was much dearer than the first because it includes a fresh set of plugs, a pollen filter and a brake fluid change. Again, the job was done while I waited at Parkway. By April 2010 the odo was sitting at 7,044 miles and the mpg at 48.7. In June 2010 I was invited to a Renault Eco 2 presentation in Paris, part of which was an economy-driving lesson in Paris traffic.
So I started applying some of the economy driving techniques to Noo Lek, and over 120 miles managed to average 64.2mpg. The trouble is, Eco driving is not only slow, it's dangerous. You have to avoid braking and accelerating as much as possible so can find yourself whacking across roundabouts and cutting things a bit fine. So enough of that. I'd proved a point and could get back to normal. By October 2010 the odo was sitting at 9,742 miles and the mpg at 49.13.
« Earlier: The first year Later: The past six months »