Our Cars: FIAT 500 1.2 Lounge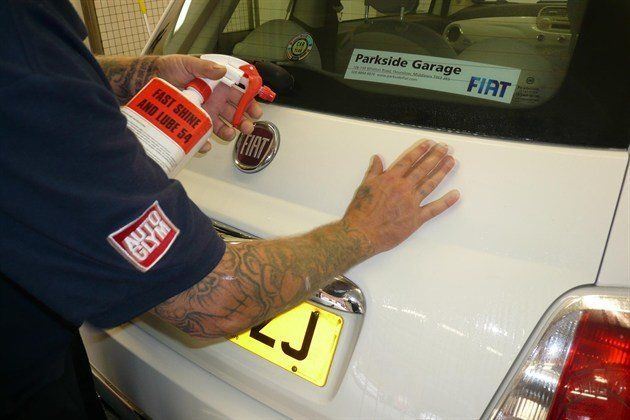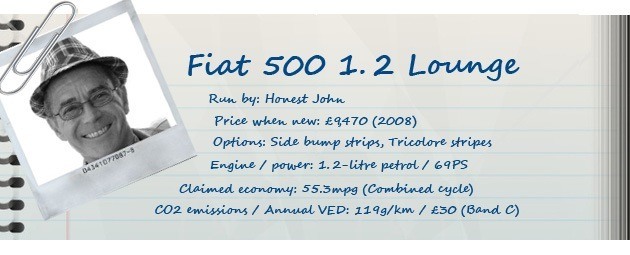 19 May 2011: The past six months
A visit to Autoglym earned Noo Lek a full professional valet in the hands of Nigel, plus some useful tips to me to keep his paintwork in good shape. Autoglym High Definition wax is definitely the way to go, but it's a wax, not a polish, so you have to clean the surface perfectly before you use it.
At the end of October 2010, the chance for another comparison came up. This time with the super low CO2 FIAT 500 TwinAir that offers 85PS and 145Nm torque from just 875cc, together with no VED and no London Congestion Charge by virtue of its 95g/km CO2 output. Under the new rules that also qualify it for full first year company write down. So I was definitely primed for a part-ex.
However, though the TwinAir is almost as much fun to drive as the Abarth 500, its real world fuel economy of 68mpg is probably pie in the sky. I got a mere 34mpg, against the 54mpg the computer in Noo Lek was showing. Now filming singlehandedly means a lot of stop starts and is very fuel inefficient. But everyone else I spoke to on the launch had got the same, and when Autocar tested it properly the average was only 35.7mpg.
I suspected the real reason was that though the TwinAir develops bags of torque above 1,900rpm, it's got nothing much beneath it. Press the economy button and maximum torque is actually less then my 500 1.2's. That means that while I can trickle my 500 at 30mph in 5th on V-Power no problem at all, if I tried that in the TwinAir the engine felt like it was going to jump through the bonnet. 30mph needs third. And that's why its economy in town is so bad.
I figured that on a 600 mile run would be better because the engine is smaller, it's more efficient and the overall gearing is the same as the 500 1.2. So that's something I put to FIAT to try. By December I'd got the use of a garage, so Noo Lek was snugly ensconced in it before the really bad weather hit. But a family tragedy dragged me back from Thailand and with no other car available I had to make two 600 mile round trips to Northumberland.
As I mentioned before, that kind of distance is no problem in the 500. I stepped out at both ends both times without a twinge, and the last run was non-stop because even doing 300 miles in 5 hours a 500 doesn't require a refill.
And even the slightly quicker pace hadn't harmed the fuel economy. At 11,750 miles it was sitting at 48.83mpg. The two long runs in the cold had actually brought that down from 49.17 and on the runs themselves it averaged 46.91mpg. Then, over 5th/6th February I did the same 600 mile run in a 500C TwinAir. Averaging the same speeds and calculating very carefully on a brim to brim basis, over 610 miles I averaged 48.03mpg.
So, the TwinAir is capable of being slightly more economical. But it's so much fun to drive that few people will actually drive it more economically. By April 2011 my 500 had clocked up 12,867 miles at an average og 48,74mpg and was due for its third service and first MoT.
That set me back the grand total of £173.49, including VAT, with no faults found and 6mm left on all four tyres. It was then stashed in the lock-up for 3 weeks while I tested a Citroen C4, various Peugeot 508s, a Jaguar XJL and the new MINI Clubman SD Hampton. On top of which, my new long-termer, a Mazda 5 1.6D TS2 arrived.
I pulled the 500 out today for a 15 mile run to self service the aircon and charge the battery.  I've run FIATs and Alfas before. More fool me, you may think. But more relevant than anything else during my 34-month tenure of RO08 DZJ is that nothing whatsoever has gone wrong with it. Not a single thing. Not even the Blue & Me hands free phone system. How may Volkswagen owners can say that?
Good points
Great looks, wonderful retro styling inside and out, combined with high tech Blue & Me. Completely non-threatening to other drivers. Excellent fuel economy, Sensible non-dazzling separate DRLs.
And not so good points...
Feel-free steering made worse by pressing the 'City' button. Bouncy suspension. Tendency to hop across the road if it hits a bump on a roundabout (all cured from 2010 model year). Rear seats don't double fold. No ball of fire, of course.
« Earlier: The second year Later: Winter tyres arrive »