Our Cars: FIAT 500 1.2 Lounge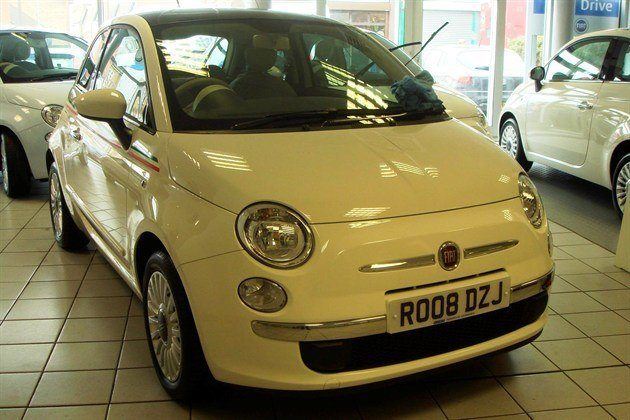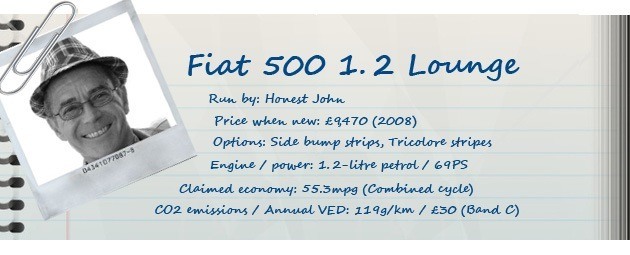 10 May 2011: The first year
The Details
| | |
| --- | --- |
| Current mileage | 12,902 miles |
| Actual economy | 48.74mpg |
| Total costs | £541 (three annual services) + £100 VED (£35 + £35 + £30) |
The first six months
My company bought the car for me in March 2008 for £9,470, including side bump strips and Italian Tricolor side stripes and because it's 119g/km was immediately able to write down 100% of the purchase price. (This allowance changed from April 2008.) Because it's 119g/km CO2, I pay tax on 10% of that, so tax on £947 at 40% is £378.80. I pay for my own personal fuel.
Dealer Kevin at Parkway FIAT threw in a set of mats, a perfume diffuser and Tricolour key fobs. No discount either from FIAT or from Kevin. Dealer margin a mere 3%, plus a further 3% if the customer filled in a customer satisfaction form positively after 6 months.
Since I was away in Thailand I didn't actually pick the car up until April 2011 and it was immaculately presented. That's very important. A new car should feel new. Kevin paired up my Nokia phone to the car's standard Blue & Me hands free and I was off.
First impressions were the same bouncy ride and overlight steering as on the launch. But the car is so cute I forgave it for not driving as well as it looks. I gave the car the nickname 'Noo Lek', which means 'little mouse' in Thai.
From the start, I decided to put it on a diet of Shell V-Power petrol, the same as I'd have used if I were filling up a Ferrari rather than a 69PS 1.2 FIAT.
Nothing whatsoever went wrong. The only incident was when something fell onto the glass sunroof from such a great height that it actually pulverised the glass at the point where it struck. Could have been something from a plane (I live under one of the Heathrow holding patterns). Happily, FIAT replaced the roof under warranty without question and Parkway did a perfect, undetectable repair that has never leaked.
Use for the first year was strictly 2nd car because I had a Focus ECOnetic long-termer from Ford at the time. Fuel economy over the first 1,343 miles was 47.86mpg.
The second six months
In November 2008 I got the chance to drive the new 500 based Ford Ka. And was naturally intrigued to see what Ford had done to improve the car's ride quality. My car's suspension is pure Panda. A pair of struts at the front and a cheap twist beam rear axle.
This wasn't good enough for Ford, who inserted an anti roll bar into the twist beam, considerably softened the rear suspension and installed some trick progressive rear dampers. These tweaks not only sharpen the car's steering and stop the back end hopping across the road on bumps, they improve its ride quality enormously. So when was FIAT going to adopt the Ford improvements?
Winter came and went with Noo Lek under a tarp for 5 weeks over Christmas.
Then, In February 2009, I got the chance to drive the 500 Abarth. No stupid super light 'City' mode for the steering in that. Instead the dash button sharpens the whole car up. Underneath it has the Ka suspension, worked on by FIAT's Abarth division. And on standard 16" wheels with glue-like 195/45 Pirelli P-Zero Neros it's a hoot to drive. A real Jack Russell Terrier of a car. Don't, however, make the mistake of taking up FIAT's very generous offer of 17" wheels with 205/40 P-Zero Neros. They completely destroy the character of the car, robbing it of steering 'feel' and fun factor all in the name of a few fractions of a second off your lap times.
By the first service in April 2009, Noo Lek had still only done 1,980 miles, at an average of 48.68mpg.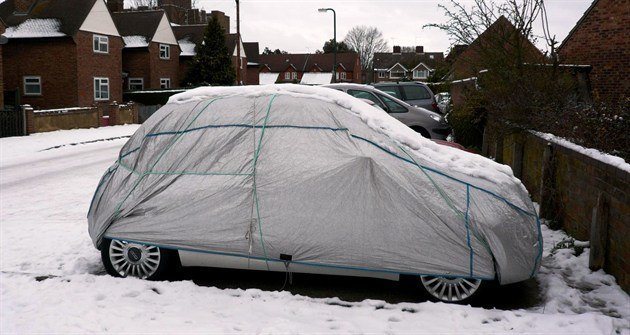 1.2 8v FIRE petrol: 1,242cc belt-cam petrol: 51kW (69PS) at 5,500rpm / 102Nm (75lb ft) torque at 3,000rpm.

1.2 8v FIRE petrol 5-speed manual: 0-60: 12.6 seconds; top speed: 99mph; combined mpg: 55.4; CO2 emissions: 119g/km (Band B petrol £30 pa VED); Emissions Class: EU4