Our Cars: FIAT 500 1.2 Lounge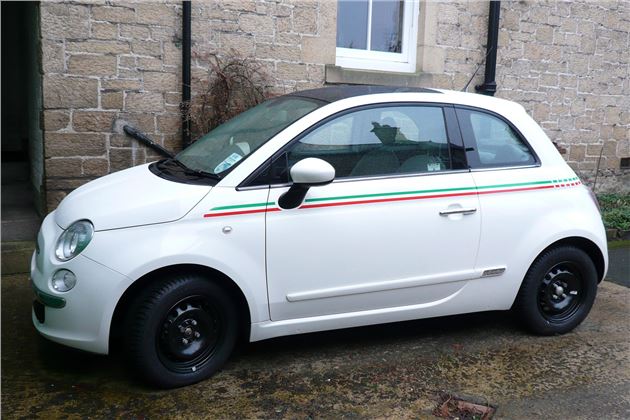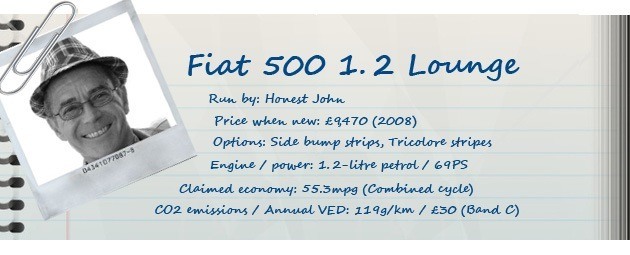 24 December 2011: In Search of Snow
The Details
| | |
| --- | --- |
| Current mileage | 13705 |
| Average mpg | 49.1 |
The day finally dawned for my epic Christmas trip to Northumberland to give the Michelin Alpin 175/65 R14s a tryout in some snow.
305 miles on 21st December, average running speed 60mph, average mpg 49.1.
So no difference from the normal lower profile 185/55 R14 Michelin Energy Savers. 
Same brilliant long squab seats. I could do 1,500 miles in them no trouble, not a twinge.
Ride quality a bit better. Steering 'feel' a bit better. Cornering grip a bit better too. But still not enough to overcome the car's crude, Panda based suspension. It's nothing like as good as the Mazda 5 cross country on the same roads.
But temperatures of 11'C to 14'C, so no chance of snow.
Just going to ahve to waut until January.
To the car's credit I noticed from the log that the last time I'd filled it up had been September. It had only been out on three battery charging runs between then and its 30t mile run on 21st December.
And absolutely no problems. Even the Blue & Me hooked up fine. Though if it loses signal it goes off for quite a long time before it re-pairs with the phone.
This, remember, is a FIAT, now 3 years 9 months old and completely fault-free.
How many cars can you honestly say that of?
« Earlier: Time for some High Def Later: Snow at last »