Our Cars: FIAT 500 1.2 Lounge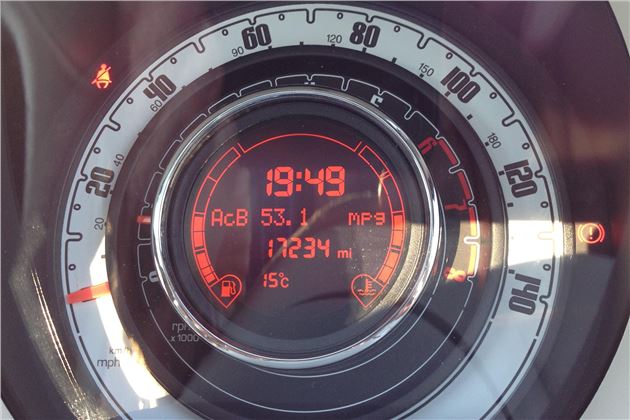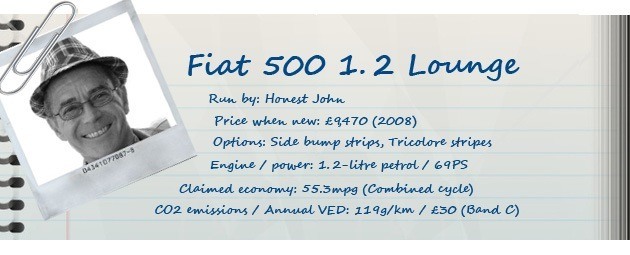 13 July 2012: FIAT 500 Turns 17,000 miles
The Details
| | |
| --- | --- |
| Current mileage 17,234 | |
| Recent mpg | 53.1 (meter) |
| Overall mpg | 48.45 (calculated) |
| Tyre tread depth remaining | |
| Front o/s 5mm | |
| Front n/s 5mm | |
| Rear o/s 5.5mm | |
| Rear n/s 6mm | |
| | |
The FIAT has been busy recently, having done more than 3,000 miles since its 4 year service in April.
It's still proving amazingly comfortable on long runs, and decently economical with the warmer weather bringing typical 52 - 55mpg averages.
Tyre wear hasn't been bad either. The standard Michelin Energy Savers were off for about 1,000 miles over the winter, so have actually done about 16,100 miles. Yet, with 5mm remaining on the fronts and 5.5 and 6mm on the rears, they should be good for at least 30,000 miles total.
Part of that is probaby due to fact it's best to try to keep the car as upright as possible through the corners, ensuring relatively even tyre wear. The straightest route through a corner is not only the quickest, it's also the most economical if you keep constant speed and, of course, it results in the least tyre wear.
But it will soon be time for the lock-up again because 'my' BMW 328i arrives on 25th July and that will be doing the lion's share of my transportation over the next couple of months.
« Earlier: Amazingly Stable in Standing Water Later: FIAT 500: HJ's unused FIAT 500 remains largely unused »