Our Cars: FIAT 500 1.2 Lounge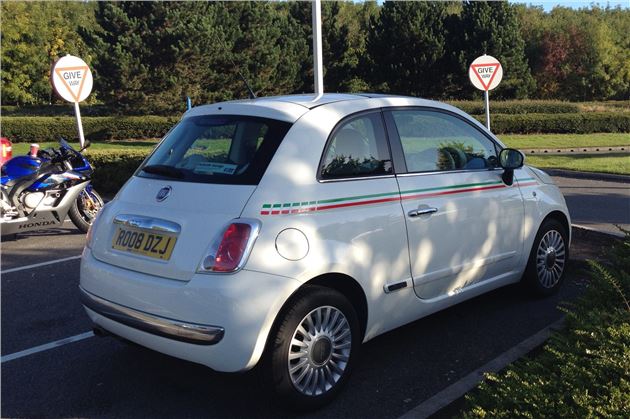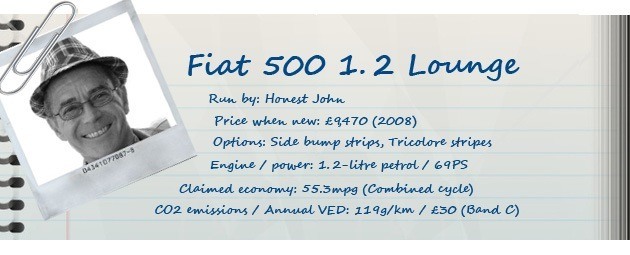 29 September 2015: FIAT 500: Suddenly needed again
The Details
| | |
| --- | --- |
| Mileage | 19,266 |
| Claimed economy | 55.3mpg |
| Actual economy | 55.9mpg |
My little FIAT 500 1.2 spends most of its life locked up in a lock-up, kept there in case it's ever needed. Well, last week, it was.
The Peugeot 308 went back to its maker and the Honda HR-V won't arrive until October, which has meant that a car normally only taken out to charge the battery suddenly had to do 800 miles.
Happily, they were dry days. First a run to Millbrook to test the 2016 model year KIA cee'd and do a bit of secret car spotting. (One of the SPECTRE Aston Martin DB10s was there for Chris Evans feature in The Mail on Sunday.)
That was cut short because I was called back early to do a Sky TV report on the VW emissions scandal.
I had to do a sound-bite for BBC 1 the next day, an item for RTE in a London studio that night
Then, on Friday, with the phone ringing about VW all day, HM Revenue & Customs refused to take a tax payment online so I had to haul the FIAT out again to rush off to my accountant to get a payslip in order to pay at the bank. That evening it was Channel 5 on Lower Thames Street.
On Saturday came the real test: a 300 miles up to Northumberland to visit my aged parents, followed by the same run in reverse on Sunday. With weekend traffic and 130 miles of 50mph contraflow, that meant total of more than 12 hours in the FIAT's extraordinarily comfortable driving seat.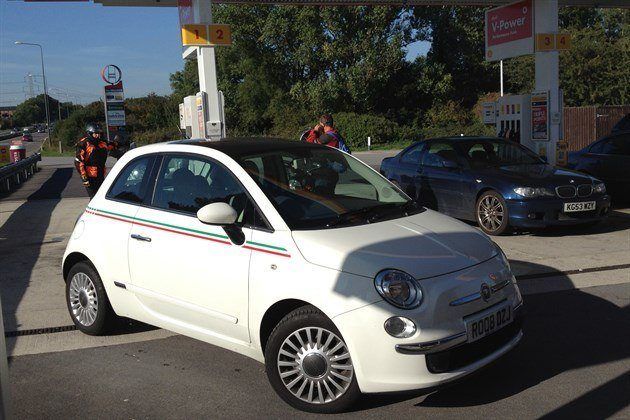 Okay, the performance is nearly non-existent. So that sharpened me up to spot the A road overtaking opportunities for a car with a mere 69PS. But the little car ran perfectly fine and was actually quite good fun.
The best bit was the mpg. An average of 54.5mpg on the outward run. And a fantastic 55.9mpg on the return, all on Shell V-Power, of course.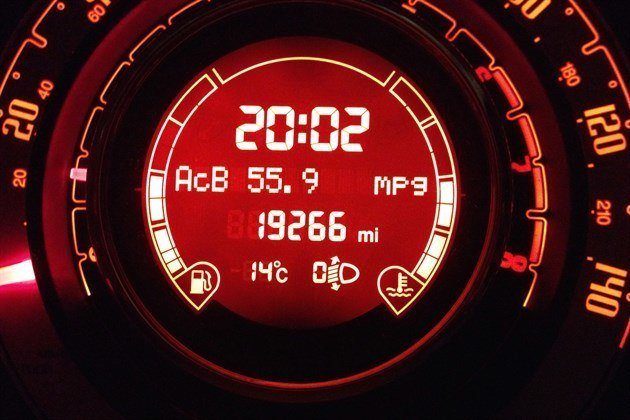 The downside is that now I've got to clean it.
But with BBC World News at 13.30 on Monday, followed by Radio 5 Live and Radio 2 that evening I never got the chance. 
« Earlier: FIAT 500 Still Alive Later: FIAT 500 Gets Its 8th Annual Service »