Our Cars: FIAT 500 1.2 Lounge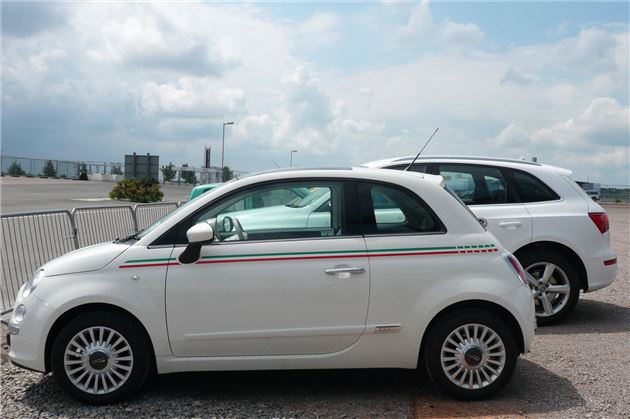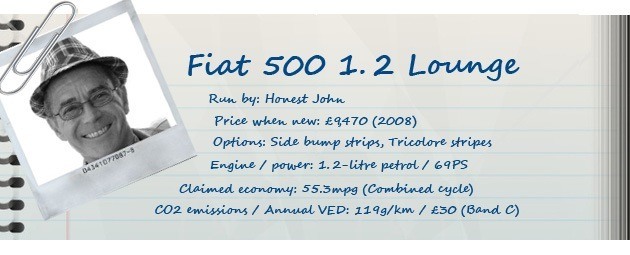 5 June 2012: Amazingly Stable in Standing Water
The Details
| | |
| --- | --- |
| Current mileage 15,890 | |
| Lifetime average mpg | 48.37 |
'My' long-term BMW 328i is taking a long time coming through. So my spare FIAT 500 has been pressed into quite a lot of work lately.
In the last month it's done more miles than in the previous year: 1,770 v/s 1,207 from May 2011 to May 2012.
Now you'd think that would be painful. And sheer purgutory on the motorway.
But, actually, it isn't.
Though the car is completely gutless on motorway inclines and long hills, it's only revving 3,000rpm at 70 and the long squab seats with cutaway rear side bolsters are remarkably comfortable.
No squeezed shoulders and no dead legs after 300 miles and 5 hours driving.
Then, in Sunday's torrential downpours on the A1, M18 and M1, it showed another quality: rock steady stability.
It seems that the combination of electric power steering and 185/55 R15 Michelin Energy Savers are perfect for these sort of conditions. 
While others were spinning off on the standing water (there was a spun Megane II on the M18), the little 500 seemed to grip through it, stiffen up and endow confidence.
This might be a characteristicc of the type of steering and the tyres, because a Hyundai i20 felt the same driving down to Poole Harbour three years ago. The roads were like rivers, yet the car seemed to increase grip rather than lose it.
Of course, ploughing through torrents of water does no favours to the fuel economy, which took a bit of a hit after rising to an average of 52 in the warmer weather.
But I'm not complaining.
At the launch of the Chrysler 300C on Friday, FIAT's head of PR told me they had now sold more than 100,000 500s in the UK alone.
While at letters@honestjohn.co.uk complaints keep failing to flood in. 
Grouches are very few indeed for the sheer numbers of these cars now on the roads: FIAT 500: The Dirt.
And for me, even after paying full whack to buy the car, depreciation is looking like around £500 a year.
« Earlier: 4th Year Service Later: FIAT Turns 17,000 Miles »