Addison Lee Fits Michelin Cross Climate Tyres to 5,000 Private Hire Cabs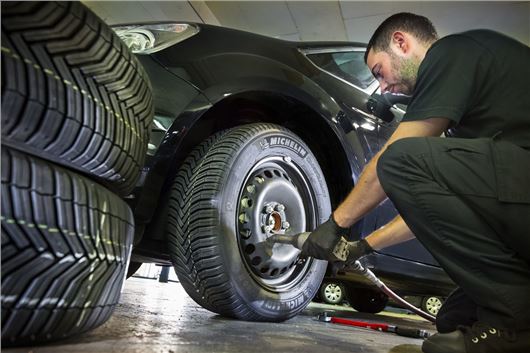 Published 12 November 2015
To winter-proof its fleet of 5,000 private hire Galaxys, Prius Plus and Mercedes, Addison Lee is fitting them with Michelin Cross Climate tyres.
This is Britain's largest passenger car fleet to adopt CrossClimate tyres so far, with the contract stretching into 2017.
Rob Daniels, Head of Fleet at Addison Lee, says CrossClimate tyres are ideally suited to its business, and will be fitted on its Ford Galaxy, Toyota Prius and Mercedes-Benz E-Class offering.
Daniels says: "Introducing Michelin CrossClimate fitments makes perfect sense for us after the fantastic results in testing. Achieving this level of traction and on-road performance in all weather conditions is a key consideration with a passenger and courier fleet like ours. Braking performance is paramount in an inner-city environment for the safety of our drivers and passengers, as much as for pedestrians and other road users."
Addison Lee also operates a commercial van fleet, and Daniels says the company will fit CrossClimate tyres to this side of the business as soon as the right tyre size comes to market.
CrossClimate tyres are currently available in 23 dimensions, covering 76 per cent of all car and car-derived van tyres in sizes from 15 to 17 inches, with Michelin to launch additional sizes next year. 
You can find out if they will fit your car at: www.michelin.co.uk/tyres/michelin-crossclimate
CrossClimates offer the benefits of a summer tyre for dry or wet braking, total mileage and energy efficiency, while also boasting the traction and braking performance of a winter tyre on cold and snow-covered roads – making it perfect for the UK's often unpredictable weather.
CrossClimate tyres also obtained Three Peak Mountain Snow Flake (3PMSF) approval, meaning they can be used in countries that require special winter equipment at clearly defined times of the year.
The tyres have earned the top 'A' rating for wet braking on European tyre labels, and 'C' for rolling resistance, with a noise rating of 68 decibels.
With a V-shaped tread and self-blocking 3D sipes, the tyres are designed to optimise traction in snow. Described as a "claw" effect, the vertical and lateral waves of the sipes give the tread blocks greater rigidity, while also benefiting longevity, steering precision and general dry road performance.
Addison Lee's CrossClimate tyres will be supplied exclusively by Universal Tyre & Autocentres, a family-owned fast-fit business that has looked after Addison Lee's tyre supply since 2009.
As well as its core minicab business, Addison Lee also provides chauffeur services and van and bike couriers. The company, which has grown from one car in 1975 to more than 5,000 today – carrying 10 million passengers in London alone each year – is now active in 350 cities worldwide, and began fitting Michelin tyres in 2013, after a three-month trial demonstrated the longevity and durability of the brand's tyres.
Comments
Author

Honest John
Latest