Nokian Weatherproof Wins Auto Express All Season Tyre Test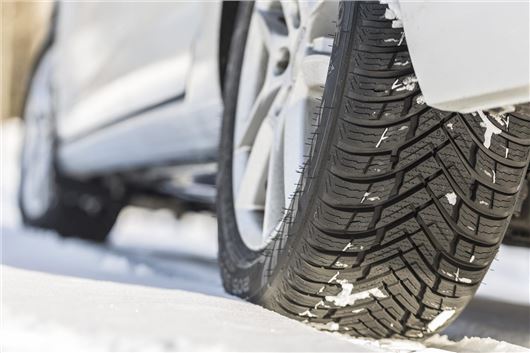 Published 22 September 2015
Nokian's new Weatherproof All Season tyres have won a very comprehensive Auto Express comparative tyre test carried out in the Arctic Circle and Germany against five other All Season tyres.
Two reservations about these tests are:
1: The admitted locations were Nokian's own 'White Hell' test facility near Ivalo in Finland and Continental's near Hanover in Germany. (Reality check: no car magazine or website ever conducts its own comparative tyre tests because none of them have the facilities or the cash to do so. They are always held courtesy of a tyre manufacturer.)
2: Though Michelin's new Cross Climate all season tyres were launched in March this year, they were not one of the five against which Nokian Weatherproof were tested. (This throws down the gauntlet to Michelin to comparison test its Cross Climate all season tyres against Nokian Weatherproof.)
The all weather tyres tested were:
Bridgestone A001 - Ratings: 91 V (FE) F (WG) B (N) 72dB
Goodyear Vector 4Seasons Gen-2 - Ratings: 94 V (FE) C (WG) B (N) 68dB
Maxxis Allseason AP2 - Ratings: 94 V (FE) E (WG) B (N) 69dB
Nokian Weatherproof - Ratings: 91 H (FE) C (WG) A (N) 69dB
Pirelli Cinturato All Season - Ratings: 91 V (FE) C (WG) B (N) 69dB
Vredestein Quatrac 5 - Ratings: 91 V (FE) C (WG) C (N) 69dB
These are all basically cold weather tyres reformulated for all year round use, whereas Michelin Cross Climate are summer warm weather tyres reformulated for winter use.
Additionally two dedicated cold weather tyres were tested.
Winter tyre: Continental ContiWinterContact TS 850 - Ratings: 91 H (FE) C (WG) C (N) 72dB
Summer tyre: Dunlop Sport BluResponse - Ratings: 91 V (FE) B (WG) A (N) 68dB
For the full Auto Express test results, go to: http://tinyurl.com/qdrfwtr
Conclusion: Nokian Weatherproof tyres are an excellent compromise for all season use, and so are Michelin Cross Climate.
But Goodyear Vector 4 Seasons are still very good too, and a lot of drivers swear by Pirelli Cinturato All Season and Vredestein Quatrac.
For Nokian tyres in the UK, go to www.nordiccartyres.com

For a compendium of all tyre tests, go to: http://www.tyrereviews.co.uk
It should be emphasised that Nokian makes a full range of Weatherproof all season tyres including specific Weatherproof tyres for SUVs.
Comments
Author

Honest John
Latest