Part worn tyres are an 'accident waiting to happen'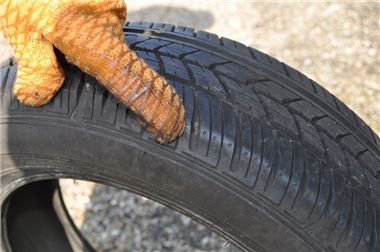 They may seem like a cheap alternative to new rubber, especially if you drive an older car, but part worn tyres are simply an accident waiting to happen according to experts.
The warning comes from Micheldever Tyre Services, one of the largest retailers of tyres in the UK. According to the law part worn tyres can only be sold if they meet certain requirements which cover aspects such as structural integrity and a minimum tread depth of 2mm. They must also have the words 'Part Worn' written clearly on the side.
However, the extent of the danger posed by these tyres was underlined last year by Birmingham Trading Standards which found that 90% of the part worn tyres they examined failed to meet the minimum legal requirements.
"Tyres removed from vehicles are usually taken off for a reason", says Mark Harley of Micheldever, "they may have hidden damage which is only likely to be revealed when the car is driven down the road. The reality is that they pose a real road safety danger, are not fit for purpose and in fact offer very poor value for money". 
According to a recent survey, arranged in conjunction with tyre safety organisation TyreSafe, the cost per millimeter of a part worn versus a new tyre was almost twice as much.
Micheldever and its 63 Protyre branches have introduced a policy of disabling all tyres removed from cars and vans. This is done by drilling two holes in the sidewall of the tyre, ensuring that they do not find their way back onto UK roads. The disabled tyres are then disposed of by the company according to the requirements set out under the Responsible Recycler Scheme.
Micheldever says it accepts that some motorists opt for part worn tyres as a means of saving money by buying from outlets that conform to the rules and label the tyres correctly. However it claims that many used tyre dealers are ignoring the requirements under the legislation which have been put in place to protect motorists and other road users.
"In addition to offering poor value for money", says Mark Harley, "we believe that many are potentially dangerous with hidden damage. Using these tyres could put drivers and passengers at a safety risk."
Comments