Variable Supercharger Improves Low End Torque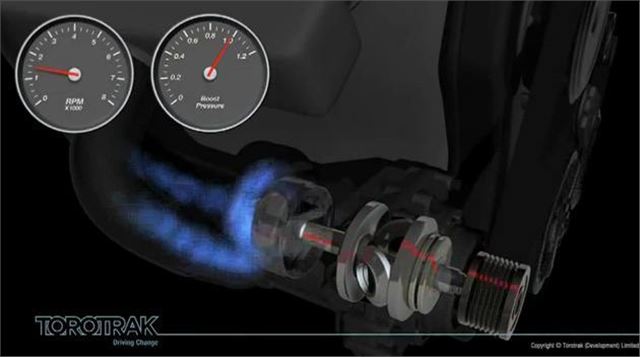 Rotrak Variable drive supercharger testing progresses.
Testing work on the Rotrak variable drive supercharger is underway in Torotrak's rolling-road test facility. The company's engineers already have the technology running in a B-segment donor vehicle on a dynamometer and are calibrating the control strategy to prove its driveability, performance, CO2 and fuel economy benefits.

"We're among the first engineers to calibrate a variable drive supercharger," said Rotrak Product Director Andrew de Freitas."It's uncharted territory and a lot of work, but the effort we invest in exploring the technology's operating envelope is establishing new areas of engine performance for manufacturers. The intellectual property and know-how we're generating has enormous commercial value – it provides a new variable in engine control strategies with which manufacturers can increase performance and reduce CO2 emissions."

The Rotrak variable drive compressor has been conceived with industry CO2 targets in mind. Downsized engines with fewer cylinders now form a significant part of companies' strategies and ensuring these economical engines still provide the driveability car buyers expect is a challenge the entire industry faces.

"At low speeds, engines with only two or three cylinders find it harder to give the turbo enough exhaust energy to generate the torque drivers need to pull away quickly," said de Freitas. "The Rotrak variable drive supercharger isn't limited in this way. Instead we're taking energy from the crank, passing it through our variable drive and into a centrifugal compressor to boost combustion. It gives the next generation of downsized powertrains 'big-engine' response."

"The Rotrak system is performing well and we are learning to control and apply the technology's very fast torque-delivery," said James Shaw, the senior engineer responsible for the calibration project. "Torotrak's rolling road dynamometers are vital in supporting the pace of development, providing a controlled environment for the car allows us to put the technology through its paces quickly and in complete safety."

Work to develop a driveable prototype for interested Tier Ones and vehicle manufacturers will continue on the rolling road for the next few months. At the same time, Torotrak will gather data on the system's efficiency to validate fuel economy simulations.

The Rotrak prototype is undergoing testing on one of two single axle rolling-road dynamometers at Torotrak. The dyno is capable of testing vehicles at speeds of up to 250km/h and the roller has a maximum tractive effort of 6000N. In-cell weather stations monitor atmospheric pressure, relative humidity and ambient air temperature, which can be controlled from 10-30°C.

Rotrak variable drive supercharger provides a new variable in engine control strategies that will help improve CO2 emissions and performance.
Video: How the Rotrak variable supercharger improves the driveability of downsized engines:
Video: How Rotrak variable supercharger technology works:
Comments