New Tyre Sealant Fixes Punctures Without Destroying Tyres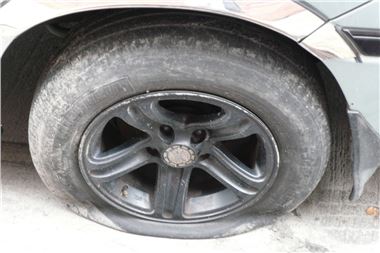 Britain's appalling damaged roads mean there's even more chance than ever of getting a flat tyre, and with dark, wet nights once again fast approaching the last thing you need is to be stuck at the side of a road waiting for breakdown assistance to arrive.
One alternative to runflat tyres is some form of tyre sealant, either in the tyre permanently, or applied when you get a minor puncture (obviously. no sealant can fix a shredded tyre).
The problem with many of these is they destroy the carcasse of the tyre so the puncture cannot be permanently repaired. The answer is a non flammable water based tyre sealent from ther USA called Slime.
Used by the AA in its roadside repair vehicles, Slime's range of tyre sealant products are quick and easy
to use and provide total reassurance and convenience for regular road users, who rely on their car every
day, as well as families and drivers who aren't able to change a flat tyre themselves! All you have to do is
follow the simple, on-pack instructions:

Quick Spair, RRP £9.99 (12oz) - £11.99 (16oz) - an emergency tyre repair product that seals the leak and temporarily re-inflates the tyre in one handy can. Plus, it's the only non-flammable, water soluble tyre repair product on the market, so it's safe to carry in your car and can be cleaned out of the tyre so that it can be professionally repaired, rather than replaced, if needs be:

1. Rotate puncture to 6 o'clock position
2. Shake can (don't remove puncturing object)
3. Attach nozzle to valve
4. Press Green Button
5. Inflate until can is empty and rim is off the ground
6. Drive slowly for 2-4 miles to distribute sealant, and away you go!

Slime Tyre Sealant, an environmentally friendly, non-toxic, non-hazardous, water-based sealant which
contains shredded, re-cycled tyres and, in conjunction with a portable air compressor, can be used for
semi-permanent repair of punctures up to 6mm. The sealant remains liquid in the tyre and is safe for use at normal driving speeds. It can also be cleaned out of the tyre so that it can be professionally repaired. What's more, once you've re-inflated your tyre you can continue with your journey in confidence and get your tyre checked professionally at a more convenient  time. RRP £8.99 (8oz) - £12.99 (16oz):

1. Position valve core 8-4 o'clock
2. Remove puncture object (if possible)
3. Slowly remove valve core
4. Allow tyre to fully deflate
5. Attach hose and install sealant
6. Replace valve core
7. Inflate tyre
8. Drive. Stop. Verify seal and check pressure.

For a complete, semi-permanent repair solution in one pack you can also purchase a Slime Smart Spair Kit (RRP £29.99 (16oz)), an all-round emergency tyre repair kit, including a 16oz Slime tyre sealant and high-
power air compressor. Christmas Gift tip: an ideal 'peace of mind' stocking filler for people who regularly take long journeys.

Available from independent retailers nationwide, you can find your nearest stockist by visiting www.slime.com
to find out more about Slime products.





Comments