Car Parts Increasingly Difficult to Obtain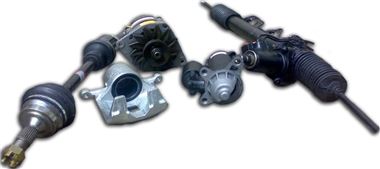 It seems that the requirement for manufacturers to supply spare parts for cars for 10 years from date of manufacture is nothing more than a myth.
Car makers are not obliged to provide replacement parts for vehicles they produce. In the UK alone there are thousands of cars currently off the road just for need of parts. All completely useless.
Dave Welch, from Nottingham, is the proud owner of a £20,000 Mercedes Vito that has not turned a wheel in almost two years due to the parts shortage. Alan Nathanson's Chevrolet Captiva has been out of action for 18 months with a faulty steering rack. Try getting a rear brake calliper for a Passat, or a coil spring for a Suzuki SX4. 
Over 90% of brake discs sold in Britain are made in China. Nigel Harvey of brake supplier Brakeworld comments, "The floods in Australia have left China with raw material shortages for coal and steel. Daily power cuts are normal. A forecast power shortage of 30 Gigawatts and a rise in domestic demand of 7% for steel mean fewer and more expensive brakes for Britain."
Some supplies of the more technical electronic parts and Japanese car spares have been devastated by the Tsunami disaster in Japan. Only 17 of Japan's 56 nuclear plants are now in operation.
Mail Order Company Carparts-direct.co.uk has been in the business for 35 years. "We have never known availability as tough," says Martin Mosley. "We have over 130 suppliers and right now we need every one. Availability on our remanufactured parts such as steering racks and driveshafts is good. They are all made in the UK. So are brake callipers and alternators but some other items for popular vehicles have become difficult to get," explains Mosley.
"More Main Dealers and their customers are coming to us for parts they cannot get from the vehicle manufacturer. It's a sign of how tight things are," Mosley added.
The www.carparts-direct.co.uk website has 165,000 parts listed and priced. But not all necessarily obtainable.
Comments