A. Kahn Audi TT Features Side Blades From R8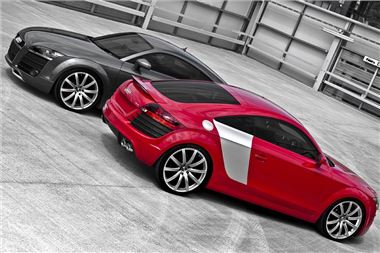 A. Kahn Design has unveiled the follow up to its grey Audi TT TR8. Using the rear lights of the R8 and the side blades as styling cues, together with vented bumpers, mesh inserts and a quad exhaust system A. Kahn has turned a standard TT 3.2 into a unique vehicle.
A Kahn Speedo, rev counter and ivory quilted leather interior with red stitching, sports lowered suspension springs, front lower bumper lip in billet steel finish and door mirrors in a billet steel finish and A. Kahn 20" RSV alloy wheels complete the car, now availaible at £19,875.
Do not buy if you are the slightest bit concerned about ride quality.
Further Information on the Audi TT GT Coupe packages can be attained via kahn@kahndesign.com
Or by visiting: www.kahndesign.com or  www.projectkahn.com 
Comments