Karcher Adds a Bit of Pressure to Spring Cleaning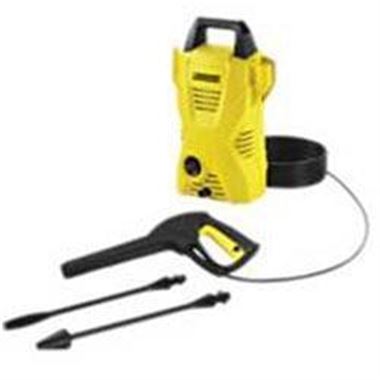 The dreaded spring cleaning season is about to kick off but need not be a chore with
help from Kärcher, the world's number one pressure washer manufacturer. Kärcher has a
huge range of kit for your home, car and garden that not only make spring cleaning a
breeze but fun too.

Pressure washers also save money of you're on a meter because they use up to 80% less water than a garden hose to clean a 
car or patio faster and more efficiently than traditional methods. Having cleaned
some of the world's most famous monuments including Mount Rushmore and the Statue of
Christ in Rio de Janeiro, Kärcher brings its world class performance to your home
this spring.

Karcher's top of the range products are the most advanced consumer pressure washers ever.
They feature water-cooled motors for enhanced performance and longer life, a Plug &
Clean detergent system to make changing detergents easier than ever and a Quick
Connect hose system that eliminates kinking and reduces set up times. The K5.700
T300 comes equipped with an integrated hose reel for compact storage. It is great
for use on heavily soiled surfaces and will clean an incredible 20m2 within 30
minutes - or up to 5 times faster still and splash-free by using the T300 patio
cleaner! It will ensure a superior cleaning result on your patios, vehicles, walls,
barbecues, garden furniture and tools. Available for £402.49.


Perfect for sprucing up a patio and decking, the new K4.600 & T200 combines power
and energy efficiency. The dirtblaster provides up to 50% more cleaning power than a
normal lance. This machine will clean 17m2 in 30 mins with a vario lance and again
even faster with the T200 patio cleaner. Priced at £275.99.


Also part of the high performance water-cooled motor range, the K3.550 is a powerful
pressure washer that is great for use in both around the home and garden. It's
equipped with an innovative water cooled motor for enhanced performance and longer
life. Available for £204.99.

The Kärcher K2.120 pressure washer is part of the new K2 air-cooled motor range.
This compact and powerful machine is both lightweight and versatile with excellent
accessory storage - ideal for cleaning cars, bicycles and garden furniture. Priced
at £81.59.


For extra cleaning power in the compact class, the Kärcher K 2.400 T50 is supplied
with a T50 patio cleaner and wash brush. Available for £164.72.


More at www.karcher.co.uk
Comments