Pressure Clean Your Car of Corrosive Winter Salt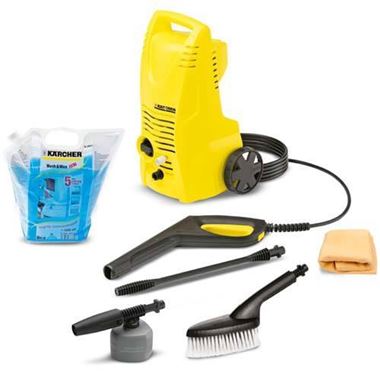 Prevent damage to your car caused by grit on the roads during the winter months using some basic car care with the help of Karcher.
New for 2011 is the launch of Kärcher's limited edition K2.21 Salt Removal Kit. Brought to you by the world's number one pressure washer manufacturer, this new kit is the perfect solution to removing winter road salt from vehicles after the snow and icy conditions that have taken hold of the UK in recent weeks.
With car damage caused by salt corrosion costing the nation £1.2 billion last year, Kärcher has come to the rescue of UK motorists with its K2.21 Salt Removal Kit.
Snow and ice may have made a retreat at the moment, but salt on the roads is still lingering and although an essential part of winter road safety, many drivers aren't aware of the damage it can be doing to underside of cars, metal brake pipes, tyres and even air bags. Heavily salted roads mean that checking your car for salt corrosion is more important than ever not only for safety but also for maintaining its value.
The AA says that mud, stuck to the underside of a car, soaks up salt-laden spray and speeds up corrosion.
The new kit is multi-functional and practical. The foam sprayer nozzle delivers a thorough and deep clean with a thick covering of intense foam lather. It removes salt, dirt and grit deposits effortlessly. What's more, it's suitable for use with on a variety of surfaces. The wash and wax detergent will also help keep your car weatherproof and corrosion resistant.
]Features include:
* 110 Bar Max Pressure
* 360 litres per hour water flow rate
* 1400 Watt Universal Motor
* 3m high pressure hose
* One Way Lance
* Detergent suction tube
* Foam Sprayer
* Standard Wash Brush
* Synthetic Chamois
* Wash & Wax Detergent
Professor Tony Hindle of Lancaster Management School, an expert in salt corrosion, comments: "Damage to vehicles occurs when coatings of salt are left on the surfaces causing chemical reactions to re-start whenever these come into contact with moisture. This leads to car depreciation, increased vehicle maintenance and part replacement costs. However, there are useful actions that can be taken by car owners such as washing down and drying your car at the earliest opportunity and regular paintwork wax polishes which are both essential in avoiding corrosion."
Mark Penrose, Sales and Marketing Director of the Home and Garden Division at Kärcher UK comments: "The solution to corrosion caused by winter road salt is remarkably simple - a thorough wash with the Kärcher K2.21 Salt Removal Kit. Ensuring you clean your vehicle thoroughly is key, not only in keeping it safe, but also in maintaining its value, and with our new kit it couldn't be easier to reduce salt levels".
Nigel Adams the Car Cleaning Master from the Kärcher UK Academy, offers his top tips on how to get the most from your Kärcher K2.21 Salt Removal Kit, ensuring your car is salt and corrosion free:
1. Use your kit in high-pressure mode and wash off any heavy soiling (this is where the salt will be), working your way from the bottom of the vehicle to the top
2. Attach the foam sprayer and add detergent, foam up your vehicle, starting from the bottom and working your way up to the top. This allows the heavy soiled areas to have a double soaking of detergent
3. Put on your Kärcher wash brush and thoroughly scrub the vehicle, going from from top to bottom
4. After giving your vehicle a good soaping-up, change back to your high-pressure lance and rinse off thoroughly
5. Make sure you drain your pressure washer of any excess water to prevent it from freezing
More at www.karcher.de/uk/Home.htm
Comments