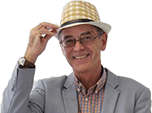 Honest John's guide to winter tyres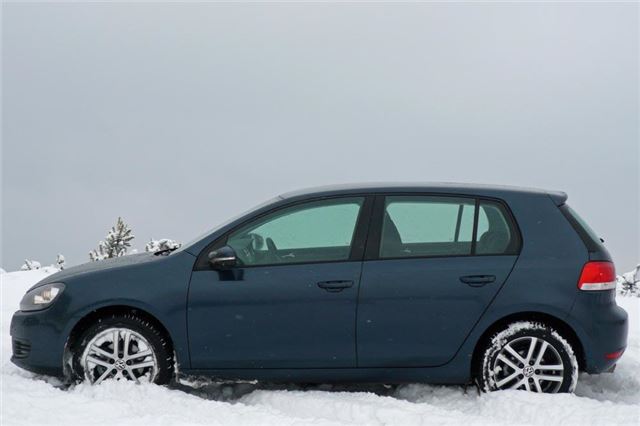 As the UK prepares itself for the onset of winter, HonestJohn is seeing a huge increase in enquiries from worried readers looking to fit the right tyres to cope with the wintery weather.
Fearing a repeat of the dramatic scenes at the start of the year, which saw most of the UK blanketed in snow for weeks, drivers are looking for ways to ensure they stay safe whilst out on snowy, icy roads.
Andy Dingley, senior analyst at Bridgestone UK, comments: "With winter coming early and reports of temperatures dropping to minus 10 degrees, motorists fear that it could be a cold few months if a repeat of the weather seen at the start of the year is anything to go by. We all remember the scenes of cars skidding around on slippery roads or trapped on driveways; motorists this year want to be more prepared."
"We have seen an increase in enquiries from concerned motorists interested in a new breed of 'all weather tyres', such as Bridgestone's A001 tyre, which is designed to cope with the unpredictable weather drivers face in the UK."
Goodyear Vector 4 Seasons are also excellent all weather tyres that will take a car up a hard packed snow covered 1-in-3 ski slope.
Bridgestone has a A001 'all weather tyre' in the UK. The tyre is designed to cope with the more challenging winter driving conditions whilst at the same time maintaining high performance in the summer months and is available at 400 selected stockists across the UK. Honest John checked with Bridgestone that sufficient stocks are available to meed the current surge in demand.
Honest John's general advice is as follows:
Fitting winter tyres to two wheels of a modern car can seriously destabilise the car, particularly on a descent, so is not to be contemplated. We are not in the 1960s any longer when cars and tyres were comparatively unsophisticated and when this was a viable option.
You can fit compromise "all weather" tyres with the mountains symbol (such as the Bridgestone A001) that qualify as 'Winter Tyres' to meet the laws in some European countries. These will be adequate for most winter conditions in the UK, but are not as good in summer conditions as standard tyres such as Michelin Energy Savers and are not as good as dedicated Winter Tyres in really severe conditions.
www.tyrereviews.co.uk ran a summary of the Auto Bild All Season TyreTest. The winner was Vredestein Quatrac 3, closely followed by the Goodyear Vector 4Seasons. 3rd was the Hankook Optimo 4S. 4th the Dunlop SP Sport 01AS and 5th Bridgestone's A001.
If there is any likelihood of severe conditions where you live or where you have to travel, buy a separate set of wheels and fit full 'Winter Compound' tyres from November to March. These are at their best at temperatures below 8 degrees centigrade where standard summer tyres are severely compromised, traction is relatively poor and braking distances are hugely increased.
If your car is fitted with big wheels and low profile summer tyres, buying a separate set of rims also enables you to go down a few wheel sizes and fit deeper profile winter tyres that will be much more effective in snow than low profile tyres. Just make sure that the new wheels will fit around the brake discs and callipers, and be sure to inform your insurer of this 'modification' in order to meet the rules on disclosure. If you fit steel wheels in place of alloys you will probably need a different set of shouldered wheel nuts or bolts.
I can testify from experience that Pirelli Sotto Zero are very good. Michelin Alpin also come highly recommended by readers.
Full Winter Tyres on a two wheel drive car are generally more effective on snow and ice than summer tyres on a four wheel drive vehicle.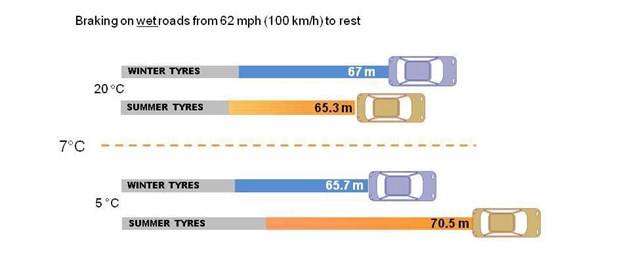 Remember, on snow and ice ESP is normally best switched off because it can fight a driver's reactions to a skid in super slippery conditions. But you need to find an open area and test this out for yourself before switching it off.
On hard packed snow, frozen snow or ice, ABS might actually prevent the car from stopping because it automatically releases the brakes on wheels that are skidding. If all four wheels are skidding it will release the brakes on all of them. So on snow and ice, think ahead and start braking gently a lot earlier than you would in normal conditions. This is particularly important descending inclines or approaching junctions from side roads where you could skid straight out of the side road into traffic on the main road.
Wheel and tyre combinations from MyTyres , WheelBase , Performance Alloys , www.alcar.co.uk ,  www.tyresave.co.uk , www.tyremen.co.uk and www.wheelwright.co.uk
MyTyres is actually German owned and obtains its stocks in the German market where winter tyres are mandatory in the snow, so the supply is much better than it is in the UK.
For compatible wheels, try RareRims
Four used steel rims: www.partsgateway.co.uk
Sensibly priced tyres fitted at your home or place of work from Event Tyres, Tyremen
Remember, you have to tell your insurer of any modification to your car. Some direct insurers employing dumb staff react really stupidly about this, in which case you have to take the matter to a supervisory or management level because anyone with any sense knows that this particular modification makes your car safer, not more dangerous, and is actually required in most mainlanf European countries.
For advice from tyre manufacturers, click on:
Snow chains and Snow Socks
A further option is snow chains or snow socks fitted to standard relatively deep profile tyres. Autosocks work by using fibres to pick up soft snow that itself provides traction against the snow you are driving over. This is much the same as good winter tyres, the sipes of which pick up snow to use against the snow on the ground to provide traction,
But these need to be removed as soon as you get to snow-free gritted roads, particularly Autosocks.
Vauxhall dealers are offering Autosocks Snow Socks at £49.95 a pair.
More at Autosock
Car Manufacturer Winter Tyre Offers
Toyota has launched a trial winter weather tyre programme to help motorists be best prepared for the kind of Arctic conditions Britain has suffered over the past few years. The pilot scheme is targeting owners of some of Toyota's most popular models: Auris, Avensis and Corolla, plus the Dyna and Hiace light commercials. Two Toyota centres are handling fitting, Currie Motors in West London and Ron Brooks Toyota in the East Midlands.
BMW dealers are also offering packaged of winter tyres pre-fitted to wheels from around £775 a set.
Many other dealers including Volvo, Mercedes and Audi have started to offer similar packages.
Can I fit Winter Tyres Only to the Driven Wheels?
Definitely not. They must be fitted to all four wheels otherwise serious instablilty will result. See this demo video from Michelin: Winter Tyres Two Wheels Only Video
Watch as Tire Rack compares the difference between winter/snow tires, all-season tires and summer tires by evaluating acceleration, stopping and cornering capabilities - this time using an ice rink as a test track.
Comments