New Michelin Supercar Tyre Shaves 5 seconds off a 2.7 Kilometre Lap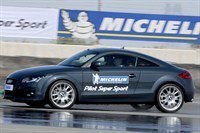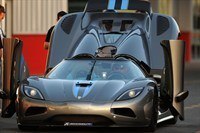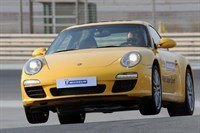 Michelin's 13 consecutive years of Le Mans victories are encapsulated in a new supercar tyre one that's not only quicker and more predictable yet also better in both dry and wet conditions.
The Michelin Pilot Super Sport tyre was developed to accomplish dual purposes. To deliver the ultimate driving experience while at the same time ensuring maximum safety even in extreme conditions of use. This outstanding combination of driving enjoyment and safety performance proved decisive in the product development phases conducted with Porsche, BMW M division and Ferrari.
In track testing at a 2.7 kilometre circuit in Germany the new Michelin Pilot Supersport shaved 5 seconds of lap times set by its predecessor, the Pilot Sport 2.
The tyre was developed using the experience of 13 consecutive Le Mans wins - the ultimate test of a tyre's performance in both wet and dry conditions as well as of its longevity.
It replaces the Michelin Pilot Sport 2 and offers the wet grip of the Pilot Sport 3. So it's as quick as a Pilot Sport Cup with better wet surface water displacement.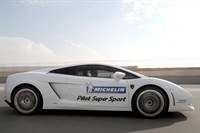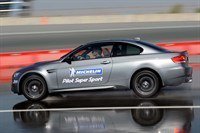 To improve the tire's road-holding and braking ability and thereby its overall safety performance, even in the most extreme conditions, while also providing excellent mileage, Michelin has uniquely combined three technologies, including two developed for tyres used at the 24 hours of Le Mans: the Twaron® fibre belt as well as the bi-compound tread band and the variable contact Patch 2.0, both of which were derived from innovations validated and used in endurance racing. The combination has produced exceptional results that are likely to win over the most demanding manufacturers of cars in the ultra high-performance segment.
As a result, the new Michelin Pilot Super Sports tyre has key advantages that enable it to rise to the challenge posed by its predecessor, the Michelin Pilot sport PS2, which was certified as original equipment on more than 200 vehicles.
Intended for drivers who want exceptional driving enjoyment and safety – whether for day-to-day use or track days– the Michelin Pilot Super Sport is designed for series-produced super sport models and street-legal cars that have been tuned and modified for ultra high-performance.
In a test conducted in 2010 by TUV, The Michelin Pilot Super Sport outperformed its five leading competitors in speed and dry road-holding the independent testing organization, using size 245/40 ZR 18 y and 235/35 ZR 19 y tyres.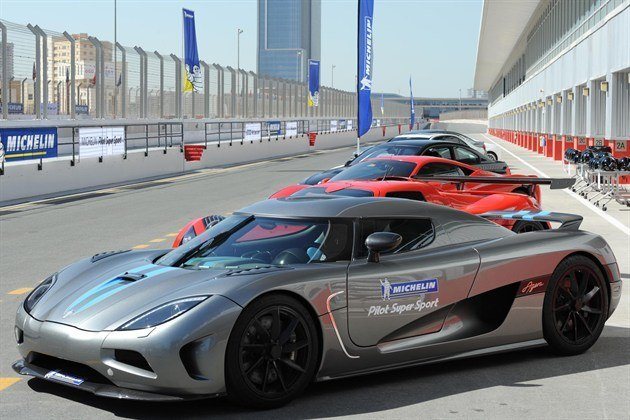 Bi-Compound Tread
Originally developed for racing tires, the innovation of bi-compound tread uses different rubber compounds on the left and right sides of the tread.
On the outside, a unique, carbon black-reinforced elastomer (developed specifically for the 24 hours of Le Mans) ensures exceptional endurance when corners are tight.
On the inside, a latest-generation, high-grip elastomer enables the tyre (on wet surfaces) to break through the water's surface and adhere to even the slightest irregularity in the road.
Variable Contact Patch
Thanks to the latest digital simulation software used in the aeronautics and automobile industries, pressure, and consequently temperatures, are spread evenly across the tire's contact patch. Although the patch's shape changes when cornering, the amount of rubber in contact with the road remains the same. This helps prefent overheating and gives consistent and predictable grip.
Twaron® Belt
A high-density ultra light fibre used in cutting-edge equipment for sports such as tennis, sailing and mountain biking – as well as in aeronautics, protective military gear and motorsports – Twaron® provides the Michelin Pilot Super Sport with superior high-speed stability.
Due to its variable tension, the belt tightens the tread more than the shoulders. as a result, centrifugal force is more effectivelyovercome and pressure is more evenly distributed. A key feature of Twaron® is its high grip-resistance. Strong and light at the same time, Twaron® is five times more resistant than steel at equivalent weight.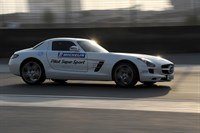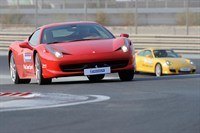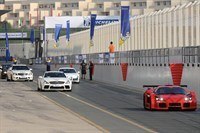 Tyre size range
225/45 ZR 18 (95 Y) XL
245/45 ZR 18 (100 Y) XL
245/40 ZR 18 (97 Y) XL
265/40 ZR 18 (101 Y) XL

225/40 ZR 19 (93 Y) XL
225/35 ZR 19 (88 Y) XL
235/35 ZR 19 (91 Y) XL
245/35 ZR19 (93 Y) XL
255/35 ZR 19 (96 Y) XL
265/30 ZR 19 (93 Y) XL
275/35 ZR 19 (100 Y) XL
275/30 ZR 19 (96 Y) XL
295/30 ZR 19 (100 Y) XL
305/30 ZR 19 (102 Y) XL

235/35 ZR 20 (92 Y) XL K1
255/35 ZR 20 OPEN ZR
275/35 ZR 20 OPEN ZR
275/30 ZR 20 OPEN ZR
285/30 ZR 20 (99 Y) XL K1
285/30 ZR 20 OPEN ZR
285/25 ZR 20 (93 Y) XL
295/25 ZR 20 (95 Y) XL
295/35 ZR 20 (101 Y) K1
295/25 ZR 20 (95 Y) XL
315/35 ZR 20 (110 Y) XL K1
345/30 ZR 20 (106 Y)

255/30 ZR 21 (93 Y) XL
265/30 ZR 21 OPEN ZR
295/30 ZR 21 OPEN ZR

295/25 ZR 21 (96 Y) XL

235/30 ZR 22 OPEN ZR
265/30 ZR 22 OPEN Z
More at Michelin