Castrol Checks Your Oil On The Road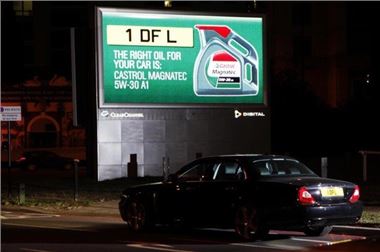 Oil company Castrol will use traffic cameras to advise drivers about the right oil for their cars in a groundbreaking new initiative being trialled in London from 21 September.

Castrol's campaign will encourage drivers to drive past specially installed cameras safely in order to get 'flashed'. Rather than identifying cars driving over the speed limit or which haven't paid the congestion charge, the cameras will help drivers by spot checking cars, and will flash a personalised engine maintenance message to the driver on a nearby billboard.

The cameras, which will be positioned by the side of the road, will pick up passing cars' registrations and match them to the make and model of car via the DVLA database. A message to the driver with the correct oil recommendation for their car's engine will then be flashed on digital billboards further down the road.

Motoring expert Quentin Willson says: "I can't emphasise enough how important it is to use the right oil for your car, and I love the idea of reaching motorists whilst they are actually driving their cars. Nearly half* of Britain's drivers are currently driving around with the wrong grade or specification of oil in their car but by using the right oil it can help to protect the health of the engine and may also save on maintenance costs. This new initiative means that for once drivers may actually be pleased about being caught on camera."

The initiative will be the first time in the UK that personalised messages have been communicated on advertising billboards. The process of registering the number plate to the message appearing on the billboard will take less than two seconds, and due to data protection, no registration plate data will be stored.

Drivers can get their personalised oil recommendations by driving past the five trial sites in London for two weeks from 7 September:

* Blackfriars – Stamford Street
* Lambeth – Vauxhall Cross
* Hammersmith – Fulham Palace Road
* Hounslow – Chiswick roundabout
* Kensington & Chelsea – Warwick Road

Failing to put oil in a car's engine, or using the incorrect oil grade or specification for your make and model of car, could have detrimental effects on the engine - resulting in large repair bills which can cost motorists anything up to £5,000. To keep a car's engine healthy it needs regular topping up of oil.

The oil information service is part of a campaign by Castrol to help educate drivers on the importance of using the right oil for their car. The 'Right Oil Right Car' campaign highlights the effects of using the wrong oil and raise awareness among motorists of where to get advice on the right oil to use.

The service is the first of its kind to be tailored specifically to car oil, and is operated using innovative number plate technology via Castrol's access to the complete DVLA driver database of all vehicles currently registered in the UK.
Which, of course, raises questions over Data Protection.

For further information please visit: www.castrol.com/uk


Comments