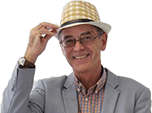 Remote Touch system in new Lexus is 'simple to use'

Buyers of the upcoming Lexus RX 450h will benefit from an on-board computer system that is easy to use, it has been stated.
Remote Touch is an entertainment, navigation and information gadget that uses a centralised controller to minimise the risk of the driver being distracted.
It is one of the features being previewed by Lexus before the vehicle is made available for those
buying a car
in July.
Rather than including a touchscreen, the system's control panel is located immediately below the gear stick and works similar to a computer peripheral with six buttons.
A pointer is used to select icons and then a central Enter button is employed to confirm the choice "like the left-click action on a mouse".
It can be customised according to preference and will be fitted as standard in the RX 450h SE-I and SE-L models.
Are you
buying or selling a car
? Click here to find out what Honest John has to say.
Comments