BMW reveals new 3 Series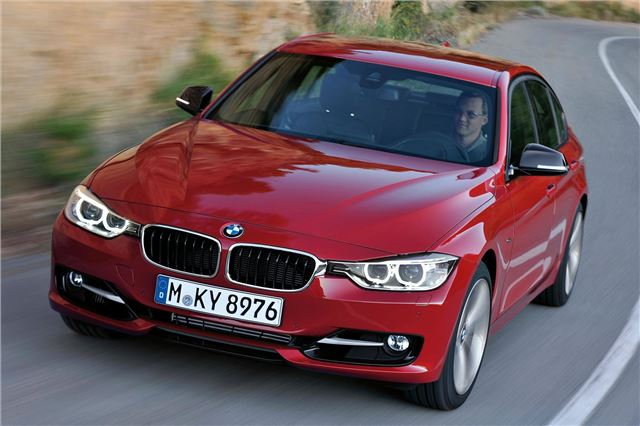 The all-new sixth generation BMW 3 Series has been unveiled ahead of its launch in February 2012. It'll be priced from £24,100 on the road and will be initially available with four engines, with more to follow.
Available at launch will be the 328i, the 335i, the 320d and the 320d EfficientDynamics models. The 320d and 320d EfficientDynamics offer an impressive combination of power and performance coupled with low CO2 emissions – the 320d produces 184bhp and yet emits just 120g/km of CO2, and the EfficientDynamics model manages 163bhp with an even more impressive 109g/km of CO2.
Emissions and fuel efficiency are improved in all models by the addition of new driving modes – ECO PRO, Comfort, Sport and, on some models, Sport+. The ECO PRO mode alters throttle response and reduces the power consumption of things like air conditioning and heated seats.
It also changes the point at which the automatic gearbox shifts or the point at which the shift light comes on with manual transmission cars.
Besides the new driving modes there's stop/start, brake energy recuperation, low rolling resistance tyres, and reduced weight, all of which help to improve efficiency.
All of the engines in the new 3 Series feature TwinPower Turbo technology, including a new 2.0-litre petrol unit which powers the 328i, replacing the 3.0-litre engine from the old 328i.
The 3 Series features an all new chassis with a longer wheelbase and wider track, which improves interior space and should help the handling – the 3-Series is often used as the benchmark car in its class for driving dynamics.Almost immediately after launch, three new engines will be added to the range – the 316d and 318d diesels and the 320i petrol. Hybrid and four-wheel drive versions will come in late 2012.
All cars get 17-inch alloy wheels with run flat tyres and a tyre pressure monitoring system with the exception of the EfficientDynamics, which has 16-inch wheels with non run flat tyres.
There are six different trim levels to allow buyers to tailor their car more specifically to their own needs and desires, but all models get driver focussed switchgear and centre stack, and all the materials and trim are of improved quality. 
Initially there will be familiar ES and SE trim levels as well as Sport, Modern and Luxury models, and, in 2012, M Sport versions. Each of the different models will appeal to a different character – Modern and Luxury trims will be aimed at those who want a more refined and sophisticated car, while the Sport and M Sport models are aimed at enthusiastic drivers.
Standard equipment should be improved on all models, but specifics are yet to be announced. Amongst the new equipment is a park assist system, which allows the car to parallel park itself, reversing and surround view cameras, and a 40:20:40 folding rear seat set up.
A full colour heads up display will be available, featuring information on current speed limits, the current speed of the car and turn by turn instructions from the sat nav. The sat nav system itself can be specified with Real Time Traffic Information, which updates every three minutes to help drivers plan the best route.
The entry level 316d will be priced from £24,880 on the road but won't be available until shortly after launch.
BMW will unveil the new model to the public at the Detroit Motor Show in January 2012, but first previewed the car on their Facebook page here. 
Full details of the launch specifications below. 
Model

Price OTR from

Power

Torque Nm

0 – 62mph Seconds

Top speed Mph

Combined Mpg

CO2 Emissions g/km

Hp

BMW 328i Saloon

£29,060

245

350

5.9 (6.1)

155*

44.1 (44.8)

149 (147)

BMW 335i Saloon

£35,525

306

400

5.5 (5.5)

155*

35.8 (39.2)

186 (169)

BMW 320d Saloon

£28,080

184

380

7.5 (7.6)

146 (143)

62.8 (64.2)

120 (118)

BMW 320d EfficientDynamics Saloon

£28,080

163

380

8.0 (8.1)

143 (141)

68.9 (68.9)

109 (109)

*Electronically limited.
Comments