Footballer's spec Porsche Panamera announced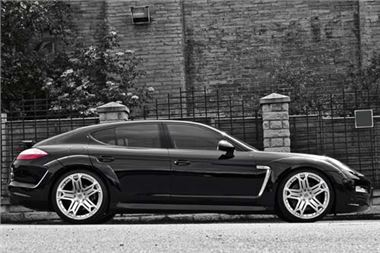 Afzal Kahn has introduced a relatively tasteful Porsche Panamera restyle that is not only visually appealing to the moneyed, but also sportier and more aggressive.
The A. Kahn Design styling tweaks ensure the car looks much lower, longer and wider than the standard Panamera.
Designed to emphasise the vehicle's stance by focusing on the RS-600 22" wheels, the A. Kahn Design  styling package consists of a 10 piece wide-arch kit, rear roof spoiler, front and rear air dams, integrated front LEDs with vents, designed to reflect current sportier Porsches, while maintaining technical Kahn detailing.
Another unique feature of this model is the interior that has been upgraded with A. Kahn Design's customary blend of leather, carbon and wood.
A. Kahn Design was founded and is led by chief designer Afzal Kahn one of a small handful of multi-marque customisers. A Kahn Design offers unique wheels, interiors and automotive accessories for such brands as Land Rover, Aston Martin, Ferrari, Mercedes, Porsche, Bentley and Rolls Royce. The Kahn Group is committed to Investing in British Industry.
For more information, visit www.kahndesign.com and www.projectkahn.com.
Comments