British car production will break 1.5 million in 2013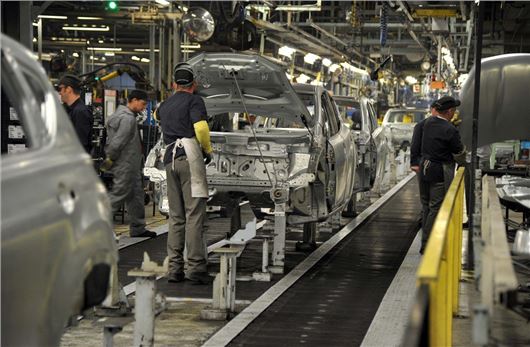 Published 19 December 2013
British car production will reach a six-year high in 2013 with 1.5 million vehicles, according to the Society of Manufacturers and Traders (SMMT).
The rise in production has been bolstered by Britain's growing economy and a high demand for smaller, more efficient vehicles.
Recent data from the SMMT shows that new car sales in Britain were at a nine year high in November, with 159,581 cars registered during the 30 day period. UK buyers have also been choosing homemade cars, with both the Vauxhall Astra and Nissan Qashqai featuring in the best-selling models of 2013. 
The UK produced 1.4 million vehicles in the first 11 months of 2013 - a 4.5 per cent rise on 2012 – and production is on course to pass 1.5 million units in December. The SMMT predicts that a rise in exports will see Britain build two million cars annually by 2017 as Europe recovers from its deepest recession in living memory.
British car production last reached its peak in the late 1960s, when more than two million cars were built annually.
"With output up 4.5% in 2013 to-date, UK car manufacturing is on track to pass 1.5 million units this year, the best performance since 2007," said Mike Hawes, SMMT Chief Executive. 
Comments
Author

Dan Powell
Latest