100 years of small Fords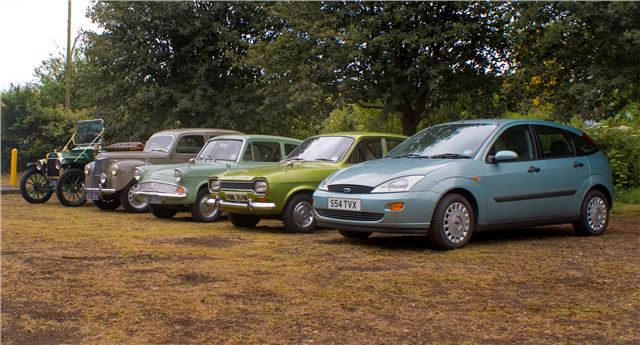 2011 might be the year in which Ford launched then new Ford Focus, but it's also the centenary of Ford of Britain. Ford Motor Company (England) Limited was founded in March 1911 as a separate company to oversee what was considered to be the most important market for Ford outside of the USA.
Since then the UK has had an affinity for Fords. For the past 37 years a Ford model has topped the sales charts, so it's quite likely you have some affection for an old model, whether because you learnt to drive in it, or because your Dad used to have one. Whatever the reason, everyone has a story about a Ford.
So to celebrate 100 years of Ford of Britain, we decided to track the history of the latest model, the Mk3 Focus, back through time to the original affordable small family car - the Model T.
The original Focus went on sale in 1998 and was a success story for Ford. It's always been a popular car and it remains a common sight. Ford operates a frankly magnificent heritage fleet, and amongst the treasures it lovingly maintains is a 1998 Ford Focus 1.6 with about 26,000 miles on the clock.It's well looked after and certainly doesn't look 13 years old.
It's interesting going back to an early Focus – the interior plastics aren't up to the standard of the latest model, but the drive is. In fact, it feels better than some cars that are produced today.
The steering is wonderfully well weighted and the suspension manages to communicate the road surface in a comfortable way, but without completely disconnecting the driver from what's happening under the wheels. It's easy to see why the Focus was so well received at launch and why so many are still in use.  
The Focus replaced the Escort, a car which was popular through six generations from 1968-2000. The Escort Mk1 was built from 1968-1975 and at the time it was considered a medium sized family car, but when parked next to a modern Focus it looks distinctly small.
Climbing inside reveals why – the Escort Mk1 was lightly built, with thin doors and a lack of safety equipment and insulation. There are seatbelts, but they must be adjusted manually. Thankfully, the position of the soft, bouncy seat is adjustable to bring the pedals within easy reach.
The cabin is trimmed in wood and is actually quite attractive. The dials you'd expect on a modern car are present and correct, but there's no radio and the lights and wipers are operated by switches on the dashboard rather than stalks on the steering column.
There's no power steering, but the car is so light it's really no problem at all. In fact, the Escort is rather enjoyable to drive – it feels dated but in a smile inducing, nostalgic kind of way. The gear lever, long, skinny and standing upright from the floor, operates a four-speed gearbox which is quite slick and pleasant to operate.
The 1300 4-cyl OHV engine is raspy and good fun. Obviously it lacks power, but going at any real pace is scary enough as it is thanks to the complete absence of any safety equipment and the wafer thin doors!
It's a charming thing, really, and a car that was tremendously popular throughout its lifetime. Regarded by many as a mere tool, most have succumbed to the ravages of rust, neglect or old age, which is a shame.
Before the Escort the best thing a small family could get from Ford was the Anglia, which was originally introduced in 1939 and lasted several generations, culminating in the Anglia 105E. Sold between 1959 and 1968 this American inspired design is recognisable today as Ron Weasley's transport of choice in Harry Potter. It's certainly handsome, oozing character that's sorely absent from some modern vehicles.
The tail fins, backwards sloped rear window, chrome grille and round headlights make it a loveable little car, and out on the roads it raised quite a few smiles from onlookers.  
There's a flat floor and the seats aren't mounted to rails, so if you're too tall or too short then it's tough luck. They're hinged at the front to let passengers into the tight rear seats.
The dashboard looks fantastic, with a horizontal speedometer that bounces around and reads seemingly random numbers. There's not much need for it, though, because the car isn't quick enough to warrant any concern over velocity.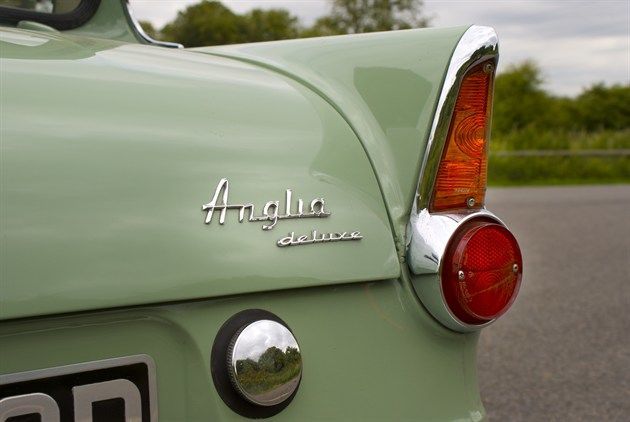 The 997cc engine is terribly slow by modern standards – it'll reach 60mph but it'll take a long, long time, somewhere in the region of 30 seconds. Luckily, second, third and fourth gear are synchroed, so making forward progress isn't a huge chore, but when slowing to a halt the non-synchro first gear takes a degree of manhandling and clutch pumping. You don't have to worry about that in a Mk3 Focus...
Step back in time another generation and meet the Prefect. This really feels of its era, built in 1949 it's filled with Bakelite and has a huge, long, tall bonnet and an equally grand steering wheel. The seating position isn't conducive to a good view, with the little aircraft shaped bonnet adornment more or less at eye level. At one point a small boy walked in front of the car while it was parked and he was obscured entirely by the tall front end. 
Indicators are conspicuously absent and in their place are semaphores controlled by a steering wheel mounted dial. One of these semaphores intermittently stuck, although it's doubtful that other drivers would notice them even if they were working.
The three-speed gearbox is something of a chore to operate. None of the gears are synchromeshed, so some forward planning is required should you want to select a different ratio. Additionally, reverse is where one would normally find first, with first gear occupying the slot where you'd expect to find second.
Changing down from fourth to third gear is particularly treacherous, thanks to the huge gap between the ratios. Matching the engine speed is essential if you don't want to have to disentangle yourself from the steering wheel, and the risks associated with this problem are compounded by the absence of seatbelts.
On the plus side, the rod operated brakes work well, and luckily the brake pedal is in the middle, as you'd expect it to be. It's not on the original small cheap car, the model T.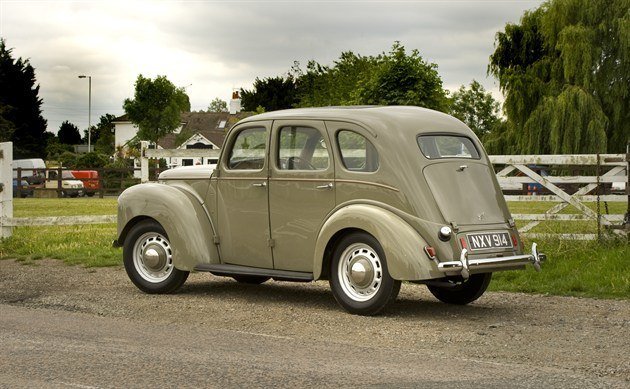 We didn't drive the model T, and that's good because the throttle is on the steering wheel, the low gear selector is where the clutch normally goes and the other pedals do something eerie and hard to figure out. There's also a lever, which, again, does something obscure.
Another quirk of the design is the routing of the exhaust, which passes directly underneath the pedal box and wooden floor, making the cabin was warm as a bath house. There are no dials, so knowing how much fuel is left or how fast you're travelling is a dark art best left to experts.
It's a far cry from what we call a 'normal' family car today, and it proves just how far Ford has come in the 100 years it's been established in Britain.
More importantly, though, it proves how important the car, in general, is. If you're driving around in your Focus today, imagine what someone will think of it in 100 years time when it's an antique, and people are baffled by the idea of controlling things manually?
Next time you step outside onto the drive before your daily commute, think about it. You're driving what will soon become a piece of history, so look after it... Maybe it'll be around when Ford of Britain is 200 years old.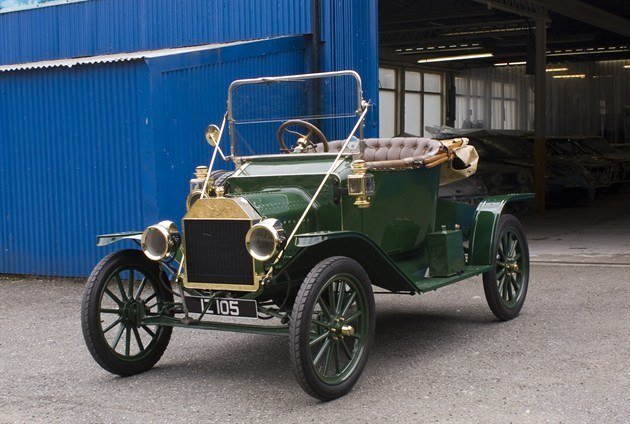 Comments