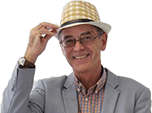 Motorpoint competition hits the right note with singing student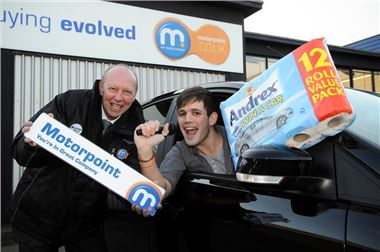 Singer Andrew King is celebrating after beating 15,000 other people to win a car from Motorpoint. The car supermarket giant teamed up with Andrex last year to give away a new Ford Focus 1.6 Style, worth over £16,000.
And, the delighted 20 year-old Musical Theatre student from Bath Spa University is already aiming to put the new car to good use. An X-Factor reject, who has been dubbed the 'Young Michael Ball', he has struggled to get to singing auditions in London on time after his previous car, a 10-year old Vauxhall Corsa, kept breaking down on the M4.
"I do about 10,000 miles a year going back and forth to London for auditions," explains Andrew, who originally hails from Rochester in Kent. "I love my Vauxhall Corsa, it was the first car I ever bought but it's just not reliable. I've lost count of the times I've been late for auditions because of my Vauxhall Corsa.
"I knew about Motorpoint and when I saw the special promotional packs in ASDA I thought I'd enter it through the Andrex Puppy Points website. I've never won anything in my life but I needed a car so much that I thought I'd give it a go. When I got the call from Motorpoint to say that I had won I couldn't believe it. I really can't believe that I will be able to get to auditions on time from now on."
Andrew is currently in the second year of a three-year course in Musical Theatre, at the University's campus in Weston-Super-Mare. While he is aiming to eventually get a role on the West End, at the moment he is attending auditions for a job as a singer on a cruise liner during the summer holidays.
"Singing is all I have ever wanted to do. My parents are not in the industry but my Granddad used to sing at the 'Medway Nights Show' when he worked at Chatham Docks so I guess I got my voice from him. It's a really tough profession to break into but I am determined to succeed," adds Andrew, who recently recorded his first demo.
"My ultimate aim is to sing on the West End but in the meantime I am auditioning for a job on a cruise liner. I've got some more calls lined up in the near future and I can't wait to get into my new car and drive down the M4 to London without having to worry about whether I might make it or not."
Adds David Shelton, Managing Director of Motorpoint: "The car couldn't have gone to a more deserving person as Andrew. He's really determined to succeed as a singer and the Ford Focus will provide him with the means to get to his auditions safely, securely, and most importantly, on time."
More at Motorpoint.
Comments