Average new car CO2 figures fall every month in 2010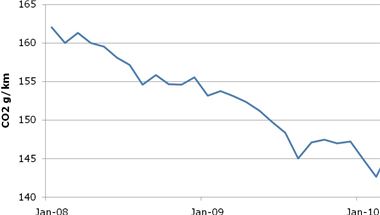 The average new car CO2 has fallen every month in 2010. The figure is down 4.7% in first half of 2010 to 145.2g/km, compared with the same period in 2009.
The drop has been attributed in large part to the scrappage scheme and, with that scheme now at an end, there are concerns that the rate of reduction could be reduced or it could even start to rise again.
Registrations of alternatively fuelled cars have more than doubled to 11,468 units in the first half of the year, and grew by 157.4% in June.
Registrations of 'signposted' eco-models, such as SEAT's Ecomotive, Ford's Econetic and VW's Bluemotion - have risen by 141.4% in the first half of 2010 to almost 74,000 units and by almost 850% on the first half of 2008.
"Continued vehicle manufacturer efforts to improve fuel efficiency and cut emissions has further reduced average CO2 output during a better than anticipated first half of 2010," said Paul Everitt, SMMT chief executive. "The remainder of the year is set to be challenging, especially post the scrappage scheme. All manufacturers are committed to offering ever more efficient products through the introduction of increasingly efficient engines and alternative technologies."
Comments