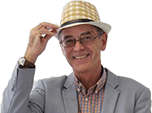 Classics at Brooklands 7th June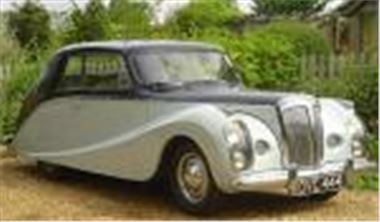 THE 'BROOKLANDS TRADITION' SALE - THURSDAY 7th JUNE 2007
On the afternoon of Thursday 7th June, BCA will be staging its annual summer sale of Pre-war & Thoroughbred motor vehicles and memorabilia at the historic venue of Brooklands.
There will be a sale preview on Wednesday 6th June, from 2.30pm until 7.30pm, and on the sale day from 10am. The sale of memorabilia commences 1pm in the Chequered Flag Room, with the motor car section following on. The Museum will be open free of charge to everyone attending until 5 pm and refreshments will be available in the Sunbeam Tea Room until 4.45pm.
RARE DAIMLER AT BROOKLANDS
A unique Daimler Dauphin Saloon is one of the stars of BCA's next Classic & Historic sale at the Brooklands Museum on Thursday 7 th June. This one-off British saloon from the post-War era joins over sixty vehicles representing nearly 100 years of motoring history, alongside a superb selection of automobilia, aeronautica and Brooklands memorabilia.
BCA's Robin Lawton commented "Our Brooklands Tradition sales always offer something special to tempt collectors and enthusiasts alike and this sale is no exception. This year we are delighted our event is part of the Brooklands Centenary programme."
The Daimler Dauphin 2-door Saloon is one of the famous Lady Docker-inspired Show Cars and is understood to have been exhibited at the 1953 Motor Show under the Lanchester brand. Lady Docker – a former showgirl – was married to Sir Bernard Docker, the chairman of Daimler, who she persuaded to produce extravagant Motor Show cars, which made quite a statement in a post-War austerity-stricken Britain. The Dauphin was later purchased by Daimler's General Manager and was converted into a one-of-a-kind Daimler Dauphin for the 1954 season. The car was completely restored about ten years ago with a body-off rebuild. Finished in blue over grey with re-conditioned interior of grey leather upholstery and wood, this most stylish of Daimlers comes with Swansea V5, fully documented rebuild and current MoT. Expect to pay around £12,000 to secure it.
Dating from 1938, the Bentley 4¼-litre Sports Special is an interesting conversion in the style of the Eddie Hall car that competed in the 1934 to 1936 TT Races. Originally fitted with a four-door saloon body, it now is a purposeful racer, ready for hill climbs, speed events and sprints. The cars long history – including time in the USA – has been traced through the Bentley Driver's Club and it is offered with plenty of background documentation. It is expected to sell for in excess of £40,000.
A second Bentley 4¼-litre on offer at Brooklands dates from 1936 and is fitted with saloon bodywork. A factory demonstrator, the car spent some 18 months in Ireland with Belfast agents Agnew & Graham Ltd and was featured several times in the Bentley magazine 'On the Road'. Returning to the UK, it subsequently had six private owners before being laid up in a barn, where it was discovered some 37 years later and sold to the present owner. Despite having never been restored, the body was found to be in good order and needing no real attention. The paintwork is original with scrapes and chips having been painted over the passage of time. Apart from undergoing some minor cleaning, the interior trim is largely 'as found'. Mechanically sound throughout, this represents a very rare opportunity to acquire a 1930s Bentley in largely original condition. It is estimated at around £21,000.
A true icon of the 1960s, the Jaguar Mk 2 3.8 on offer at Brooklands is described as a truly exceptional example. Between 1987 and 1995, a comprehensive and exacting rebuild was undertaken using a new Mk 2 body shell, which included new doors, boot lid and bonnet. Full details of this restoration, which is understood to have cost around £100,000, are included with the car. Finished in British Racing green with tan trim it has the manual transmission with overdrive and is to original specification throughout. It has covered less than 4,000 miles since the rebuild was completed. Probably the best Mk 2 3.8 available to the market, it is estimated at above £40,000.
The 1962 Jaguar E-Type fixed head coupé has been the subject of a meticulous restoration by a motor racing engineer who is a long-standing Jaguar enthusiast. An original right-hand-drive example, this motor car was manufactured on 26 th January 1962 and despatched on 7 th February to distributors, Sagers, of Bulawayo, Rhodesia.
Returning to the UK in 2002, the car was acquired by the vendor and a three-year, £60,000 restoration project began. Finished in Carmen red and fitted with a sunshine roof, this is a rare opportunity to acquire an early flat-floor E-Type in such fine condition. The car has covered only around 40 miles since completion and is expected to sell for around £40,000.
The 1923 Austin 7 Type AB 2½ CWT van was supplied new to Shepherd Neame brewers of Faversham, Kent. One of just two known survivors, it was discovered by the vendor fourteen years ago in a collapsed shed and required a total rebuild. Since the completion of the restoration the van has been regularly used at numerous Austin 7 events, as well as participating a number of times in the Historic Commercial Vehicle Club London to Brighton run. Estimate is around £13,000.
Also on offer at Brooklands are a 1930 Rolls-Royce 20/25 Tourer (estimate £24,000), a 1959 Mercedes-Benz 220S Cabriolet, one of just 26 right-hand-drive models built (£30,000 - £35,000) and a 1958 Jaguar XK150 drop head coupé (estimate £45,000). Modern classics include a 2002 Dodge Viper Final Edition GTS (number 148 of the final production run of 360, estimated at £45,000) and a Mini Cooper Sport 500 that has covered just 453 miles and carries the registration ' Y1 DAD' (£12,000).
BCA's prestigious Classic & Historic sale at the Brooklands Museum on 7 th June commences with viewing in the Paddock area from 10.00 am, with additional viewing from 2.30 pm to 7.30 pm on the previous day (Wednesday, 6 th June).
The sale of Automobilia commences in the Chequered Flag Room at 1.00 pm, followed by Cars and other vehicles at approximately 2.30 pm. Entrance is by catalogue only, priced at £17.50 (admits 2). For full details of the sale, please contact the Classic & Historic Automobile Division Information Helpline on 01252 877317 or email bcahistoric@bca-group.com. Catalogue details and illustrations are displayed on the BCA site at
www.classic-car-auction.co.uk
.
CATALOGUE AT 1-6-2007:-
(By Year, Make/Model and Estimate)
1923 Austin 7 Type AB 2½ cwt Van (1 of 2 known survivors) £13,000 - £14,500
1926 Morris Cowley 2-Seat Tourer with Dickey Seat £8,500 - £9,500
1930 Rolls-Royce 20/25 Tourer £21,000 - £24,000
1930 Morris Cowley Folding Head Saloon £9,000 - £10,000
1931 Morris Minor 2-Seat Tourer (restoration requires completion) £3,250 - £3,750
1933 Talbot 65 Saloon £10,500 - £12,000
1934 Austin 7 PD 2-Seat Tourer £4,750 - £5,250
1936 Bentley 4¼-litre Saloon (by Park Ward) £21,000 - £23,000
1936 Austin 7 Ruby (49,000 miles - interesting history) £4,500 - £5,000
1938 Bentley 4¼-litre Special (in the style of the Eddy Hall TT car) £38,000 - £43,000
1952 Daimler 2½-litre Barker Special Sports £12,500 - £14,000
1954 MG TF £11,000 - £12,500
1954 Daimler Dauphin (1953 Motor Show Car) £12,000 - £14,000
1958 Jaguar XK 150 DHC £40,000 - £45,000
1958 Jaguar Mk VIII £10,500 - £12,000
1959 Mercedes-Benz 220S Cabriolet (rare 1 of 26 RHD model) £30,000 - £35,000
1960 Jaguar Mk2 3.8 (manual/overdrive - concours condition) £42,000 - £45,000
1961
AC Greyhound
£24,000 - £28,000
1962 Jaguar E-Type FHC (early flat floor car in concours condition) £37,000 - £40,000
1964 Bentley S3 Saloon £22,000 - £24,000
1964 Jaguar E-Type S1 £25,000 - £27,500
1965 Jaguar E-Type Series I Roadster £28,500 - £32,000
1966 Rover 3-litre Coupe (29,000 miles) £8,500 - £9,500
1967 Volkswagen 1500 Beetle (Multiple concours award winner) £8,000 - £9,000
1968 Jaguar 340 Saloon £10,000 - £11,000
1968 Chevrolet Corvette Sting Ray Convertible* £12,000 - £13,500
1969 MG CGT £5,000 - £5,750
1969 Ford Mustang Mach 1* £12,500 - £14,000
1971 Jaguar E-Type Series III Roadster £37,500 - £40,000
1971 Triumph TR6 £6,250 - £7,250
1972 Chevrolet Corvette Sting Ray T-Top Coupe* £12,500 - £14,000
1973 Jaguar E-Type Series III Roadster (LHD US spec. a/c etc)* £30,000 - £32,500
1973 Jensen Interceptor SP (retains 6-pack carb) £10,250 - £11,500
1974 MGB GT V8 £4,000 - £4,750
1975 Triumph TR6 (13,500 miles) £13,000 - £14,500
1976 Rover 2200 P6 (31,600miles) £2,750 - £3,250
1976 Rolls-Royce Silver Shadow £5,500 - £6,500
1978 MG Midget 1500 (6,000 miles) £6,000 - £7,000
1978 Argyll GT Turbo (original prototype - 4,057 miles) £15,000 - £17,500
1979 MGB GT £2,250 - £2,750
1980 Ferrari 308 GTS £17,000 - £19,500
1980 MGB Roadster (13,000 miles) £6,000 - £7,000
1980 MGB Roadster £4,500 - £5,500
1981 MGB GT (Limited Edition) £3,650 - £4,250
1984 Aston Martin Lagonda £12,500 - £14,000
1985 Bristol Britannia £8,500 - £9,500
1988 Jaguar XJS Coupe 3.6 £4,250 - £5,250
1989 Jaguar Sovereign SIII V12 £3,500 - £4,500
1990 Bentley Mulsanne S £9,500 - £10,500
1992 Jaguar XJS 5.3 Convertible £8,500 - £10,000
1992 Jaguar XJS 4.0 Convertible £7,500 - £8,500
1992 Jaguar XJS 5.3 Convertible £7,500 - £8,500
1993 Rolls-Royce Silver Spur II LWB £15,000 - £16,500
1995 Bentley Turbo RL (37,000 miles - one owner)
£22,000 - £24,500
1997 MG RV8 (22,000 miles) £11,500 - £13,000
1997 Bentley Turbo RT £22,000 - £25,000
1997 Mini Cooper 1.3i (11,000 miles) £5,000 - £6,000
2001 Mini Cooper Sport 500 (453 miles - as new- Reg. No: Y1 DAD) £11,500 - £12,500
2002 Dodge Viper Final Edition GTS* (No. 148 - 5,850 miles)
Comments