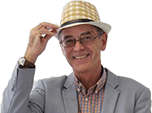 Something for Everyone at Auction Today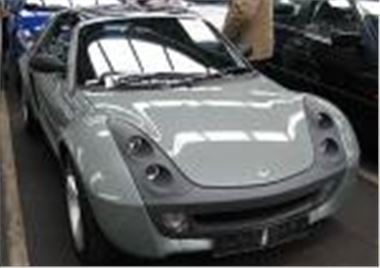 There was plenty to buy at Blackbushe today as the centre operated like a giant clearing house shifting unwanted cars to wherever they were wanted, sometimes at seriously knockdown prices.
The 17k mile 04 reg Smart Roadster Coupe in the photo was loaded with option book goodies, including the £655 Sport Pack of steering wheel paddleshifts, three spoke sports steering wheel and 16" 3-spoke Spikeline alloy wheels with 205/45 R16 tyre, plus a CD player, plus aircon, plus heated seats, plus metallic paint, and only lacking the optional electric hood. Original list would have been an eye watering £16,470, so sold for £8,600 it was an almost half price bargain.
Other cheapies today were a 101k mile 90G Mazda MX5, gone for £1,425, a 74k 99V Mercedes ML320 auto sold for £10,400, a 123k mile 95N BMW 316i sold for £875, a 62k mile 95N Mazda 626 2.0i GLX sold for £625, a 57k mile 2000W SEAT Ibiza 1.4S with alloys sold for £2,500, a 37k mile 98R Honda Civic 1.5iLS with sunroof and aircon sold for £2,000, a 13k mile 03 reg MGTF 135 sold for £8,700, a 70k mile 2000W Mitsubishi Galant 2.4GDI auto estate, sold for £3,500, a 109k mile 2001/51 Mondeo 1.8LX sold for £2,925, a new shape 12k mile SEAT Ibiza 1.2S with aircon sold for £4,600 and a 103k mile 94M Mitsubishi Liberto 1.8 GT DOHC turbo intercooled station wagon sold for £425.
"What's that?" you may well ask, and I hadn't seen one either. But it was a kind of forerunner of the Lancer estate we saw a while back and which has just been revived as a UK import this month.
Low top bids which did not necessarily buy the cars included £4,650 for a 6k mile 2004/53 Renault Kangoo 1.4 Expression combi, £8,800 for a 4k mile 04 reg Rover 75 1.8T Club SE Tourer, £8,450 for a latest facelift 10k mile 04 reg MG ZS 180 and £7,250 for a latest facelift 2k mile 94 reg Rover 45 1.6 Club SE.
A determined trade bidder started at £7,000 but ended up paying £8,650 for a 27k mile 2003/53 Mondeo TDCI 130 Zetec 6-speed. But a 65k mile 2002/52 Mazda 6 2.0 diesel 136ps Sport wasn't far behind at a top bid of £7,950.
Vans tomorrow. Another big sale on Friday. Then Top Car on Monday 14th and Monday 28th.
As always the best way to look for a specific car coming up at auction or to pre-check a day's sale is to visit
www.auctionview.co.uk
This service also now gives composite price information (average auction price, CAP and Glass's) and now allows you to buy a selection of cars directly on-line.
For sales at BCA Edinburgh, click here for full details:
www.british-car-auctions.co.uk/main.asp?page=60
Brightwells next HUGE WEEKLY 4x4 SALE takes place on Tuesday 15th February at Easter's Court on the A49 by-pass, Leominster, Herefordshire, start time 11.00am, phone: 01568 611325, website:
www.brightwells.com
Comments