FIAT Stilo Prices Announced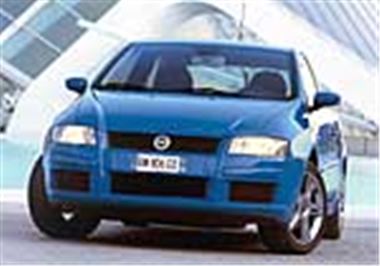 Fiat Auto UK has announced prices for its new mid-size Stilo 3 and 5-door hatchback range, which goes on sale here in February 2002.
The Stilo will be available in three trim levels: Active, Dynamic and Abarth, with a choice of four petrol engines and a 115 bhp direct injection common rail (JTD) diesel. Engines offer between 80bhp and 170bhp.
Entry level Stilos are well equipped and come with ABS anti-lock braking with Brake Assist, remote control central locking, six airbags, built-in front fog lights and body coloured bumpers all as standard. Optional features will include sliding rear seats, adaptive cruise control, the CONNECT infotelematic system with voice commands for the phone, a voice memo and WAP internet access, rear side airbags, a louvred sunroof and an MP3 music player.
The pricing rationale is that for any engine capacity increment, say from 1.2 16v to 1.6 16v, a customer will be charged £500; for a trim level upgrade £1,000; and to go from a 3-door to a 5-door version will cost £500. Selespeed transmission costs £800. This simple building block approach means that customers will be able to assemble the cost of the car they want and, once in possession of the entry level price, it is a simple matter to arrive at the price of any Stilo version.
Prices and CO2 outputs of 3-door Stilo models are:
1.2 16v Active (80bhp; 149g/km CO2): £10,835
1.6 16v Active (103bhp; 173g/km CO2): £11,335
1.6 16v Dynamic (103bhp; 173g/km CO2): £12,335
1.8 16v Dynamic (133bhp; 190 g/km CO2): £12,835
2.4 20v Abarth Selaspeed (170bhp; 231g/km CO2): £15,635
1.9 JTD Dynamic (115bhp; 140g/km CO2): £13,335
Prices and CO2 outputs of 5-door Stilo models are:
1.2 16v Active (80bhp; 155g/km CO2): £11,335
1.6 16v Active (103bhp; 179g/km CO2): £11,835
1.6 16v Dynamic (103bhp; 179g/km CO2): £12,835
1.8 16v Dynamic (133bhp; 194 g/km CO2): £13,335
2.4 20v Abarth Selaspeed (170bhp; 233g/km CO2): £16,135
1.9 JTD Active (115bhp; 143g/km CO2): £13,835
1.9 JTD Dynamic (115bhp; 143g/km CO2): £13,835
More at
www.fiat.co.uk
Comments