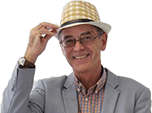 Protect Pedestrians by Removing the Sidewalks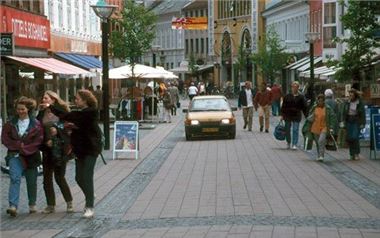 In the 1970s, the Dutch developed a means of traffic calming that works far better than car, building and road destroying humps.
It's called a 'Woonerf.' And by completely paving the street wall to wall, making it a pedestrian area that allows cars, it disquiets drivers into driving very carefully indeed.
Drivers and riders are restricted to a maximum speed called 'footpace' (one of the last archaic concepts in Dutch traffic law) referring to the pace of a horse. In practice, this means a 15 km/h (10mph) maximum applies to all drivers and riders. Pedestrians may use all of the road and the responsibility is on drivers and riders to avoid being in an accident with a pedestrian. In an accident with a child under 14 years old, the driver is held to be liable; in one involving a pedestrian over 14, the likelihood is that the court will decide in favour of the pedestrian, but it is not based on explicit traffic law.
In the latest poll by road safety charity the IAM, 58% of people think that drivers should be held legally responsible for accidents between cars and more vulnerable road users in pedestrian-priority zones.
Woonerfs are the most sophisticated of these zones. They are designed to be used at walking pace to make them safer for more vulnerable road users and encourage cycling and walking.
48% of the 4,000 IAM respondents think the Woonerf concept – with no pavements, giving cars, pedestrians and cyclists equal use of the same road space – is a good idea for use in the UK, with 27 per cent thinking they are a bad idea.
When asked where these zones should be sited primarily, 36% said in shopping areas, and similar areas with high pedestrian traffic, and a further 33% thought they would be of the most use in some residential areas where a particular need was identified. 16% think they should be used on all residential roads.
The biggest benefit of the system, as voted for by more than half of the respondents was the removal of street clutter including kerbs, signs and railings. Improved pedestrian and cyclist safety were also popular at 49% and 43% respectively, and only a quarter believed there would be no benefit at all. Opinion on whether the respondents themselves would want to live in such a zone was evenly split, at 39% each.
IAM director of policy and research Neil Greig said: "Our poll reveals a surprisingly positive attitude towards better protection of cyclists and pedestrians, both in road layout and legal responsibility. On the continent, attractive street design is used to make it clear where pedestrians have priority but this approach is in its infancy in the UK. "The IAM supports any move to improve safety for pedestrians and cyclists, but research is needed into the best way to inform drivers about changes in legal responsibility, and also on the effect a Woonerf might have on the road sense of children brought up in such a zone, when later exposed to less protected areas." 
One of the better examples in the UK is Brighton Road, Coulsdon (effectively Coulsdon High Street).
More on the IAM: IAM
More on Woonerfs: Woonerfs
Comments