IAM Calls For Common Sense Over Changes to MoT Test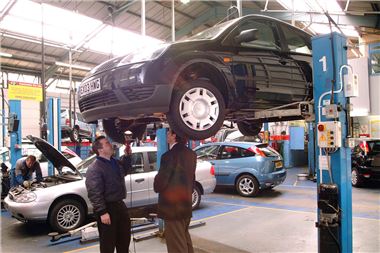 The IAM (Institute of Advanced Motorists) today welcomed the new government's commitment to a wholesale review of the MoT. Neil Greig, IAM Director of Policy and Research said: "With MoT failure rates of around 21% for three year old cars it is essential that the underlying reasons for so many relatively new cars failing are investigated before any changes are made to MoT test frequency."
The key questions the IAM want to see answered by the review are:
• Why are first-test pass rates in some European countries better at four years than UK pass rates after three years?
• Does the three-year UK MoT test unnecessarily "gold plate" the European minimum requirement for roadworthiness – at a cost to UK motorists of £465 million a year?
• Would the application of European minimum standards be enough to guarantee roadworthiness of UK cars?
• Is there any evidence that accidents due to vehicle failure are greater in countries that wait four years for a first compulsory roadworthiness test?
• In the UK, only garages carry out tests and supply the parts and labour needed to rectify faults. In some European countries, testing and rectifying procedures are separated - should we consider the introduction of independent testing centres?
Mr Greig continued: "When three-year warranties and service agreements are common, a high rate of MoT failure does beg all these questions and more: 'Is it because garages do the MoT test before the three-year warranty service instead of after it, which fuels motorists' suspicion that the MoT is being used to show that the service has been done properly?', 'Manufacturers' service schedules do not cover all the points needed to pass a MoT test – why not?' and finally 'Are high failure rates down to motorists failing to maintain their cars properly?'"
First-time MoT failure rates (2007), supplied by VOSA
In 2007, 21.6 per cent (580,754) of three-year old cars failed their first test.
Among 836,646 individual failure faults, the top 10 were:
1 Lighting and signalling 271,567
2 Tyres and wheels 155,489
3 Drivers view of the road (Cracked/chipped windscreens, other obstructions) 120,095
4 Brakes 110,327
5 Steering and suspension 99,798
6 Fuel and emissions 23,634
7 Reg plates and VIN (vehicle identification number) 19,047
8 Seatbelts 11,271
9 Body and structure 7,705
10 Road wheels (loose, missing wheel nuts etc) 5,746
European comparisons
Figures supplied to the IAM Trust by European motoring organisations show that in some countries where they apply the EU-minimum four years for the first roadworthiness test, the failure rate is lower than in the UK (21.6 per cent), eg France 5.61 per cent, Switzerland 17.5 per cent and Norway 19.9 per cent. However, the failure rate in Spain is higher than the UK, at 32 per cent.
In countries that also test for the first time at three years, failure rates are far lower than in the UK (Germany 4.8 per cent and Austria 10 per cent).
More at www.iam.org.uk
Comments