Extra £1,000 Off in Renault Electric Range Offer For July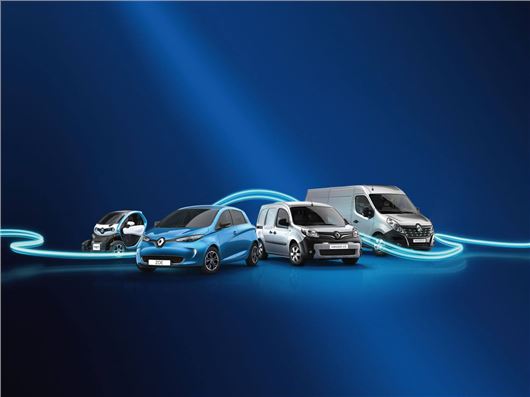 Published 06 July 2019
Renault's 'Electrify July' sales event sees its entire range of electric vehicles available with an additional manufacturer contribution of up to £1,000 on top of existing offers and the Government Plug-in Car/Van Grant.
Zero-emissions-in-use Renault ZOE are largely available from stock, allowing motorists to 'go electric' as quickly as possible, available with £1,000 Renault contribution, making it the UK's most affordable EV car. ZOE available in July from £199 per month, + £69 monthly battery rental, with a total Renault contribution of £2,550 including the promotional support
Renault Kangoo Z.E. 33 and Master Z.E. commercial vehicles available with a £500 Renault contribution
'Electrify July' lease deal sees Renault Kangoo Z.E. 33 available from only £214 per month
Extra £250 Renault contribution available on Twizy and Twizy Cargo
Offers available in participating Renault dealers until 31st July 2019
As well as savings on fuel, all Renault EVs are exempt from annual VED and the London Congestion Charge. 
Renault ZOE

Including the offer, the Renault ZOE Dynamique Nav model is available from £17,420 and the S Edition version from £18,270 – making the ZOE the most affordable new four-seater EV in the UK. The price also includes the £3,500 Government Plug-in Car Grant, while battery rental starts from £69 per month. (Full battery purchase option with no monthly battery payments allows outright ownership of the Dynamique Nav for £24,020 and the S Edition for £24,870.)
Finance customers who purchase their ZOE during July can drive away for as little as £199 per month, with battery rental from £69 per month, after placing a deposit of £2,855. This four-year, 4.9 per cent APR representative* PCP deal features a total Renault contribution of £2,550, including the extra £1,000 that is available as part of 'Electrify July'.
Renault can offer a significant number of ZOEs from stock.
Standard specification of the Renault Dynamique Nav includes R-Link multimedia system with integrated Tom Tom sat-nav, climate control, keyless entry, automatic lights and wipers, and alloy wheels. The S Edition adds bespoke 17-inch alloy wheels, a BOSE Premium sound system and a reversing camera. All models feature the same R110 (108hp) electric motor and 186-mile real-world range.
Renault Kangoo Z.E. 33

Offering a payload that is very similar to its diesel counterpart, the zero-emissions-in-use Renault Kangoo Z.E. 33 is available with an additional £500 Renault contribution. After the offer and the PiVG (Plug-in Van Grant), the versatile van is priced from £17,892 plus VAT.
During July 2019 the Kangoo Z.E. 33 is available for only £214 per month on a 6+47 lease deal, making the versatile LCV even more accessible to business users.
Its R75 (60hp) electric motor provides a real-world range of up to 124 miles and it can typically be fully charged for only £5. All trim levels benefit from electric windows and mirrors and a Bluetooth-equipped stereo, plus working essentials such as a steel bulkhead for the load area, sliding side doors and wide-angle hinged rear barn doors. A choice of Panel Van, Crew Van and Crew Van Cab versions ensures there's a Kangoo Z.E. 33 to suit the needs of all customers.
Renault Master Z.E.
The larger Renault Master Z.E. also comes with an additional £500 contribution until the end of July. Powered by a 76hp electric motor, the Master Z.E. can cover up to 75 miles in real-world driving conditions on a single charge. Particularly suited to last-mile deliveries in congested and emissions-regulated urban environments, the Master Z.E. can accommodate a payload of up to 1,100 kg and is available in 3 wheelbases: short, medium and long and, depending on the version, a choice of two roof heights. After the offer and the PiVG (Plug-in Van Grant), the Master Z.E. costs from £45,900 ex. VAT
Renault Twizy / Twizy Cargo
The Twizy comes with an extra contribution of £250. After the offer, the innovative quadricycle is available from only £6,745. A flexible range of battery hire options mean monthly payments start from as little as £45. The two-seater has a 17hp electric motor and a range of up to 56 miles. To make the Twizy more eye-catching there are also numerous personalisation options, including a wide range of bold colour finishes.
The Twizy Cargo, which replaces the rear seat with a handy, lockable 180-litre storage compartment, also attracts the same £250 contribution. Including the offer, it costs from £7,745 inc. VAT. It provides businesses with a distinctive, highly affordable way to make last-mile deliveries and is particularly suited to inner city couriers and food delivery services.
*Renault ZOE Dynamique Nav R110 – representative example:
48 monthly payments

£199

Minimum customer deposit

£2,855

Cash price 

£18,420

Deposit contribution (includes Electrify July)

£2,550

Total amount of credit 

£13,015

Optional final payment

£5,275

Total amount payable

£20,232

Cost of credit

£1,812

ZE Access battery hire rental

£69

Total monthly payment

£268

Duration (months)

49

Fixed interest rate p.a.

4.9%

4.9% APR Representative
Comments
Author

Honest John
Latest