Nissan develops an All-New London Cab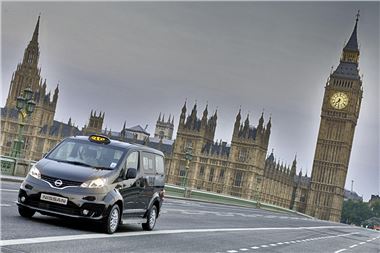 It may not look like a traditional London cab. But Nissan's new NV200 London Taxi is far more environmentally friendly, and far more efficient.
An all-electric e-NV200 concept is also set to undergo trials in the Capital.
Taxi versions of the NV200 were unveiled in Tokyo and it was also chosen as the New York City 'Taxi of tomorrow' yellow cab, supplanting the ex-police Ford Crown Victorias and Checker cabs of days gone by. 
Nissan's 2.7-litre TD27 diesel engine was chosen for the iconic LTI FX4 'Fairway' black cab, which improved its speed, reliability and efficiency. The same engine also featured in the Fairway's successor, the TX1 before being replaced with Ford Transit diesel engines.
Steve McNamara, General Secretary of the Licensed Taxi Drivers' Association, said: "Nissan already has a great footing in the London taxi market - the 2.7-litre diesel that featured in some of the early taxis was one of the greatest engines ever put in a cab."
Designed from the inside out for the well-being of passengers, drivers and even other road users, the NV200 London Taxi is more efficient and more environmentally considerate than current 'black cab' models, while delivering more comfort, space and convenience for occupants. A particular focus was placed on providing for passengers with mobility issues.
Durable and reliable, the Nissan NV200 London Taxi is based on the company's multi-purpose NV200 compact van - a vehicle that has won many awards including International Van Of The Year. Launched at end of 2009, the model has been introduced to 40 countries, selling over 100,000 units worldwide.
The Nissan NV200 London Taxi comfortably seats five adults - three on a rear bench with two on rear-facing, fold-down seats. The front passenger seat has been removed to create space for luggage.
An imprtant feature is the taxi's sliding passenger doors, which were developed for easy open and close. They are also much safer for pedestrians, cyclists and other vehicles because they do not swing out to create a potential obstruction.
The Nissan NV200 London Taxi is expected to be competitively priced below the new TX4 and will be available through a designated 'specialist' Nissan dealer.
Nissan's NV200 also delivers significantly improved running costs than alternative London cabs. The model's frugal 1,461cc Renault dCi 89 EuroV, 6-speed manual drivetrain achieves 53.3mpg on a combined cycle meaning almost 50% fuel saving than the most efficient TX4 with its combined cycle figure of 35.3mpg.
This is the same engine as fitted to the sub 100g/km version of ther nerw Mercedes Benz A Class.
The only real questionmark is the durability and longevity of the belt-cam 1.5 litre Renault diesel engine.
More information in the Car by Car Breakdown Nissan NV200 entry.
Comments