Ford Offers LCV Scrappage Scheme to Ease the Pain of Meeting LEZ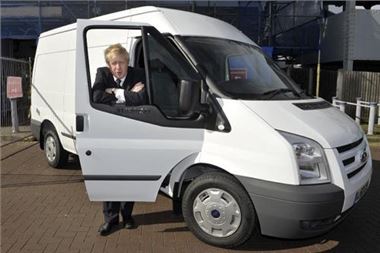 Ford is supporting its London-based customers with a commercial vehicle scrappage programme that will help them move from older vans into cleaner, greener commercial vehicles. 
Owners of vans that are 10 or more years old will qualify for up to £3,000 off a new Ford van.  Ford's scrappage scheme incentives are available on the Ford Fiesta Van, Ford Transit Connect and the iconic Ford Transit.
This follows today's announcement by Mayor Boris Johnson of London that he is joining major vehicle manufacturers to deliver financial support for van and minibus drivers affected by the tighter standards that will be applied to the London Low Emission Zone (LEZ) from 3 January, 2012.  Owners of larger vans and minibuses from the Greater London area who do not meet the required emissions standards by this date, will have to pay a £100 daily charge or risk a £500 penalty.
The Mayor, said: "I am delighted that Ford is being so supportive with its commercial vehicle scrappage scheme, allowing Londoners to trade up their vehicles to new, cleaner models. It is particularly pleasing that vans running on engines made locally in the capital are part of this package. Ford's commitment as market leader is a fantastic contribution to my goal of a less polluted London with a great quality of life."
The LEZ initiative was introduced in 2008 to encourage the most polluting vehicle drivers in the capital, to become cleaner.  When the LEZ standards become more stringent from January, an additional 72,000 larger vans and minibuses will have to meet the lower emissions requirements designed to tackle pollution in the capital. 
The Ford commercial vehicle scheme provides the following discounts in addition to the current retail customer savings on offer.
| | |
| --- | --- |
| Model | Additional Ford support |
| Fiesta Van | £1,000 |
| Transit Connect | £1,500 |
| Transit (Front-wheel drive) | £2,000 |
| Transit V348 (Rear-wheel drive) | £3,000 |
Ford of Britain commercial vehicle director, Steve Clary said: "Ford is pleased that, together with the Ford dealer network, it can offer van customers operating in the London area up to £3,000 discount on our latest, low-CO2 commercial vehicles.  Ford is acting in advance of the new LEZ measures to ease the transition from older vans into new commercial vehicles."
The Low Emission Zone (LEZ) operates 24 hours a day, every day of the year, including weekends and public and Bank Holidays and is policed by cameras that read number plates and check them against a database of registered vehicles.
For more details on the Ford commercial vehicle scrappage programme, please visit www.ford.co.uk/LEZ
Comments