'Which?' Challenges Electric Cars Zero Emissions Assertion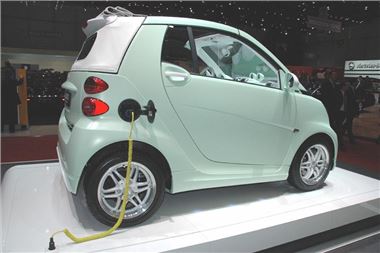 Electric cars' 'zero emissions' under the spotlight
Which? has compared the carbon dioxide created by charging electric cars with that emitted by the most efficient diesel models and found that sometimes there's not a great deal of difference.
The common manufacturer claim that electric cars produce 'zero emissions' ignores the fact that most drivers use a conventional electricity supply to charge them, which has a carbon cost from burning fossil fuels.
The consumer champion found, for example, that the electric Smart Fortwo* creates an equivalent of 84 grams of CO2** per kilometre driven, whereas the diesel Smart Fortwo emits 103 grams.
However, electric cars are much greener than diesel cars when it comes to localised emissions, as they don't emit toxic chemicals that degrade air quality. This is especially significant in cities, where the uptake of electric cars is predicted to be highest.
Richard Headland, editor, Which? Car, says: "We applaud carmakers' efforts to create greener cars - but we don't agree with their 'zero emissions' claims. Until more electricity is produced from renewable sources in the UK, the carbon footprint of driving an electric car may not be as small as owners think."
For Renault's comparative figures, see: /news/green-motoring/2010-06/renault-eco2
*Which? looked at three of the first electric cars destined to hit the UK market and put them up against three efficient conventional rivals (mainly diesel-fuelled Best Buys).
**The carbon dioxide created by charging the car. The Carbon Trust states that 544grams of CO2 are emitted per kilowatt hour of electricity used. Which? converted this to an equivalent grams per kilometre CO2 rating, to make it easier to compare with the diesel cars.
Comments