Peugeot Mobility System Removes Need to Own a Car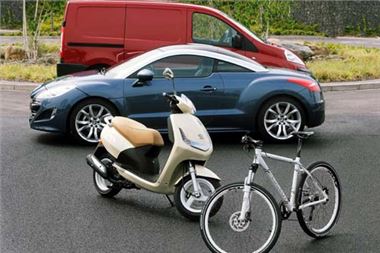 Peugeot UK has launched a pilot programme for its new mobility services offer in London and Bristol. Mu by Peugeot is a ground-breaking service in the world of transportation that enables customers, irrespective of whether they own a vehicle or not, to have access to a range of mobility services from the comprehensive portfolio of Peugeot products.
Potential customers can view the extensive services available to hire – ranging in size from a Peugeot cycle to a Peugeot Boxer panel van, and including Scooters, Coupé Cabriolets, Crossovers, Compact MPVs, Vans, Hatchbacks and Estate Cars – by visiting www.mu.peugeot.co.uk.
Commenting on Mu by Peugeot at the launch of the pilot, UK Managing Director Jon Goodman, said: "Never before has the rental customer been exposed to such an extensive product range, combined with periods of loan that offer flexible mobility and convenience. Mu by Peugeot brings a new mobility offer to our customers, irrespective of their brand familiarity and crucially in the year that the Peugeot brand celebrates 200-years of industrial prowess, it is leading the race to find solutions to current economic and environmental challenges".
A Mu card is obtained and topped up by purchasing credits on line via the www.mu.peugeot.co.uk internet site. In Dealership signage, a special reception desk and point of point of sale advertising material will clearly direct customers to the Mu area.
Mu by Peugeot is already working in Brest, Lyon, Nantes and Rennes in France and in five Dealerships in Paris and in the capital cities of Germany, Spain and Italy, each utilising the facilities of the Peugeot Dealer network. This new mobility service will be deployed in nine European countries between now and 2011.
Two Robins and Day Peugeot Dealerships will run the pilot programme and have dedicated Mu phone numbers and are located in London at Chiswick, on the Chiswick roundabout, W4 5QD (0844 818 7218) and in Bristol, at Clarence Road, BS1 6PR (0117 369 0154).
This unique offer allows everyone, irrespective of whether they own a vehicle or are Peugeot customers, to access a range of mobility services by means of a pre-paid 'Mu' points card which can be topped up online.
Mu by Peugeot allows customers to hire:
• A Car (Coupé Cabriolet, RCZ Sports Coupé, 3008 Crossover, 5008 Compact MPV)
• A Bicycle
• A Scooter
• A Light Commercial Vehicle
• Or an accessory for a special journey: GPS, roof rack, etc
Example Mu tariffs (www.mu.peugeot.co.uk);
| | | | | |
| --- | --- | --- | --- | --- |
| Item | Half-day | Full day | The weekend | One week |
| Scooter | £14 | £18 | £40 | £110 |
| RCZ Sports Coupé | £60 | £80 | £140 | £480 |
| Boxer Van | £35 | £50 | £90 | £300 |
More at www.mu.peugeot.co.uk
Comments