Sustainable Mobility, According to Renault Eco2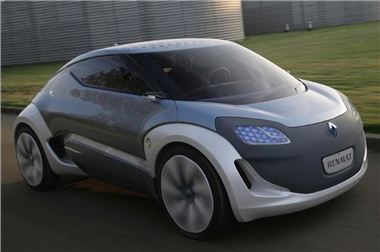 The world now builds 62,000,000 new vehicles a year.
On current trends, by 2020, that's set to rise to 100,000,000 new vehicles a year.
But what sort of vehicles?
We are rapidly using up fossil fuel resources, and what we have left is becoming increasingly difficult and expensive to extract.
Biofuels come at a price of rainforest or food crops.
Burning any fuels to power vehicles has an environmental cost.
So how are we to sustain mobility over the next 20 years, never mind increase it to mobilise countries like India and China?
Restrictions are one way. Vehicles are already becoming the most highly regulated products in the world. Governments exert massive control over their fuel economy and their emissions.
Just a few years ago, average vehicle emissions stood at 190g/km CO2. Now, the EC will start to levy fines on manufacturers whose corporate vehicle average emission exceed 130g/km from 2012 to 2015. By 2020 they hope to push the corporate average emissions below 100g/km.
Yet distance travelled by individual vehicles is decreasing.
In 2007 50% of the Europe's population lived in towns and cities. By 2050 it is estimated that will rise to 70%. And already, 87% of vehicle journeys in Europe are less than 60 kilometres.
Electric vehicles are the most suitable for short runs, particularly in cities where they emit zero CO2. So it follows that the "preferred solution" to a quick drop in average CO2 emissions is electric power.
"Tank to wheel" CO2 is estimated at 105g/km for the average Prius sized hybrid, yet just 12g/km for an electric car the electricity for which is generated by wind, water , solar or nuclear energy. (The average for coal fired electric energy is 128g/km and the overall average across Europe is 62g/km CO2 for electric vehicles.)
Renault electric vehicles
Renault has developed four electric vehicles: The Fluence ZE 5-seater saloon, the Kangoo ZE delivery van, the Zoe ZE city car and the Twizy ZE tandem 2-seater scooter. (ZE = Zero Emissions.)
Production-ready prototypes of the Fluence ZE and Kangoo ZE are already on the road. Each has a range of 100 miles.
The Fluence ZE electric motor develops 70kW and 226Nm torque from zero rpm. The car is 4,620mm long x 1,809mm wide x 1,461mm high. Its massive 20kW/h lithium-ion battery sits in a subframe between the rear wheels and between the passenger compartment and the trunk.
To extend its range and the range of all pure battery powered electric vehicles in the future, Renault has developed a Quickdrop battery replacement system. The car drives into a Quickdrop battery station. The discharged battery is dropped down into pit below the car, and is then replaced by a fresh, fully charged battery that rises up out of the pit. The whole operation takes just three minutes. And if this system can be standardised for all electric vehicles, it answers the one major criticism of lack of range. Batteries will, of course, be rented, which facilitates this sort of swap.
Alternative charging methods are 220v household, that takes 4 to 8 hours to fully charge the battery. Or 400v charging stations, that take 20 minutes to fully charge the batteries. Renault expects a battery 'life' of 6 years after which it will still retain 80% of its charge capacity.
However, by the time the Fluence ZE arrives in the UK in 2012, it will have a 2nd generation battery charger block that allows full charging from a domestic supply in 30 minutes.
Under the bonnet, the power stack looks almost like a conventional cylinder block with transmission underneath. At the bottom are the electric motor and 1:10 reduction gearbox, then the A/C to D/C inverter. Then a D/C 400v to D/C 14v converter for the car's power supplies for lights, heater and aircon. Then the Battery Charger Block. And on top of that the junction box.
Though the battery pack weights 250kg, the entire car weighs only 50kg more than an internal combustion Fluence with a full fuel tank.
Out on the traffic choked roads of Paris the Fluence is simplicity itself to drive and very smooth. It would make an excellent chauffeur 'private hire' car or taxi. And with 226Nm torque available instantly, throttle response is also instant pulling the car forward with a jet aircraft like electric motor whine. On deceleration and braking, the motor regenerates power back into the battery, potentially giving it a longer range in cities than out on the open road, though in reality the range works out about the same. Top speed is about 90mph, and 0-60 in about 11 seconds.
New Renault diesel engine and dual clutch transmission
Electric Vehicles represent one solution to the problems of sustaining mobility, but not the only answer. Obviously petrol/electric hybrids are another. Hydrogen powered Fuel Cell Electric Vehicles are yet another. While further improvements can and are being made to "heat powered' internal combustion engines and their powertrains.
Renault's new 1.6-litre TCI 130PS eco2 diesel represents current state of the art in diesel development.
I/C engines are at their most inefficient immediately after start up while they remain cold, so the quicker they heat up the better.
To achieve ideal 'thermo management' Renault has installed an additional servo valve in the engine cooling system. This prevents the circulation of coolant anywhere but the cylinder head and engine block until it has reached operating temperature. The servo valve then opens, allowing coolant into the cabin heater matrix. Then, when everything has got to temperature the standard thermostat opens so the coolant passes through the radiator.
The new engine is 16 valve rather than 8 valve and uses a single inlet manifold variable swirl actuator to generate swirl via one of the two inlet valves and improve combustion.
A new 'world first' method of low-pressure exhaust gas recirculation has been adopted. Instead of simply recirculating high pressure hot exhaust gasses via an EGR back into the inlet manifold, the low pressure system takes the post particulate filter gases, cools them via a heat exchanger, then re-introduces them to the turbo compressor after which they are cooled again by the intercooler before being reintroduced to the combustion chambers. This cuts emissions of nitrogen oxides far more effectively than a conventional EGR.
A further innovation is a variable displacement oil pump that absorbs less energy than a conventional high-pressure oil pump with relief valve.
And finally, 'Triple Post Injection' more precisely supplies fuel to regenerate the diesel particulate filter, preventing fuel being wasted, contaminating sump oil and eventually leading to a rise in sump oil levels with potentially disastrous consequences.
Out on the road, this new engine is a revelation. It pulls cleanly from 1,000rpm, power delivery is linear with no troughs and peaks, it's very quiet and utterly viceless. More than that, it's pleasant and inviting to drive rather than challenging. One of the best diesels I have ever driven. In the Megane, CO2 is down to 115g/km and in the Scenic down to 130g/km. This now has to replace the petrol TCE 130 as the engine of choice for the Scenic.
Dual clutch transmission
Renault calls this 'EDC' (Efficient Dual Clutch). It's a concentric primary shaft 6-speeder with gears on the outer shaft and gears on the inner shaft meshing with gears on two further shafts using two dry clutches on the primary shafts in similar arrangement to Hyundai-KIA's forthcoming twin clutch box.
With the 110PS 1.5 diesel engine it is 17% more efficient than a torque converter automatic, saving around 30g/km CO2. In the Megane, emissions are 114g/km and in the Scenic 130g/km, which is very low for the benefit of an automatic transmission.
Out on the road it's vice-free with no electronically induced hesitation pulling out of side roads or onto roundabouts as can occur unpredictably with VAG DSGs. It also shifts extremely smoothly, whether left to change gears by itself or using the lever. (There are no paddleshifts.)
Low environmental impact factories and recycling of components
Renault is so concerned over this issue, the company even issued us with biodegradable pens with which to take notes.
The company now builds 4 cars with the same energy previously needed to make 3. Its factories consume 65% less water overall, emit 70% less hazardous waste and use 47% less energy.
Its Maubeuge factory uses recycled stormwater. It's Megane plant in Palencia, Spain, uses solar energy.
Its new factory in Tangier emits zero carbon and zero liquid effluent. All its electricity is from renewable sources, for example biomass boilers fuelled by ground olive pips.
The company is heavily involved in 'virtuous recycling'. Renault's Dacia cars are 95% recoverable and 85% recyclable. Overall, within Renault, 34% of plastics are already recycled and the current model Megane has 34 kilos of recycled plastics, such as wheelarch liners, boot trim, engine liners, fuel tank, washer reservoir and radiator header tank, and 100 recycled parts in its construction.
The average recycled parts in a new Renault is now 15% and the intention is to increase this to 20% by 2016. In a joint venture with SITA, more than 350,000 cars a year are now dismantled and recycled.
Weight saving
Every 10kg saved from a car's weight saves roughly 1 g/km of CO2. Similarly an aerodynamic CdA improvement of 0.02 saves 1 g/km CO2.
Eco2 Assistance
To qualify for Renault's eco2 range, cars must emit less than 140g/km and LCVs less than 140g/km. Already Renault offers a Twingo emitting 94g/km, a Clio emitting 98g/km, a Megane emitting 114g/km, a Scenic emitting 130g/km and a Laguna emitting 122g/km.
Renault also offers eco2 purchase assistance to help buyers choose the most environmentally friendly vehicle that also meets their needs.
If offers eco navigation systems that chose the most environmentally friendly route from A to B.
It helps companies review their overall carbon footprint saving them on average 23%, which, of course, also saves than a similar percentage in fuel costs.
It retrofits engine preheaters and door auto switch-offs for vans that switch off when drivers are making deliveries
And eco2 driving training, both on simulators and out on the road in real cars. Of 15,000 drivers trained so far, the average CO2 reduction in cars has been 8-12% and in trucks 5%.
I thought this would be of benefit to site visitors, so the video is of an eco driving lesson.
Take a look, apply some of its lessons and you may soon find yourself reducing your CO2 as well as your fuel bills.
Comments