Peugeot-Citroen Cleans Up its Engines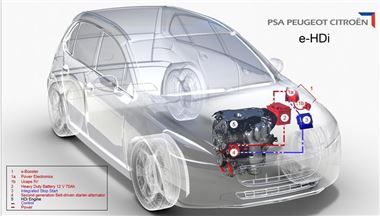 On 9th June 2010, Jean-Marc Gales, Executive Vice President, Brands, and Christian Chapelle, Director of Powertrain and Chassis Engineering, presented the world premiere of e-HDi, a new generation stop & start system that combines a reversible starter-alternator and a diesel engine. (Note: this is not the same as a regenerative alternator; is is a combined starter motor and regenerative alternator.)
Stop & start technology turns off a car's engine whenever the car is at rest, for example at a stop light or in a traffic jam, and then restarts it instantaneously when needed.
This latest innovation, which delivers improvements of up to 15% in the HDi engine's fuel efficiency and CO2 emissions, will be deployed on most of the Peugeot and Citroën ranges from late 2010. The Group's objective is to sell one million e-HDi-equipped vehicles by 2013.
The e-HDi system's unrivalled performance reflects the combination of several technologies:
- An HDi engine, one of the industries most efficient powerplants.
- A stop & start system with a second-generation reversible starter-alternator.
- An e-booster system, for instantaneous engine restart.
- An electronic alternator management system, for regenerative braking.
- A gearbox with optimised gear ratios.
In addition, all e-HDi-powered models will be fitted with low rolling resistance tyres.
The first models to be equipped with e-HDi technology will be the Citroën C5, the new Citroën C4 and C4 Picasso, from the third quarter 2010. The innovation will then be deployed on most of the Peugeot and Citroën models powered by the 1.4-litre and 1.6-litre HDi engines ; the 308 and the 407 replacement will be the first models equipped with theses engines. 30% of the Group's diesels will be e-HDI engines.
During the presentation, Mr. Gales said: "I'm convinced that our e-HDi technology will quickly become the new market standard, just like the HDi engine in its time, and a source of major competitive advantage for the Group. Our e-HDi engines deliver the highest performance, in terms of fuel efficiency and carbon emissions, but also in terms of driving pleasure, with instantaneous engine restart, no vibrations and no noise."
e-HDi will enable PSA Peugeot Citroën to widen its lead in low-carbon vehicles. Its launch is part of a vast plan to deploy technological innovations designed to offer every customer a low carbon vehicle suited to his or her individual needs. Under this plan, in addition to e-HDi technology, between 2010 and 2012 PSA Peugeot Citroën will also launch:
- Two fully electric vehicles: the Peugeot iOn and the Citroën C-ZERO (2010).
- Two diesel hybrids: the Peugeot 3008 HYbrid4 and the Citroën DS5 HYbrid4 (2011).
- New internal combustion engines, in particular a new family of small 1.0-litre and 1.2-litre, three-cylinder petrol engines (2012).
In 2009, PSA Peugeot Citroën sold nearly one million cars emitting less than 130g of CO2 per km, including more than 757,000 with emissions below 120g. The Group's objective is to sell one million cars emitting less than 120g of CO2 per km in 2012.
e-HDi Facts and Figures
Objectives: 1 million e-HDi vehicles sold by 2013
30% of HDi engines e-HDi enabled
Investment: €300 million
Number of patents filed: More than 30
Project duration: 36 months
Number of people involved: 500 engineers and technicians
More at www.psa-peugeot-citroen.com
Comments