Innovations at Mobility Roadshow to Include new Swivel Seat and new Flexible Ramp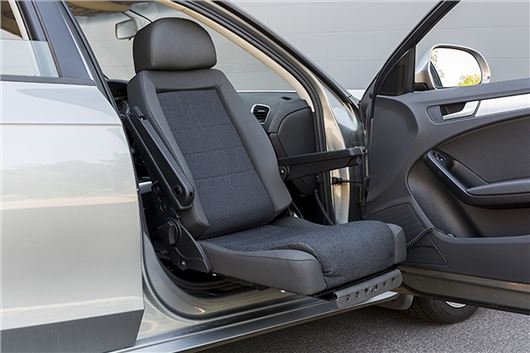 Published 18 May 2016
At the Mobility Roadshow, Silverstone Circuit, on 26th-28th May, Elap Mobility will be showing its new universal swivel seat and Mobility Networks will be showing its FlexisRamp that allows wheelchairs to be loaded without expensive conversions. 
These are just two of the important innovations in adaptive products and services on show to enhance independent mobility.
Organised by charity Mobility Choice, the free-to-attend Mobility Roadshow (incorporating Get Going Live) is Europe's leading consumer-focussed event for people of any age living with restricted mobility. 
New product highlights at the event include:
Elap Mobility, Autoadapt & Kivi 
The Autoadapt Turny Low Vehicle swivel seat allows you to choose cars previously impossible to adapt. By utilising previously unused space in the vehicle, this seat will fit in a wider range of vehicles, provide excellent leg space and head space as well as vastly increased seating comfort.
Genny Mobility 
The award winning Segway style Genny Urban wheelchair is a modern two-wheeled personal mobility device. It uses a self-levelling system derived from the Segway, can go forwards or backwards, accelerate and brake by using intuitive upper body leaning movements. Steering is simple with just a light push left or right on the handlebar and Genny boasts an exceptional turning circle.
Lewis Reed 
Lewis Reed has its top 8 converted vehicles, including unique new Mercedes-Benz V-Class and Vito models. The V-Class and Vito provide flexible seating positions to offer greater practicality to wheelchair users. The adaptable floor mounted rail system is quick and easy to use providing a choice of up to 6 passenger seats and a number of wheelchair positions. The V-Class and Vito models are available in a several wheelbases to provide adequate space.  Electric sliding doors are fitted on both sides. The large automatic powered tailgate opens to enable a remote controlled rear lift. or lowered floor and lowering suspension. to aid the wheelchair user's entry into the vehicle.
Loopwheels
Loopwheels is celebrating its first year selling shock-absorbing suspension wheels for wheelchairs by introducing a range of new Carbolife ergonomic push rims to The Mobility Roadshow. The rims offer a greater surface area for braking and changing direction, as well as better pressure distribution to prevent brake burning.
Luggie Scooters
Luggie Scooters is showcasing its latest mobility scooter: The Luggie Super. This will carry up to 25.7 stone (163kg) yet weighs only 26kg (excluding the battery) and offers more legroom, a wider seat, wider handlebars and a digital LED display screen. Along with a larger motor the Super provides top-of-the-range transportation. Available in three colours, it comes complete with armrests and an off-board charging unit, giving the option to charge the scooter anywhere.
Mobility Networks
Mobility Networks will be launching its new 'Flexi' range of accessible vehicle solutions at The Mobility Roadshow. The new FlexisRamp is an aluminium vehicle ramp allowing access to the rear of suitable vehicles without an expensive floor conversion. The FlexiWinch is a reliable and safe solution providing powered winching of a wheelchair and occupant into a vehicle with a rear access ramp. Also the new FlexiStep will be unveiled – this static, manual or powered step provides a strong and safe platform for easier access into a side or rear van/mini-bus doorway – includes optional LED edge lighting.
PB Conversions
PB Conversions' brand new Ford Tourneo Connect has Guidosimplex equipment including D-Tran Excellence seat, R-Tran Electric seat, an over-ring, Radial controls and secondary remote controls. This will be the first time this vehicle has been displayed.
TGA Mobility
The new folding Maximo is a 4mph folding scooter based on the best-selling smaller TGA Minimo. Despite its larger size, the Maximo is ideal for travel and can be folded in seconds with no parts to be dismantled. The latest version includes an improved fully adjustable tiller and more supportive seat, ensuring drivers with conditions can relax their shoulders, arms and hands completely when driving – essential for avoiding stiffness. The spacious floor-well allows drivers to stretch out their legs and the active rear suspension minimises bumps whilst driving. The new seat has additional cushioning so stability is improved which really helps owners with back problems and allows users to tackle rougher terrain with confidence.
More at www.mobilityroadshow.co.uk 
The Mobility Roadshow
The Mobility Roadshow is the UK's premier consumer-focused mobility and lifestyle event, showcasing products and services to help maintain independent mobility. The show, which celebrated its 30th anniversary in 2013, is organised by registered charity Mobility Choice. For 2016 the Mobility Roadshow is to be hosted for the first time at Silverstone Circuit, where visitors will have the opportunity to test drive adapted and specialist vehicle conversions on the iconic Grand Prix Circuit, as well as try out the very latest innovations in the mobility market. 
Mobility Choice
As a registered charity, Mobility Choice delivers the latest mobility advice, news and support to assist disabled individuals with enhanced independence. It was established in 1998 with the primary role of organising The Mobility Roadshow, originally set up by The Department of Transport. It has continued to pioneer inclusion for all through a series of additional programmes and events including the test-driving day for young and novice disabled drivers, Get Going Live.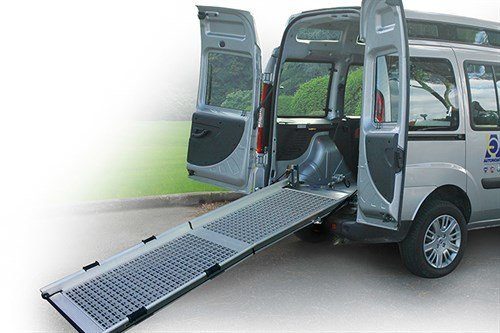 Comments
Author

Honest John
Latest