The Most Exciting Motor Sport Event of the Year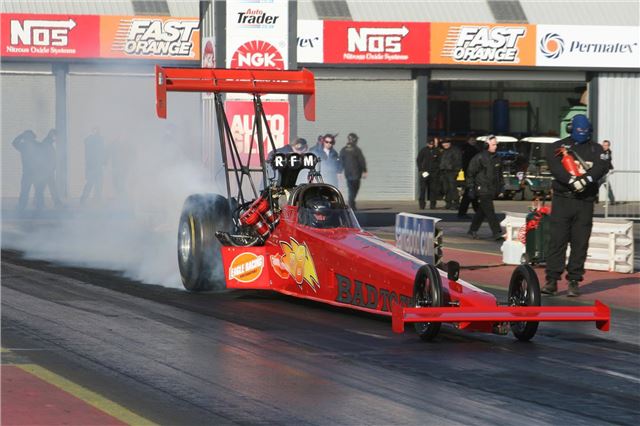 There is nothing quit like watching a car acclerate through its rear wheels to more than 300mph in less than 5 seconds. It's a truly jaw-dropping, awe-inspiring assault on the senses. You simply cannot believe the bravery (or the insanity) of the man inside.
The FIA/UEM European Drag Racing Finals are unleashed at Santa Pod over the long weekend of Thursday 6th to Sunday 9th September 2012.
This televised final round of the European Drag Racing Championships is the most popular event in the European motorsport calendar, and boasts the largest race entry of any other event. Over 300 teams and 16 race classes go head-to-head to be the very best, making this event unrivalled for both the quality and quantity of racing. Don't miss it – get it in your diary now! Thursday 6th to Sunday 9th September 2012.
300mph Top Fuel dragsters, accelerating down the quarter mile in less than 5 seconds; 5 second Pro Mod doorslammers, and Supertwin Drag Bikes. The event displays a combination of cars and bikes and spectacle to keep even the most diehard of drag racing fans gripped with excitement.
It's simply the loudest, fastest and craziest experience in motorsport, where the most brutal machines in Europe fight for the winning title in a haze of burned. Watch the best of British go up against their European competitors.
Car Classes include:
Car FIA Top Fuel Dragster
FIA Top Methanol Dragsters
FIA Top Methanol Funny Car
FIA Pro Stock Car
FIA/MSA Pro Modified
Fuel Funny Car
Super Comp
Super Gas
Super Street
Super Pro ET
Pro ET
Top speed Automotive Street Eliminator
Bike Classes Include
UEM Supertwin Bike
UEM Top Fuel Bike
UEM Pro Stock Bike
Super Street Bike
Make a weekend out of it by camping on-site. Taste-test the fine array of catering and bar facilities available. Relaxing with full evening entertainment in the Fuelers Bar.
Santa Pod welcomes families by providing a wealth of kid's entertainment, including fun fair rides, a radio-controlled car track and fireworks display but best of all, kids under 16 can go for free.
If the racing wasn't impressive enough, in-between the track action you will experience the insane spectacle that is the Fireforce Jet Funny Car, and new for this year is the outrageously quick Maksar diesel racing truck.
Off track, there will be the usual crazed Monster Truck battles and breathtaking stunts in the Live Action Arena, on both Saturday & Sunday. To mix it up a little bit more - and take you to the skies - on Saturday, The Battle of Britain MemorialFlight will be making a fly past with a Dakota, and on Sunday, World Aerobatic Championships competitor Mark Jefferies will be performing a gravity defying air display.
Adrenaline junkies will be amazed by the former Stunt Riding World Champion Zoltan Angyal with his high altitude show and 'Quad Space Wheel', The Vander brothers from South Africa will start out on the Flying Trapeze before performing on their Space Wheels. Wannabe stunt drivers will also be in awe of internationally renowned Stunt Driver Terry Grant, who can dodge death by running in and out of a spinning car while performing an array of heart-stopping stunts.
There is something for everyone to enjoy at Santa Pod making it a firm family favourite, and for the bravest, why not try a ride in a 2 seater dragster?  At just over 7 seconds per run, your heart will be in your mouth, but it's the finest and fastest way to experience the quarter mile. You'll need to book quickly though, because places are strictly limited. If being air borne is more your style, look out for the helicopter pleasure flights that will be running all weekend, or if your adrenaline levels haven't bubbled over, maybe a Monster truck ride in the back of Red Dragon might be enough excitement for you?
For all you budding photographers out there, Santa Pod Raceway, are supported by Practical Photography Magazine who be running a Photo Competition after the Euro Finals to find the best photo taken at the event, with a year's magazine subscription as the prize. To enter, simply email your best photo or photos (max 2) after the event to, photos@santapod.com along with your name, address and tel number. Closing date for entries is Friday 28th September.
Advance tickets for the event start at just £25 to enjoy all of Friday's race action, or £30 for Saturday or Sunday. You can enjoy both days (Sat/Sun) for £59, or go for it, and purchase a 4 day ticket for just £65. As the kids go free, it could be one of the best value weekenders of the year for you and your family! Corporate packages look similarly good value, with VIP packages starting from just £89 + VAT per head, including lunch – or if you have already booked your ticket, you can simply upgrade to enjoy the VIP experience.
 For more details, please visit www.santapod.com or call the team on 01234 782828.
Comments