Allard Dragster to star at Chelsea Autolegends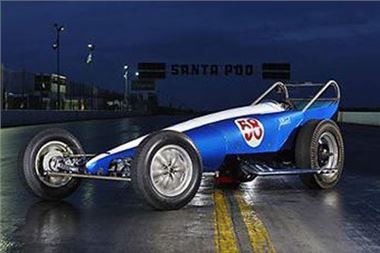 Sidney Allard introduced American drag racing to Europe.
In 1961 he built the first dragster in the UK in the traditional style of an American 'rail' and the car went on to clock mid 10 second ETs and around 150mph for the standing quarter.
Then, in 1964, he organised the International Drag Festival series in 1964, with six meetings throughout the UK
and a big American presence amongst the competitors.
In the 1960s and 1970s there was a massive public enthusiasm with airfields all over the country commandeered for drag racing, including Blackbushe bear Camberley, and the establishment of Santa Pod, the home of UK drag racing where  incredible 5 second ETs are now relatively commonplace.
After Sidney Allard's death, the original Allard dragster fell into disrepair and lost its Chrysler engine. But in recent years, the Allard Chrysler Action Group has painstakingly restored the vintage drag racer to its original condition, including a brand new engine to replace the one that was lost
The National Motor Museum in Beaulieu now owns the historic dragster and is supporting its showcase at
this year's Chelsea AutoLegends Festival, which is now one of the country's leading classic automotive events.
On Sunday, 2nd September, Europe's first ever drag racer will be one of a multitude of fine machinery on show at the Chelsea AutoLegends Festival in the grounds of the Royal Hospital Chelsea.
For the latest updates or to purchase tickets for the event, visit www.chelseaautolegends.com, follow Chelsea AutoLegends on Twitter @ChelseaAutoLgds or join the conversations on Facebook at www.facebook.com/ChelseaAutoLegends 
Comments